Restoring sight in Australia and overseas
Portable ophthalmology equipment used for eye examinations in remote communities and mountain-climbing gear that belonged to eye surgeon Fred Hollows are now part of the National Museum of Australia's collection.
Professor Fred Hollows (1929–1993) was an Australian surgeon and humanitarian who worked to improve the eye health of people living in under-privileged circumstances in Australia and overseas.
He was director of the National Trachoma and Eye Health Program in Australia from 1976 to 1978, and worked across Africa and Asia to empower communities to restore sight to people.
The Fred Hollows Foundation continues to campaign for blindness prevention and improved health for Indigenous Australians. Hollows' wife, Gabi, and the Fred Hollows Foundation donated objects from the trachoma program and Fred's personal collection to the National Museum in 2012.
Highlights from the Fred Hollows collection
The medical equipment from the national trachoma program relates to Hollows' pioneering and extremely demanding work. Eye examinations were conducted in makeshift medical sites, sometimes in tents, sometimes on the side of the road. A case of trial lenses and frames shows plenty of evidence of use, and a wooden storage box, which originally belonged to the Department of Defence, was a portable and durable part of life on the road.
Hollows was also a keen mountaineer and the collection also includes his mountaineering helmet, backpack, boots, and the 'lucky socks' he bought in the 1960s and wore without mishap on climbing expeditions.
Slideshow
A case of trial lenses and frames, used in the field to generate the correct prescription for glasses, during the National Trachoma and Eye Health Program
Trial frames from the Fred Hollows collection. National Museum of Australia
A Binocular Indirect Ophthalmoscope (BIO) used by Fred Hollows and other doctors to see inside a patient's eyes. The BIO is worn on the examiner's head and consists of a light, a mirror with a single aperture for the examiner and a hand-held dial with lenses of varying strengths. The BIO helps the examiner to determine the health of the interior structures of the eye, particularly the retina and the vitreous humour, the clear gel in the centre of the eye
A framed promotional poster from the Fred Hollows Foundation and a framed commemorative portrait of Fred Hollows issued as a stamp in Eritrea in 2003. Both are now part of the National Museum collection
The trachoma program borrowed tents and portable furniture from the Department of Defence. Prosaic looking objects, like this wooden storage box, were a necessary part of day-to-day life on the road
Renmants of life on the road ... a battered storage box with an address label bearing directions for the box to be held for collection by Prof FC Hollows at Adelaide airport
Fred Hollows was a passionate campaigner for the need to improve the health of Indigenous Australians. He was particularly concerned about the number of people who suffered from trachoma. Trachoma is a form of conjunctivitis caused by infection with the bacterial microbe Chlamydia trachomatis. It causes scarring and can lead to blindness if left untreated. Poverty, crowded living conditions and lack of water contribute to the spread of trachoma.
The National Trachoma and Eye Health Program sent teams of ophthalmologists and support staff to communities in regional and outback Australia. The program was supported by the Commonwealth Government and the Royal Australasian College of Ophthalmologists and was headed by Hollows from 1976 to 1978.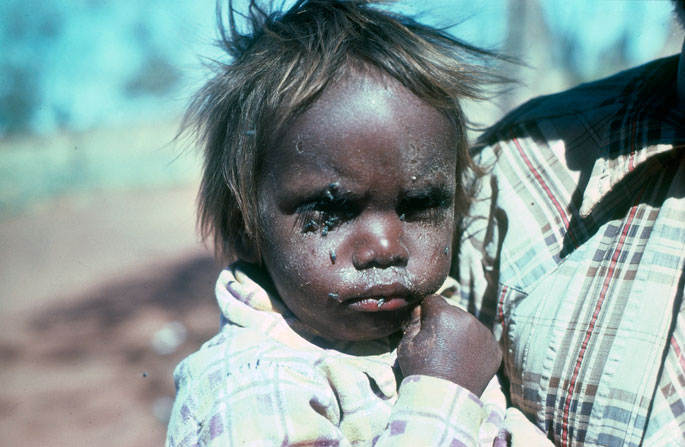 The program tested and treated people for eye diseases, especially trachoma and cataracts. More than 100,000 people, of whom 62,000 were Indigenous, were screened.
Nearly half of Australia's Indigenous population was found to have trachoma and in some regions of the Northern Territory and Western Australia the rate was 80 per cent.
A total of 465 Aboriginal settlements were visited during the program. Staff liaised extensively with Indigenous people and trained Indigenous health workers in measures to help reduce the incidence of eye disease.
During the program, 27,000 people were treated for trachoma, more than 1000 operations were carried out and 10,000 pairs of individually prescribed glasses were delivered to people in Aboriginal settlements.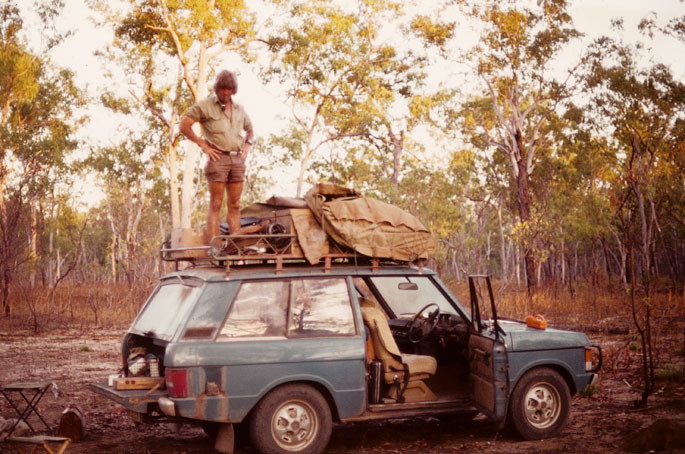 Fred Hollows was born in 1929 in Dunedin, New Zealand. He studied divinity and arts subjects at university, but after working at a holiday job in a mental hospital, changed to science subjects. After being placed in the top 100 students in New Zealand, he was offered a place to study medicine at the University of Otago in Dunedin. After graduating, Hollows developed an interest in eye health and studied ophthalmology in the United Kingdom. He worked as a general practitioner, ship's doctor and an on-call radio doctor to support this further study.
Hollows came to Australia in 1965 as a specialist eye doctor. From 1965 to 1992, he led the ophthalmology teaching departments at the Prince of Wales and Prince Henry hospitals in Sydney. In the 1960s, Hollows treated two Gurindji elders and then accompanied them back to the Northern Territory where he saw a huge deficiency in the health of Indigenous Australians, including many treatable cases of trachoma. In 1971, he helped to establish the Aboriginal Medical Service in Redfern, Sydney.
In 1974, Hollows travelled through South Australia, New South Wales, Queensland and the Northern Territory to record information about the state of people's sight. In later years, he also worked in Africa and Asia, where he saw the doctors working in difficult conditions and was inspired to assist them in obtaining better eye care.
During his work overseas, Hollows found that there were many cases of trachoma and cataracts, often for the same reason of poor living conditions that he had observed in Aboriginal settlements in Australia.
In Nepal, Hollows met Dr Sanduk Ruit who he assisted in coming to Australia to observe eye surgery techniques. Ruit used these techniques back in Nepal, then refined and improved them. In turn, these techniques were adopted by the Prince of Wales Hospital in Sydney.
In Eritrea, Hollows was impressed to find skillful manufacturing and advocated local production of intraocular lenses. The intraocular lens is a plastic lens that is inserted in to the eye to replace a damaged eye lens. It can restore sight within hours of surgery. Producing these lenses locally stimulates the local economy, and lower production costs enable more people to benefit from surgery.
Hollows married Gabrielle (Gabi) O'Sullivan in 1980. They had five children and lived in Sydney. Fred also had two children from previous relationships.
Fred Hollows was diagnosed with cancer in 1989. He continued to work and travel overseas, campaigning for blindness prevention and reducing the cost of eye care and treatment in developing countries.
Hollows was made a Companion of the Order of Australia (AC) in 1991 for 'service in public health in Australia and abroad'.
Professor Fred Hollows AC died in 1993. In accordance with his wishes, he was buried in Bourke in western New South Wales where he felt a strong connection to the local community.
The Fred Hollows Foundation was established in 1992 by Fred and Gabi Hollows and friends to pursue Fred's goal to end avoidable blindness and to improve the health of Indigenous Australians.
The foundation has carried out Hollows' plans to establish intraocular lens manufacturing facilities in Eritrea, Nepal and Vietnam. It also supports training for local doctors, who perform cataract surgery with locally-made, high quality and low cost lenses.
Remembering Fred Hollows
Recollections of surgeon and humanitarian Fred Hollows and his work to improve health in Aboriginal and Torres Strait Islander communities, on the 40th anniversary of the National Trachoma and Eye Health Program.
Open player in a new tab
Presenters:
David Arnold, Jude Barlow, Gordon Briscoe, Trevor Buzzacott, Brian Doolan, Gabi Hollows, Michael Loebenstein, Ray Martin and Rose Murray
Return to

Top