The kangaroo is one of the most enduring and recognisable symbols of Australia. The Terence Lane collection at the National Museum of Australia consists of more than 150 objects of kangaroo Australiana, ranging from a metre-high Doulton ceramic kangaroo umbrella stand to small pieces of jewellery inspired by the kangaroo.
Lane, a former senior curator of Australian Art at the National Gallery of Victoria in Melbourne, amassed the collection over 20 years. It encompasses a wide range of styles produced in Australia and overseas over a period of 150 years.
Lane was fascinated by the ingenious ways in which he saw the kangaroo incorporated into decorative designs:
In the 1970s, when I seriously began to collect kangaroos, my interest was always design-based. I never ceased to be amazed, and sometimes amused, by the way designers and crafts-people all over the world manipulated this Australian symbol to their own ends.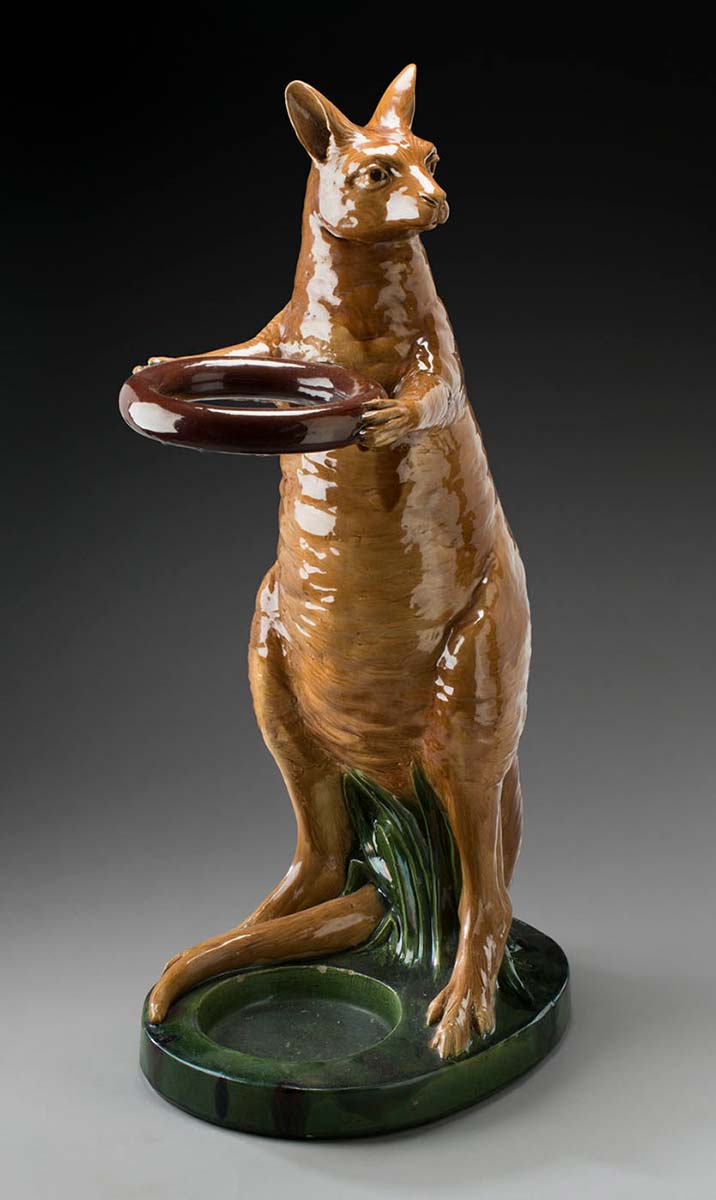 One of the earlier pieces in the collection is a large ochre-glazed stoneware kangaroo umbrella stand. Its outstretched paws support a ring for umbrella handles and its feet straddle a recess in the base, for upturned umbrella ends.
The stand was made in 1885 by celebrated Doulton ceramic artist George Tinworth. His depiction of the kangaroo was based on on 'close observation and field study', according to Lane.
It created intense interest when it was displayed at the World's Columbian Exposition in Chicago in 1893.
Doulton was one of several manufacturers that recognised the creative opportunities afforded by Australian flora and fauna.
The company developed a range of 'Australian' pieces for the 1879 Sydney International Exhibition. The company established a Sydney distribution agency in 1883, and also expanded its range of wares depicting Australian flora, fauna, and pioneering history.
The Museum's kangaroo collection also includes a ceramic jug by Doulton artist Hannah Barlow. The central portion of the jug carries one of Barlow's characteristic 'sgraffito' sketches with a frieze of five kangaroos.
The jug was formed with very few lines, yet represents the animals in realistic stances and in a naturalistic, grassy setting. Barlow's use of this motif continues a tradition dating back to the late eighteenth century, when representations of the kangaroo based on drawings from the Endeavour voyage were all the rage in England.
An enduring emblem
The kangaroo first appeared as a symbol of Australia in 1773 with the publication of an account of Captain Cook's first voyage to the Pacific. Emblematic of Australia's 'curious' nature, the kangaroo soon appeared in exhibitions, collections, art and printed works across Europe.
By the 1880s this uniquely Australian marsupial was used to brand products ranging from bicycles to Billy Tea at home.
Hunted for meat and for sport, and used as a motif in the decorative arts, the kangaroo finally achieved official recognition with its inclusion on Australia's coat of arms in 1908.
Since Federation in 1901, the kangaroo has appeared on currency and stamps, on Royal Australian Air Force planes and as a mascot at sporting events. The kangaroo also appears as a logo for Qantas, Australian Made and Tourism Australia, and in the nicknames given to Australian sporting teams.
The kangaroo is used in a variety of ways in the Terence Lane collection. Other objects now part of the National Museum's National Historical Collection include:
a sterling silver mounted emu egg candlestick holder, with a silver kangaroo atop, made by Henry Steiner in about 1880
a Japanese porcelain condiments set, with a kangaroo-shaped mustard pot flanked by a salt and pepper shaker, made in the 1930s
a kangaroo paw mounted in silver with a globular gimbal-mounted cigar lighter, made around 1940
a blue ceramic jar with moulded kangaroo motifs, made by Klytie Pate in 1980.
Return to

Top