This Percival Gull monoplane is one of a few surviving examples of Australian engineer Edgar Wikner Percival's most successful aircraft designs.
Percival was fascinated by flight from a young age, and studied engineering in Sydney. He served with the British Royal Flying Corps during the First World War and returned to Australia after the war to start a flight charter company. He was also busy working on his own aircraft designs, and moved to England to co-found the Percival Aircraft Company.
Development of the Gull
In 1932 the company began manufacturing the Gull, a three-seater, low-wing monoplane, in a number of variations. Gulls had aerodynamic light wooden frames covered with doped, or lacquered, fabric. Coupled with a selection of powerful four- or six-cylinder engines, they were faster than many air force fighters.
After more than a decade of development, Percival released a series of variants on the Gull – the Gull Four, Gull Six, Vega Gull and Mew Gull – as fast private and commercial transport, racing aircraft, and for long-distance and record-breaking flights.
During the Second World War the Percival Aircraft Company developed a military version of the Gull, named the Percival Proctor, as a training aircraft for the Royal Air Force. The Museum also holds a Proctor aircraft, VH-FEP, in its collection.
Gulls set new distance flight records
The success of Percival's monoplane design inspired other aircraft manufacturers at a time when biplanes still dominated the skies. Gulls quickly established a reputation for high performance and attracted the era's most daring pilots, helping to inspire the public's growing interest in aviation.
In the 1930s Charles Kingsford Smith and Jean Batten flew Gull Six aircraft to establish distance flight records. Percival himself won many competitions and awards flying his aircraft. In 1935 he was awarded the Oswald Watt medal, an Australian award for 'brilliant performance in the air', for flying from England to Morocco in his Mew Gull.
Preserving Percival's design
The Museum's Gull Six monoplane, with the registration G-AERD, was made in 1936 at Gravesend in Kent, England. A Swiss woman, Ariane Dufaux, bought the plane and took it to Switzerland, under the registration HB-OFU, for her private use.
Forty years later, the aircraft was sold to a collector in England, where it was restored and became popular on the air show circuit. The plane was involved in several crashes and passed through a series of owners and restorations before the National Museum bought it in 1986.
The National Museum's Gull Six has never been flown in Australia but it has been regularly serviced and maintained in near flying condition. The restoration work carried out after its numerous crashes is still evident in some of the aircraft's framework.
The Gull retains its original de Havilland Gipsy Six, Series 1 engine, maintained in pristine condition. First developed by the de Havilland Aircraft Company in 1934, these high performance six cylinder, 200 horsepower engines powered many of the racing and record-breaking aircraft of the 1930s.
Photos of the Gull during maintenance in the workshop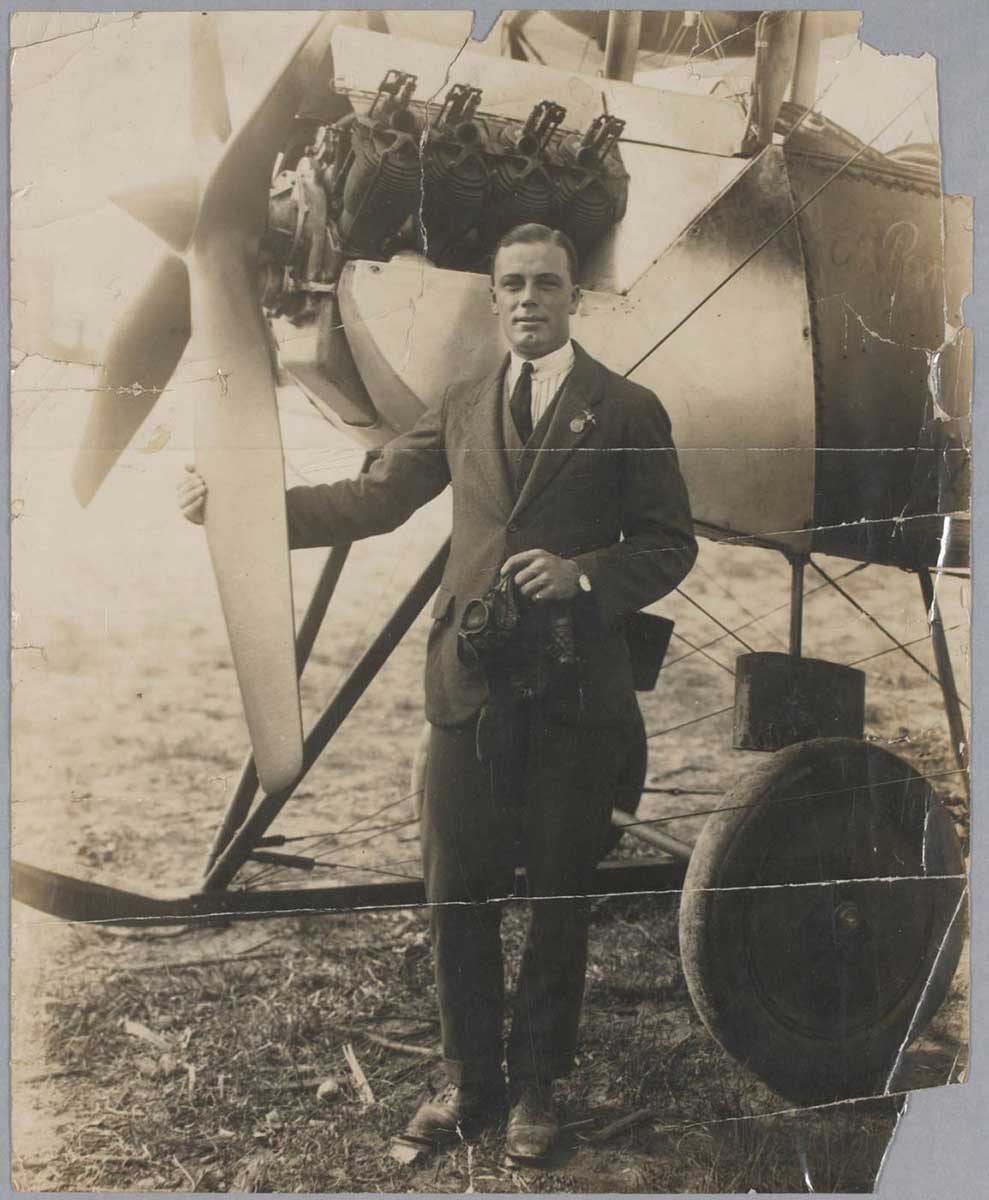 Percival archive
With the purchase of the Gull, and through subsequent acquisitions, the Museum holds a substantial archive of material related to Percival and his aircraft.
The collections include advertising material, scrapbooks of newspaper and magazine articles, technical drawings and models, prize medals and certificates, and a range of photographs.
Percival Gull advertising pamphlet
The Gulls were the primary products manufactured by Percival Aircraft, and the company logo featured an illustration of a seagull in flight.
In an article for the London Sketch in 1938, Percival explained his decision to use the 'Gull' title for his monoplanes:
I selected the name "Gull" because it is so perfectly associated with flying. The gull is a graceful bird, it has a one-syllable name easily remembered, and there is a fine family allowing successive names.
Percival Gull pamphlet sent to plane's original owners
This is the pamphlet with price list sent to Mr and Mrs Dufaux when they were considering purchasing a Percival Gull. The detailed listings and handwritten notations on this pamphlet show that the Gull was available with a choice of engines and came standard with a turquoise blue body and silver wings, echoed in the colour of this pamphlet.
Certificate of airworthiness for Great Britain and Northern Ireland 1937
When the Museum purchased the Gull, this certificate was found in one of the older journey logbooks of the aircraft, according to the regulations established by the Air Ministry of Great Britain and Northern Ireland.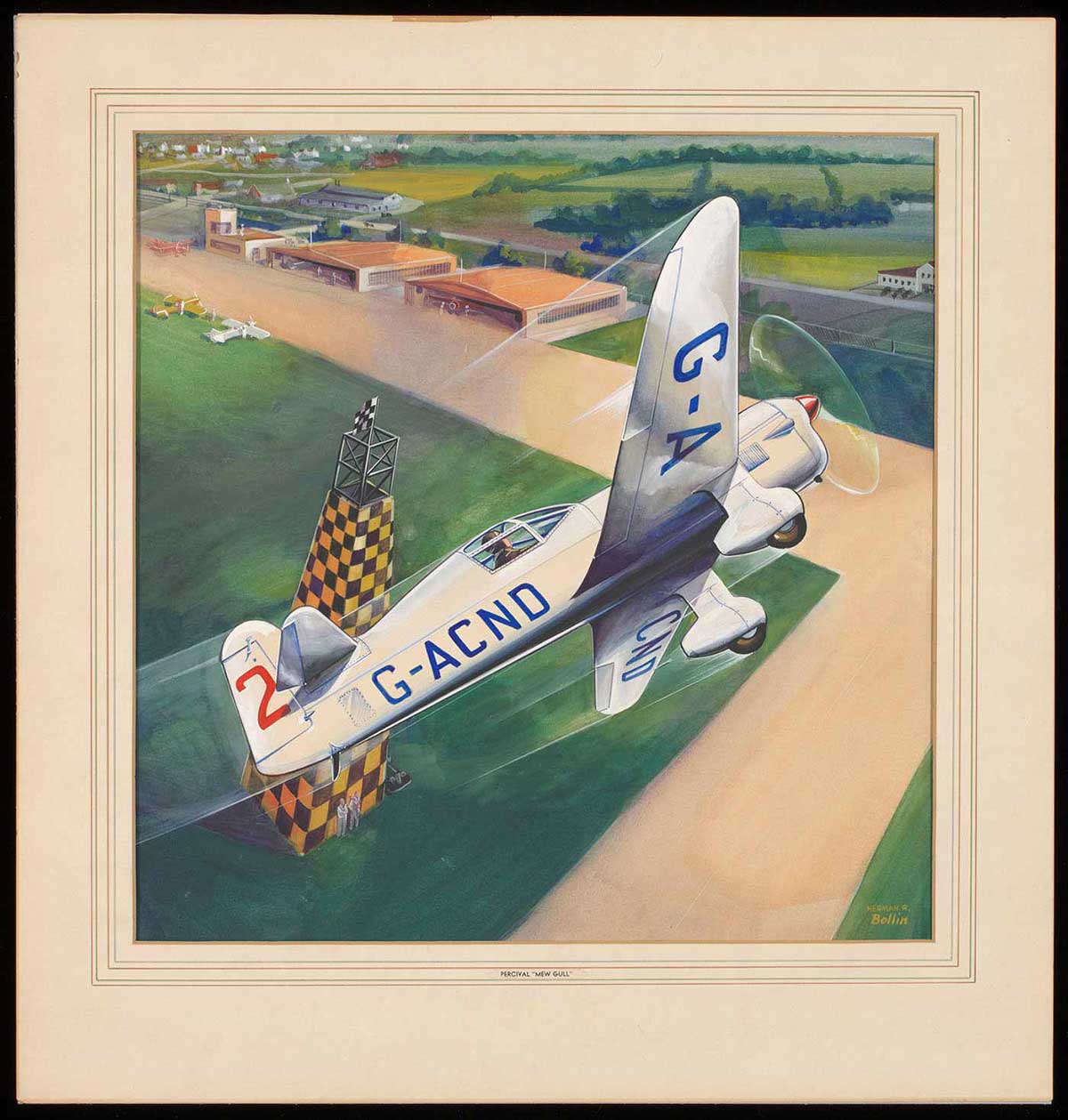 Kings Cup Air Race
Percival caused a sensation by setting a new race speed record in the 1935 Kings Cup Air Race.
He finished in 6th place but averaged about 210 miles per hour (337 kilometres per hour).
At the time, it was the first time a competitor had recorded a speed of more than 200 miles per hour.
Herman R Bollin was an aviation artist, prolific during the 1930s and 1940s, producing numerous covers for Popular Aviation, and working as art director of Flying and Radio News magazines.
He produced this painting of Edgar Percival flying in the Kings Cup Air Race.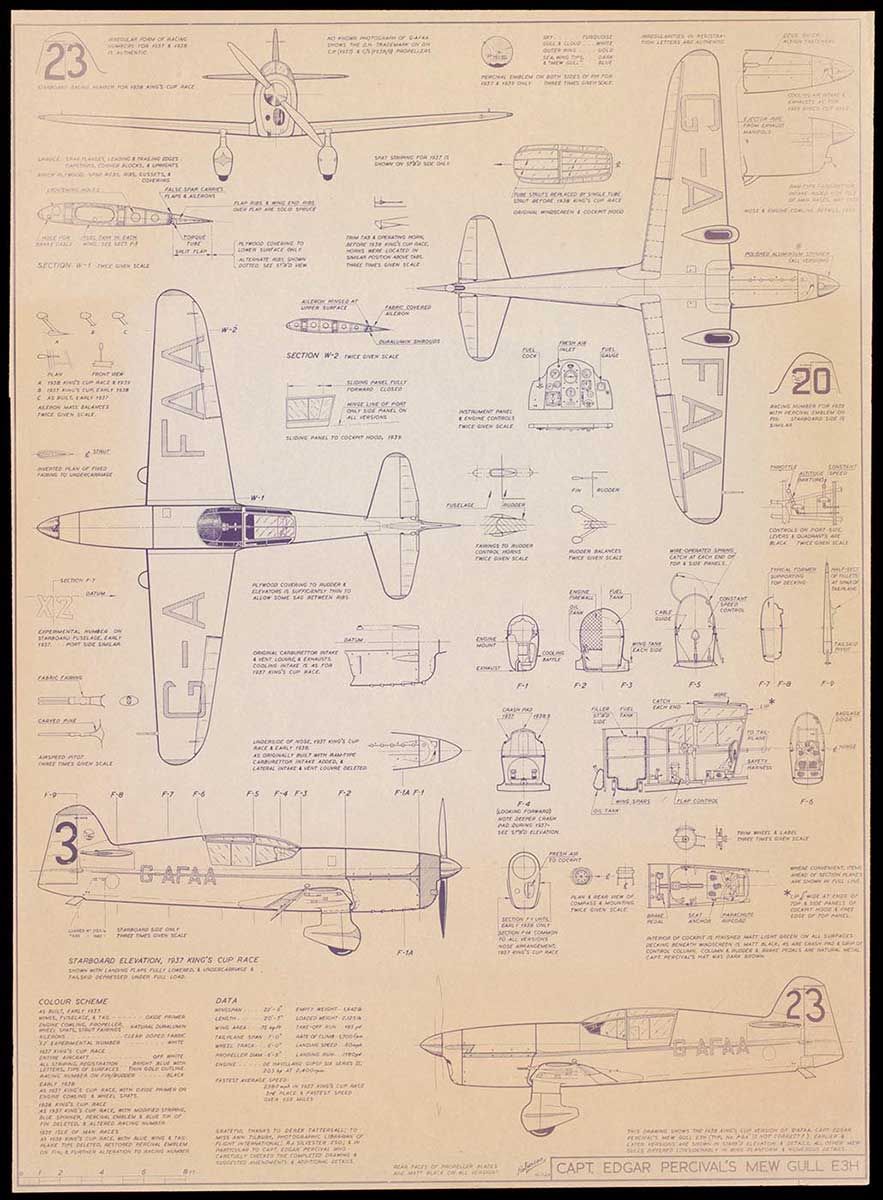 Limited edition Gull
Percival developed a single-seat racing version of his Gull in 1934. He made only six of these aircraft.
While Percival won races and established records in his aircraft, it was Alex Henshaw who established the Mew Gull's place in history.
Henshaw won the 1938 Kings Cup Air Race at an average speed of 236.25 miles per hour over the triangular course of 1012.14 miles – the fastest ever recorded by a British aircraft.
In February 1939 Henshaw flew his Mew Gull from England to South Africa and back in just four days, 10 hours and 15 minutes, smashing the previous record.
This history has made the Mew Gull popular with aircraft modelling enthusiasts.
Joy flights, feats and disasters: A journey through 1920s and 1930s aviation in the National Historical Collection
Curator Jennifer Wilson shares the stories of some rarely-seen aviation objects, from plane parts to photos, to illustrate the realities and romanticism of the foundation-era of Australian aviation.
Percival Type D3 Gull Six monoplane G-AERD
The gull series of aircraft were all wood low wing monoplanes designed by Edgar W Percival, the Australian who founded Percival Aircraft Ltd. The prototype (G-ABUR) was flown for the first in time in 1932 with a Cirrus Hermes IV engine of 130 hp and was known as the type D-1. Subsequently production of the type was subcontracte...
Return to

Top