The Junius Cup is the earliest known extant Australian made racing trophy. The silver trophy was awarded at the Parramatta races in October 1827. It was commissioned by businessman Andrew Nash and was made in Sydney by silversmith Alexander Dick. It was awarded to Robert Fitzgerald, whose horse Creeper won the race.
Horse racing in Australia
Horses arrived with the First Fleet and races were organised wherever Europeans settled in New South Wales. Governor Phillip obtained seven horses when the First Fleet stopped for supplies at the Cape of Good Hope. In 1799 English-bred 'Rockingham' was imported and the colonists began improving the breed of horses in the colony.
Although the first official race meeting in Australia was in Hyde Park, Sydney, in 1810, from the early days of colonisation race meetings were a significant feature of rural life. Country people travelled long distances to race gatherings, some of which lasted for several days and were accompanied by wild celebrations.
In time, racing enthusiasts from the city were attracted to country meetings — city people enjoyed the excitement of the races combined with food, drink and company in a country atmosphere.
Not long after 1795 James Lara, proprietor of the Freemasons Inn in Parramatta, organised what were probably the first unofficial races in the colony. Lara used the length of George Street, Parramatta, as a 'straight six' race track of six furlongs with the finishing post outside the Freemason's Inn.
Regular Parramatta race meetings were to follow. Each had a carnival-like atmosphere, with cock fighting, wheelbarrow races, boxing, foot races and other competitive events.
Convict-turned-entrepreneur Andrew Nash bought the Freemason's Inn in 1821. Nash's redeveloped and renamed 'Woolpack Inn' became a retreat for wealthy residents of Sydney and the surrounding country. The inn also became a hub for racing and civic activities in Parramatta, hosting balls, dinners and committee meetings.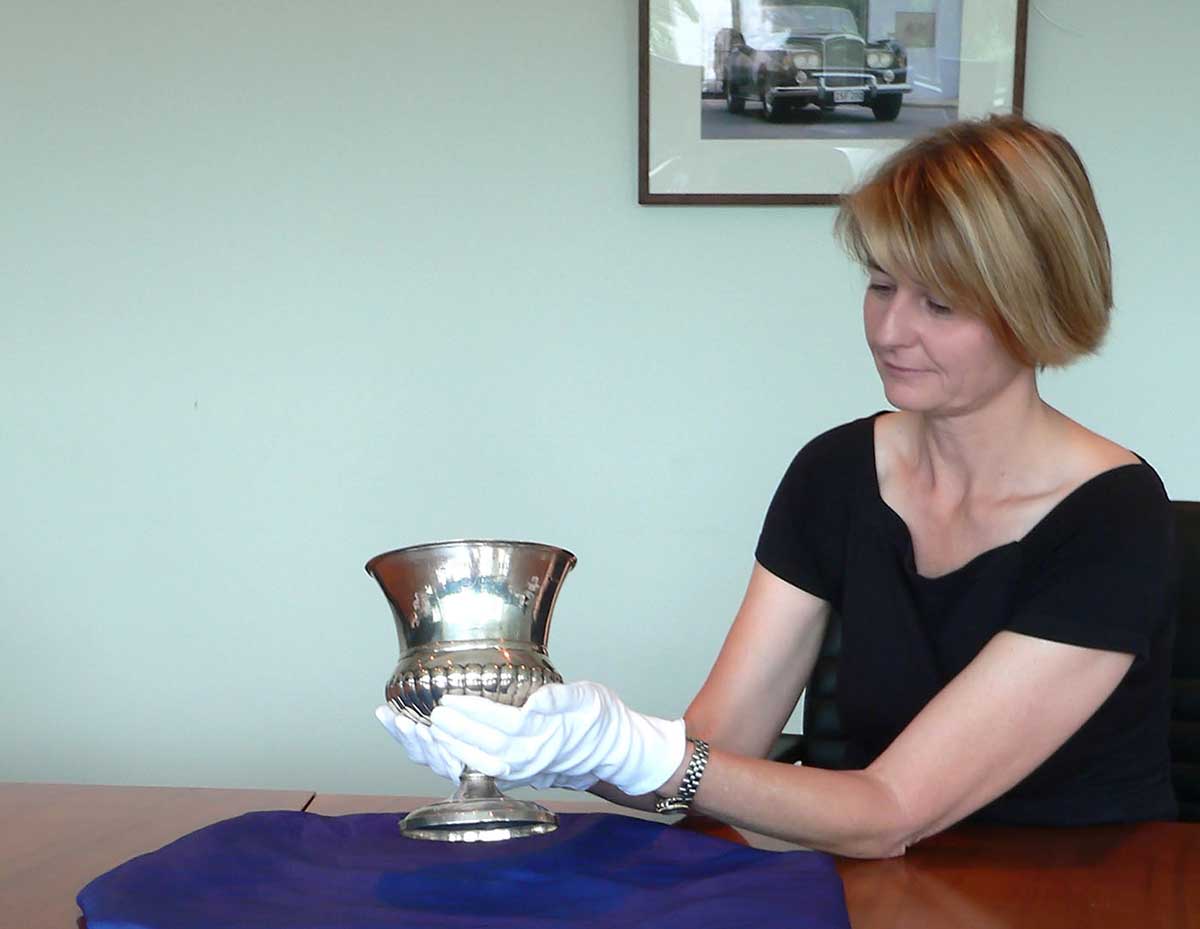 A cup to celebrate a champion
From 1825 to 1827 Nash owned a champion racehorse named Junius. Junius won many races, including the Brisbane Cup and the Turf Club Plate, before being retired to stud in 1826.
In 1827 Nash pledged to provide a prize for one of the winners at Parramatta races — a trophy to the value of £40, to be called 'Junius's Cup'. Nash commissioned silversmith Alexander Dick to make the trophy.
This would not be Nash's last tribute to his famous horse. In 1828 Nash issued his own currency notes featuring a sketch of Junius that passed as £1 sterling notes.
Silversmith Alexander Dick
Alexander Dick arrived in Sydney in 1824 as a free settler. He worked for clockmaker James Robertson until 1825 when he established his own business. His business flourished and by 1828 he was employing several assigned convicts.
The following year he was sentenced to seven years transportation to Norfolk Island for receiving stolen dessert spoons. Forty citizens, including Alexander Macleay, from whose residence the spoons had been stolen, supported Dick's wife when she petitioned Governor Darling for her husband's return.
In 1833 Governor Bourke pardoned Dick. He returned to the business that his wife had maintained in his absence, prospering until he retired due to ill health in 1841. He died in 1843, leaving an estate of almost £9000.
Dick was one of the most prolific manufacturers of silver flatware and presentation pieces in the colony. His works were spare — Classical Revival in style, derivative, and often with elaborate and florid embossed scenes.
A number of his pieces are in public and private collections, including a pair of communion chalices made in 1826. Presented to Scots Church, these are similar in design to the Junius Cup.
'The Junius Cup', 1827
A silver trophy cup that has a circular base and a short stem. The bottom of the cup is decorated with lines that have a rounded top, giving the bottom half of the cup a shell-like appearance. The top section is smooth and is stamped with four hallmarks and has an engraving that reads 'The Junius Cup / Presented to Robt Fitzger...
Return to

Top