Ellen Rogers was born in Maitland, New South Wales in August 1906. She was 21 years old and working for the managing director of the Atlantic Union Oil Company in Sydney when Charles Kingsford Smith and Charles Ulm became the first aviators to cross the Pacific Ocean.
In the Southern Cross, and with two American crew members, Kingsford Smith and Ulm took off from San Francisco, California on 31 May 1928. They flew via Hawaii and Fiji, and landed in Brisbane, Queensland on 9 June. They had completed the 11,585 kilometre crossing in 83 hours, 38 minutes of flying time.
The Southern Cross had used Atlantic oil and fuel, so the company assisted the aviators amidst the extensive publicity that followed their historic achievement. Atlantic provided a suite of offices at their new premises in Pitt Street, Sydney for the use of Kingsford Smith and Ulm.
As the managing director of Atlantic was away at the time, Rogers worked with Kingsford Smith and Ulm through their hectic round of receptions and interviews. She also carried out secretarial duties for the aviators as they looked to make further flights in the Southern Cross.
In mid-June 1928 Ellen Rogers had her first flying experience when she was invited for a flight in the Southern Cross with Kingsford Smith and Ulm and their families.
Australian National Airways
In December 1928 Kingsford Smith and Ulm founded Australian National Airways Ltd (ANA) as a passenger, mail and freight service between cities and towns in eastern Australia.
They approached the directors of Atlantic Union Oil Company to seek Rogers' release so they could employ her in their new company. Rogers began working as secretary to Kingsford Smith and Ulm as they purchased aircraft and called for tenders to construct a hangar at Mascot Aerodrome.
In March 1929 Kingsford Smith and Ulm decided to fly to England in the Southern Cross to survey future routes for air services, inspect the five Avro X aircraft they had ordered and were being constructed in England, and engage pilots, engineers and support for their business venture. They were forced to make an emergency landing north of Derby, Western Australia.
During the aerial search for the Southern Cross and crew, one of the aircraft involved, the Kookaburra, crashed killing aviators Keith Anderson and Bob Hitchcock. Although Kingsford Smith and Ulm were rescued and eventually continued their flight to England, the subsequent inquiry into the forced landing and crash damaged their reputations.
ANA started services in 1930, beginning with airmail, freight and passenger flights between Sydney and Brisbane. Unable to secure a government airmail contract, they operated without any subsidies.
The ANA service was promoted as fast, efficient and safe, and by March 1930 ANA's services had carried over 1244 passengers and 1200 kg of freight. Services were extended to Melbourne, Victoria and Launceston, Tasmania, making ANA Australia's first daily interstate airline.
Southern Cloud tragedy
On 21 March 1931 one of the five Avro X aircraft operated by ANA failed to reach Melbourne on a scheduled service from Sydney. Despite extensive search efforts, the wreck of the Southern Cloud was not found until 1958 when a bushwalker discovered the crash site on the Toolong Range, near Kiandra, New South Wales.
Following the Southern Cloud tragedy, the Air Accidents Investigations Committee made a series of recommendations that led to the introduction of new airline operating standards.
A decrease in passenger numbers and financial difficulties attributed to the Great Depression forced ANA's directors to suspend all services in June 1931. Ulm sought to establish an airmail service between England and Australia in an effort to resurrect the company, and ANA completed the first all-Australian airmail flight to England and return in January 1932.
Mounting financial difficulties forced ANA into voluntary liquidation in February 1933.
Separate ventures
Following the demise of ANA, Kingsford Smith and Ulm continued to promote the benefits and efficiency of air services in separate ventures. Kingsford Smith offered work to Rogers, but she decided to continue working as secretary to Ulm.
Ulm purchased one of ANA's Avro X aircraft, Southern Moon, and fitted it with new Lynx engines and long range fuel tanks with a view to establishing commercial overseas air services from Australia.
He renamed the aircraft Faith in Australia to reflect his ambitions, and in October 1933 he set a new England-Australia flight record of 6 days, 17 hours and 56 minutes with Scotty Allan and Patrick Gordon (Bill) Taylor.
Late in 1933 Ulm began pursuing commercial flying opportunities in New Zealand. On 3 December Ulm piloted Faith in Australia out of Richmond, New South Wales, to Plymouth, New Zealand, carrying his wife Mary and Rogers as passengers. On landing in Plymouth, Mary Ulm and Rogers became the first women to fly the Tasman.
During the visit to New Zealand, Ulm carried the first official airmail from Auckland to Invercargill, and conducted joy flights in numerous towns.
In February 1934 Ulm returned to New Zealand to carry the first official airmail from New Zealand to Australia, making a return airmail delivery in April 1934. This was followed by the first official airmail delivery from Australia to Papua New Guinea and return in July 1934.
Great Pacific Airways
In September 1934 Ulm established a new company, Great Pacific Airways Ltd, to operate a San Francisco–Sydney air service. He decided to purchase a twin-engine Airspeed Envoy for the venture, naming it Stella Australis.
Ulm travelled by steamship to England via the United States of America to take receipt of the new aircraft, which was shipped to Canada on completion. Ulm and his crew planned to fly from Vancouver to San Francisco, then to Honolulu, Fanning Island, Suva, Auckland, Sydney and Melbourne, with a new landing strip created on Fanning Island for the flight.
On 3 December 1934 Ulm and crew left Oakland Airport, California, for Honolulu on their test flight, but they failed to reach Wheeler Field, Honolulu, disappearing without trace in the Pacific Ocean.
Rogers was with the Ulm family at Rose Bay, Sydney, as the news broke, and she provided a number of interviews to reporters, stating, 'We have the assurance of the Airspeed Company and other authorities that the machine would float indefinitely.'
The United States Naval and Military Commands carried out an extensive air and sea search, but after a month the search was officially ended.
In November 1935 Kingsford Smith also disappeared without trace in his Lockheed Altair Lady Southern Cross in an attempt to break the England-Australia record with co-pilot Tommy Pethybridge.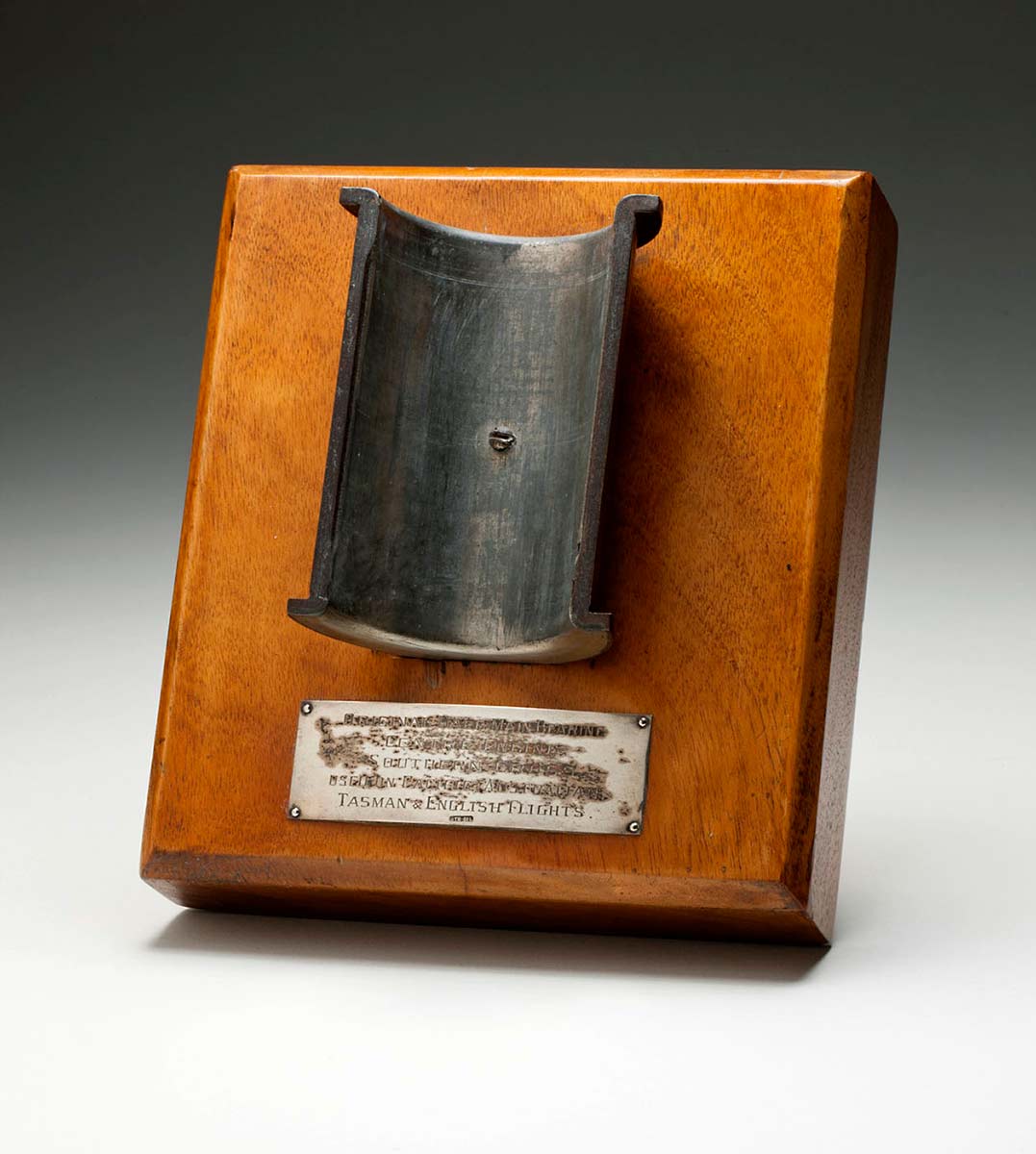 Remembering Ulm
After Ulm's disappearance, Rogers moved to New Zealand and operated a small corner store. She returned to Australia in 1951 and started a guesthouse in Sydney.
In an interview with the Sunday Herald in 1953, Rogers stated that she 'didn't feel like working for another boss'.
Rogers maintained a strong admiration for Charles Ulm as her employer and as an aviator. She compiled a record of Ulm's career which was published after her death as Faith in Australia: Charles Ulm and Australian Aviation.
A record of Rogers' work and contribution is retained in Charles Ulm's papers as donated to the Mitchell Library, State Library of New South Wales, and the National Library of Australia.
Museum collection
The collection donated to the National Museum of Australia includes items presented as gifts to Rogers by her employers, reflecting the respect and affection Kingsford Smith and Ulm held for their secretary whom they called 'Rog'.
Other items in the collection include a half propeller with a clock inserted into the hub with a plaque commemorating Rogers' flight across the Tasman in 1933, and a dressing case containing silver plated brushes, comb and mirror purchased from Prouds Jewellers, Sydney, for Rogers by Kingsford Smith and Ulm after the 1928 trans-Pacific flight.
Rogers also kept a leather attaché case used by Ulm from 1928 until 1934, which has a shipping label attached recording the details of Ulm's journey in October 1934 from the United States of America to England to collect the Airspeed Envoy aircraft Stella Australis in which he disappeared flying from California to Hawaii in December 1934.
Joy flights, feats and disasters: A journey through 1920s and 1930s aviation in the National Historical Collection
Curator Jennifer Wilson shares the stories of some rarely-seen aviation objects, from plane parts to photos, to illustrate the realities and romanticism of the foundation-era of Australian aviation.
Return to

Top