Bendigo Pottery is Australia's oldest working pottery. Started by a Scottish settler in the 1850s, the pottery has experienced changing fortunes over 150 years. A revival led by Bill Derham in the 1970s inspired a renaissance for the business, which has regained a reputation for excellence and innovation.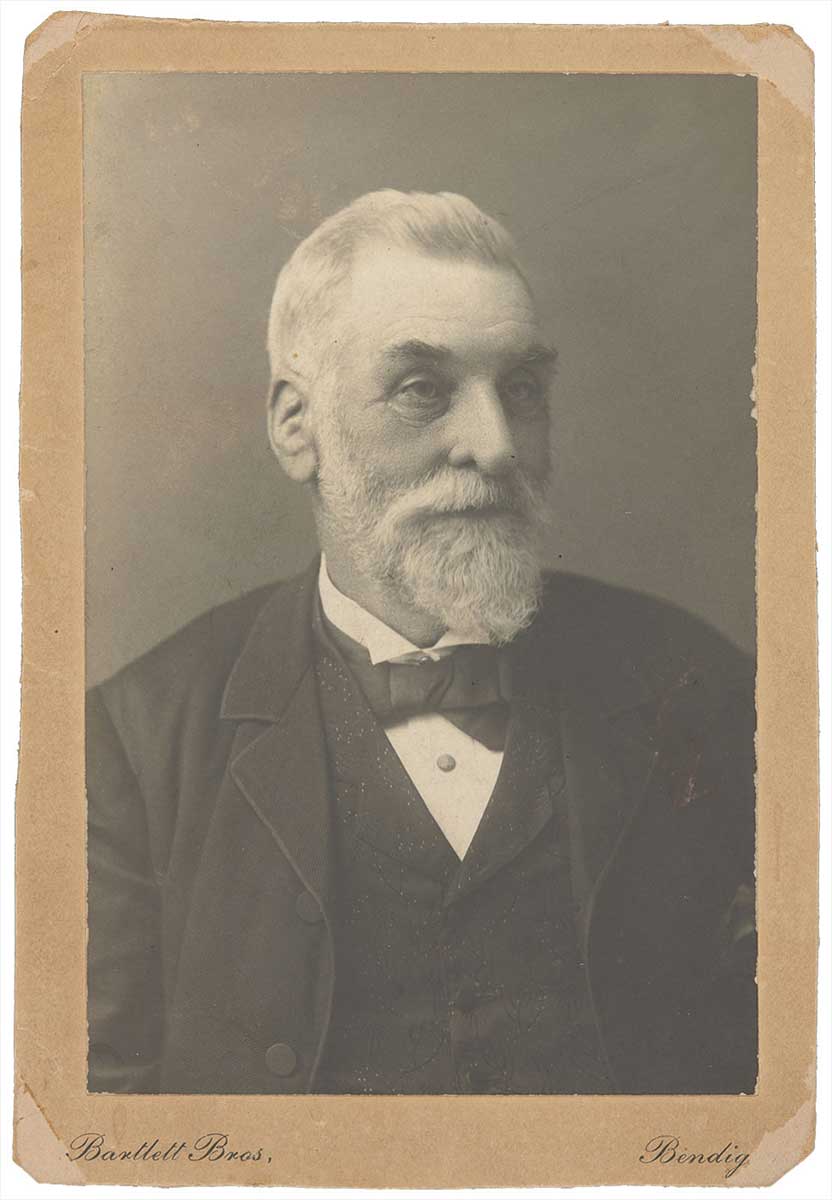 George Duncan Guthrie (1828–1910) abandoned his potter's wheel in Scotland to join the Australian gold rush of the 1850s.
'Here is the stuff to make pots with!' he cried as he stumbled upon a clay deposit perfectly suited to the production of ceramics.
Guthrie transformed this lucky find into a business that grew to rival the great Staffordshire potteries of 19th century England.
Before plastics came to dominate the market, ceramics were used for a much wider range of products. The population explosion created by the Australian gold rush resulted in an increased demand for all kinds of locally manufactured goods.
As the market diversified so too did the pottery – from commercial packaging to utility kitchenwares. Domestic items were, however, always a sideline to the main business of serving the building trade.
Expanding enterprise
By 1903 Bendigo Pottery had expanded well beyond its humble beginnings and was filling a large number of orders across Australia. The success of the enterprise had much to do with Guthrie's fastidious management style and his enthusiasm for all aspects of the business.
In cafes and kitchens
Langley ware was the most popular range produced by the pottery. Launched in 1915, and continued well into the 1930s, these brown-coloured items were widely used in homes and cafes throughout Australia.
Examples of Langley ware were exhibited at the 1925 British Empire Exhibition in Wembley, London. They received a bronze medal and certificate of merit.
Art Deco arrives
As the economy improved after the Great Depression, Bendigo Pottery returned to the production of fundamentally decorative items with a range of 'art pottery' known as Waverley ware.
The line reflected Art Deco fashions and was characterised by brightly coloured glazes. Such items were thrown or created by 'slip casting', a mode of production that suited Art Deco motifs with their emphasis on curves, lines and angles.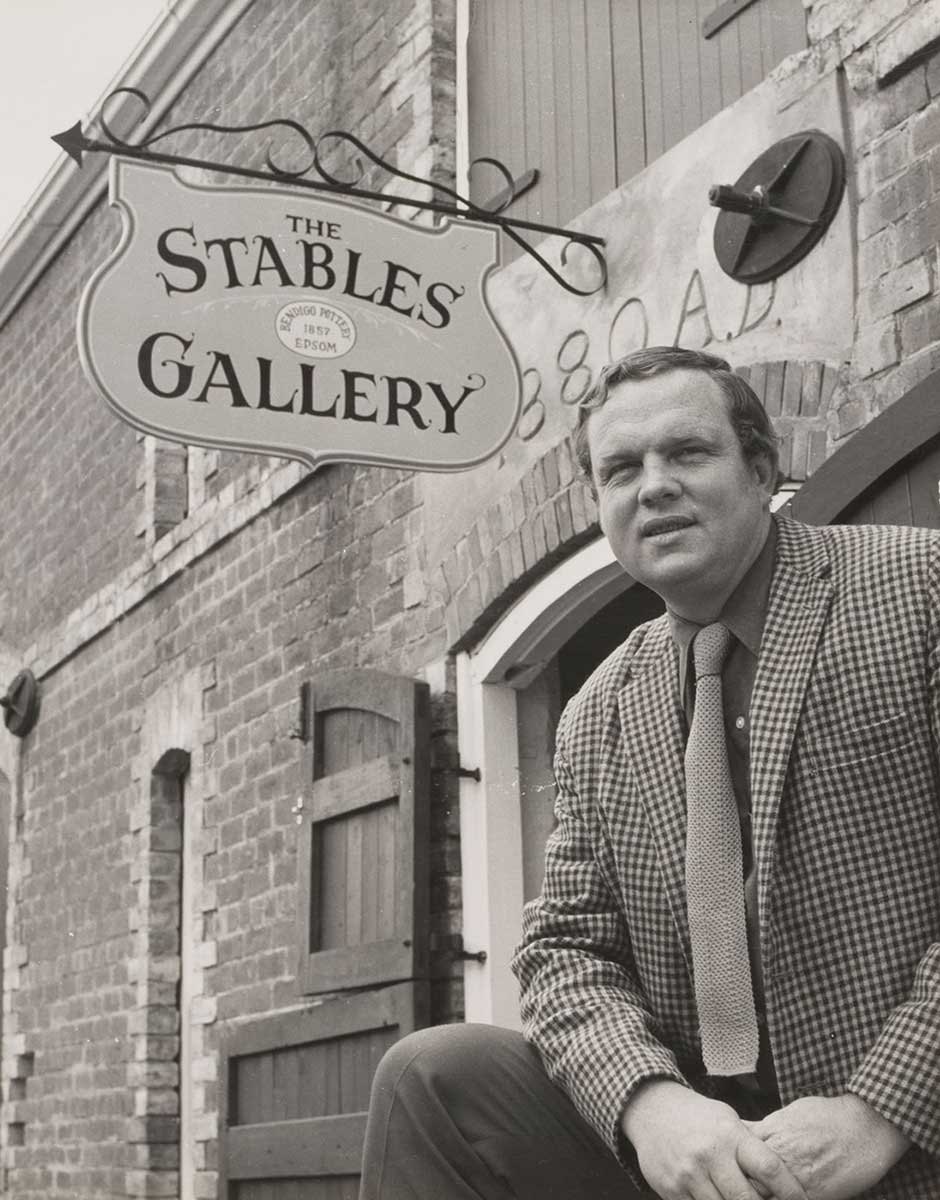 Dynamic pottery
By 1949 the fortunes of Bendigo Pottery were in decline. The business struggled to survive as cheap ceramics from overseas flooded the market and competition from plastics meant many products became obsolete.
Bill Derham began his 15-year association with Bendigo Pottery in 1968, and under his leadership the business was soon flourishing again.
Derham's ambitious plan for expansion, which included a forceful publicity and marketing campaign, led to renewed interest in the pottery and its products.
The 1970s revival continues today under the direction of Rod and Sally Thomson. In recent times Bendigo Pottery has launched an interpretive museum and website.
The business has been operating for more than 150 years, a milestone that cements its reputation as one of Australia's most distinctive and dynamic potteries.
The National Museum acquired the Bendigo Pottery collection from Bill and Jeanette Derham.
Ephemera of working life
The Bendigo Pottery collection includes much more than fine ceramics. It features stamps and printing blocks used in the manufacturing and printing processes, documentary material related to the business and photographs and ephemera which illustrate working life at the pottery.
Indenture papers
Acclaimed Bendigo Pottery thrower Jack Dehne remembered George Duncan Guthrie as a man who gained the respect of his employees by always demanding first-class workmanship. Articles that failed to meet Guthrie's exacting standards would be demolished immediately with his walking stick. He would then issue a stern command to 'start again boy!'
Dehne's apprenticeship indenture papers, dated 17 October 1901, are included in the Bendigo Pottery collection.
Time-keeping tokens
The collection also includes various time-keeping tokens used by Bendigo Pottery employees.
These small numbered tokens were first used in 1914. They were issued to each employee and had to be hung on a numbered board before the commencement whistle at the start of the working day. If they were not in place on time, the pay clerk would make a deduction from the bearer's pay.
Other Bendigo Pottery wares
Toby jugs
Another line which attracted attention for Bendigo Pottery was a series of limited edition Toby jugs, which first appeared on the market in 1973. The series was sculpted by former Melbourne Herald cartoonist John Frith and included figures such as Sir Robert Menzies, Ned Kelly, Sir Donald Bradman and Henry Lawson.
Dog's head jar
Elaborate dog's head jars, designed to hold tobacco, were priced at one shilling in 1883. Shaggy, doleful-looking dogs were popular motifs of the day. The dog's expression was partly dependent on how the glazes ran together during firing.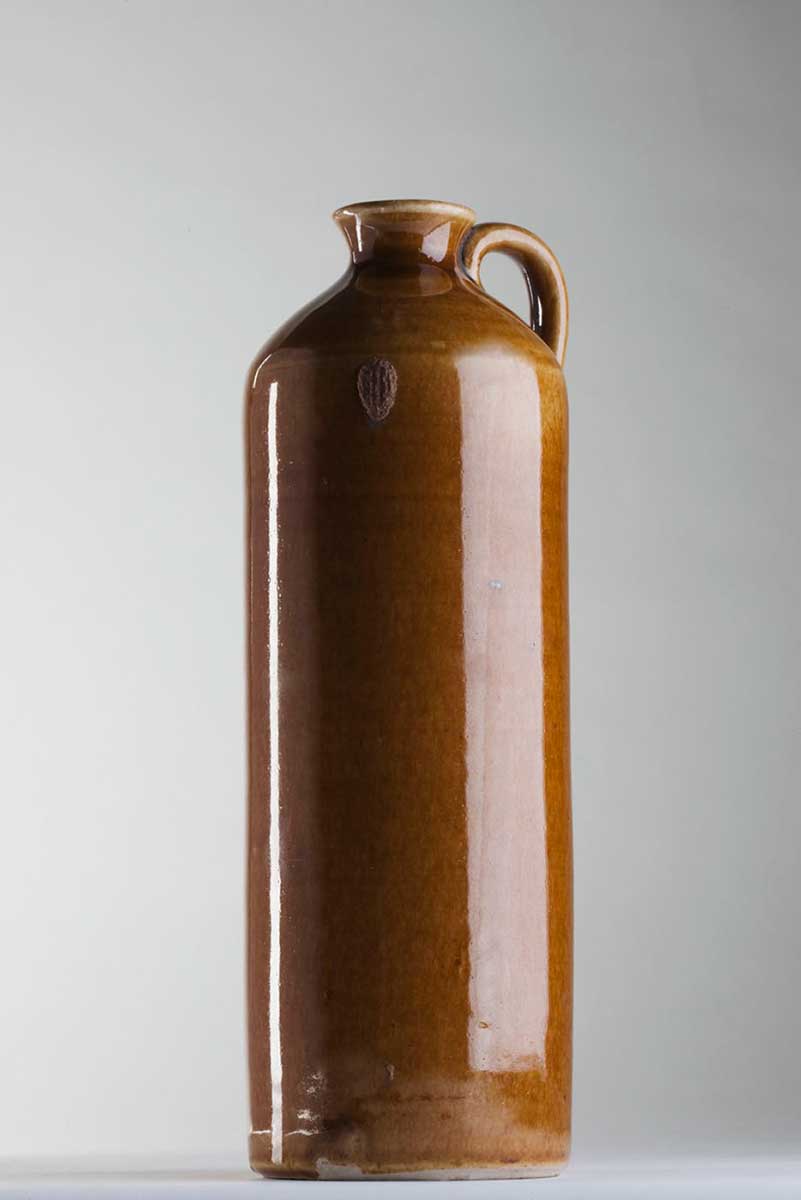 Ewer jug and emulsion jar
These containers came in various sizes and were used by manufacturers to package a range of products. Tall bottles were used to hold gins, medicines and tonics, while wide-necked bottles were favoured for chemicals and turpentine.
Tall ewer jugs were identical in design to Dutch 'Bols' bottles, with a handle just large enough for a finger to pass through.
Epsomware
Bendigo Pottery's revitalisation under Bill Derham was accompanied by the launch of the Epsomware range of household ceramics.
The handmade nature and earthy tones of these salt-glazed items went on to influence an entire generation of art potters.
Ceramic vase with two handles
A dark green glazed double-handled ceramic vase, with a round base and bulbous body narrowing to straight sided neck. The handles are set opposite to each other and attach to the rim and shoulder. The base is chipped. There are small patches of olive green at the top.
Return to

Top