Harry, age 10, Fijian Australian, La Perouse Public School:
The story about Cook affects us. We need to listen to stories about what we have done in the past and make sure that we don't do it again.
Endeavour anniversary artworks
As we approach the 250th anniversary of the Endeavour's 1770 voyage along the east coast of Australia, the National Museum is listening to many opinions on this history, including those of children.
Not only do their perspectives offer a glimpse of the future, they are often delivered in refreshingly unfiltered ways. We want to know what children think about it. Do they think this history is important, and if so, why? How would they re-tell it, if they had the opportunity?
To answer these questions, we collaborated with around 70 children between the ages of nine and 12 years. We held art workshops at three primary schools in eastern Australia: Cooktown State School in Queensland, La Perouse Public School in New South Wales and Ainslie School in the Australian Capital Territory.
Slideshow
Making art
Dr Naomi Zouwer led the workshops. Naomi specialises in children and community arts engagement. She designed a two-day program that included storytelling by Indigenous artists, elders and community members, and art making, including printmaking and painting.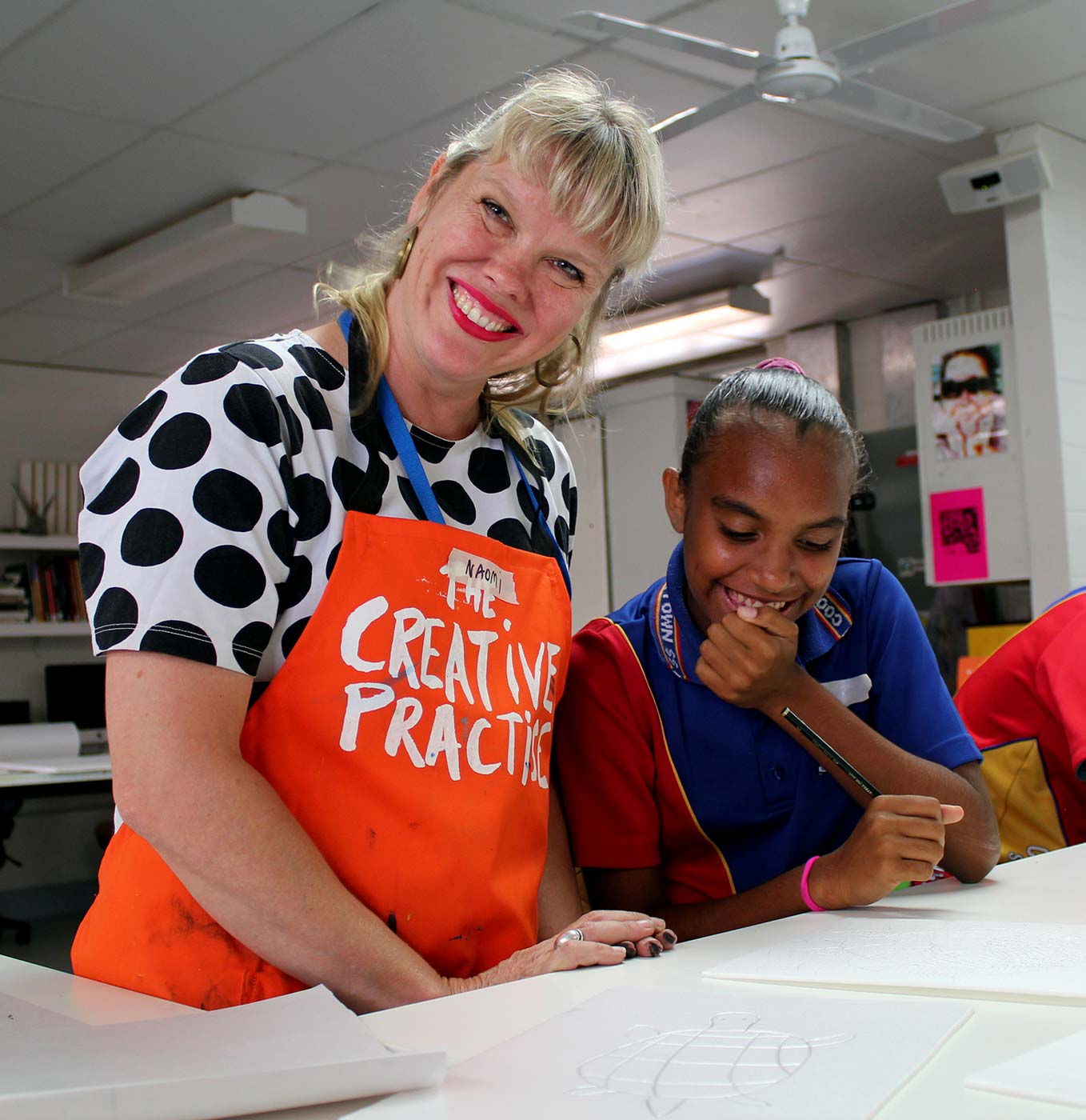 Living history
Some children are already familiar with this history, having grown up in areas where encounters between First Peoples and the Endeavour crew took place.
Around Waalumbaal Birri (Endeavour River), near Cooktown in far north Queensland, the crew spent 48 days on the land. Kamay (Botany Bay) in Sydney was the site of Cook's first landing.
Today, monuments and place names commemorate the Endeavour crew's time spent on country in these places. Here, children may also be aware of oral traditions relating to those first encounters, as well as contemporary debates around commemorations.
In contrast, children living elsewhere in Australia, such as Canberra, might learn about this history because it is part of their school curriculum.
Sheldon, age 11, Binthi, Bulgun, Ankkamuthi, Ganggalida and Idinji Warra from Cooktown State School:
This is the boat with Captain Cook. Cook is in the middle of the boat. You can see a fire on the land. There were people living there. James Cook seen the fires. The people [on the land] turned back around, they hid; when the Endeavour crew hit the reef, the sailors came over to see the fires.
Community-led storytelling
Local Indigenous community leaders led the children through the history of their area, starting with creation stories.
At La Perouse, Dhungutti and Dharawal man Ray Ingrey told a Dreaming story of Burri Burri the whale, an ancestor responsible for the coastal geography of what is now Sydney Harbour. Aiden was inspired to create a whale print.
Dharawal and Gweagal woman Sophie Youngberry told the Dharawal Dreaming story of the kai'mia lily (gymea lily), a coastal plant native to Sydney, inspiring Natjadea to create a painting of the lily.
At Cooktown, Guugu Yimidhirr Elder Alberta Hornsby talked about the Bama (Aboriginal) warrior who faced the Endeavour crew and brought peace between the two groups. This inspired Sarah and Izayah to create portraits of Cook and the warrior.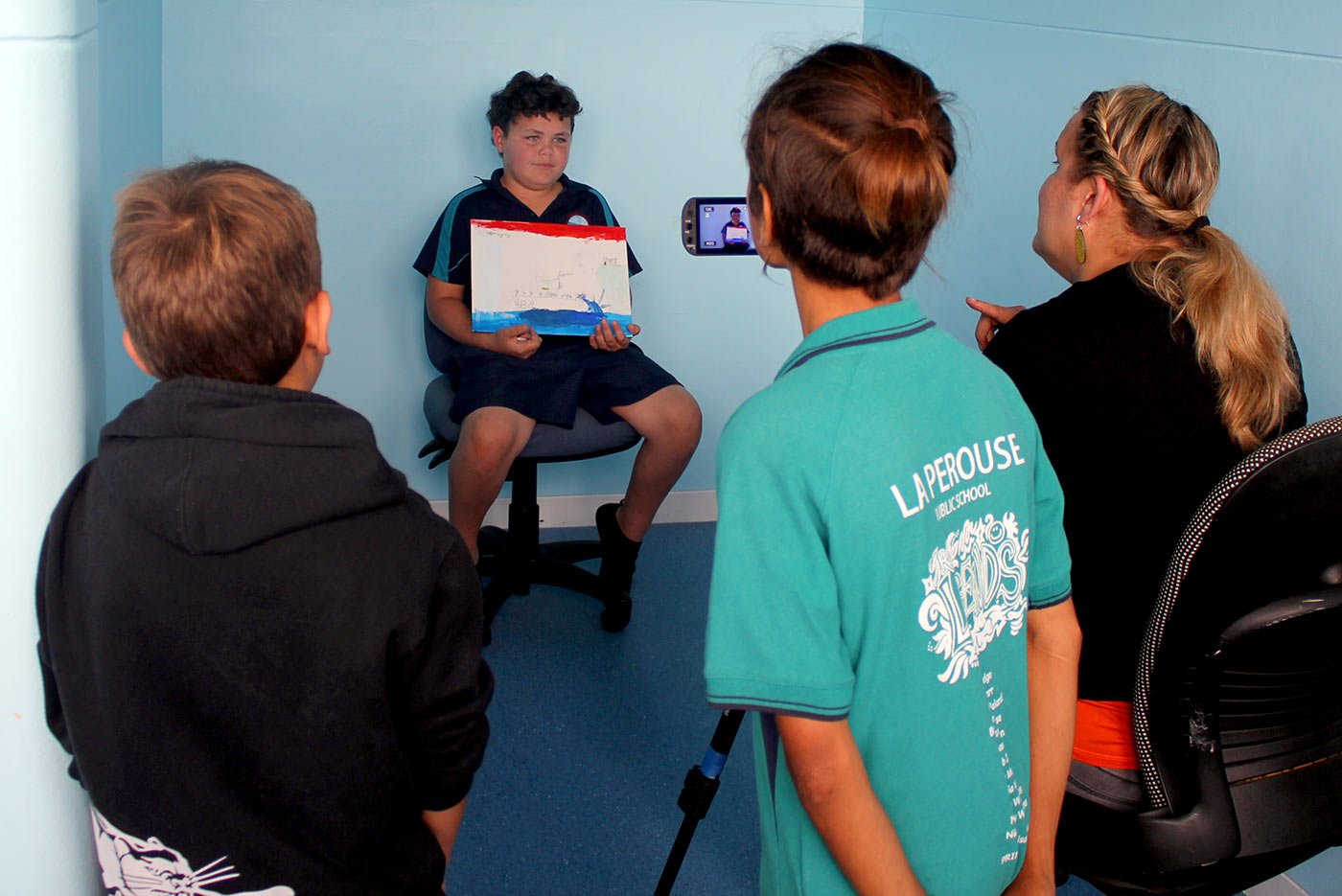 All the children created engaging works and shared the meaning and significance of them with us.
These works are a snapshot of how young Australian see the historical events that took place at Kamay and Waalumbaal Birri in 1770, and how they feel about this national story.
In future, we will be able to reflect on this legacy and consider how the perspectives of children vary over time.
Return to

Top