The National Museum is delighted to formally welcome the Love Wheels rainbow-coloured crocheted bicycle that was left outside Prime Minister Malcolm Turnbull's home during the marriage equality debate.
This powerful symbol of the 'Yes' campaign, made by yarn bomber Eloise Murphy, is on show in the Museum's Main Hall from 25–29 January 2018. It will soon return to our Xplore space, in an exhibition celebrating the 40th anniversary of the Sydney Gay and Lesbian Mardi Gras, and the recent marriage equality campaign.
The Museum is collecting objects which represent both sides of the debate which took place during the Australian Marriage Law Postal Survey. The survey determined national opinion on whether the Marriage Act should be amended to allow same-sex couples to marry. The 'Yes' result was announced on 15 November 2017.
Eloise Murphy is a Sydney-based yarn bomber. 'Treble Maker' is a play on her signature use of the treble crochet stitch and being part of the guerrilla crochet movement. Eloise enjoys bringing unexpected bursts of colour to cities, and covering ordinary objects – such as street signs, trees and bicycles – with extraordinary crocheted decorations.
She wanted to create a work that drew people's attention to the positive aspects of the marriage equality debate – such as the chance to work together and celebrate love in its many forms.
Prime Minister's reaction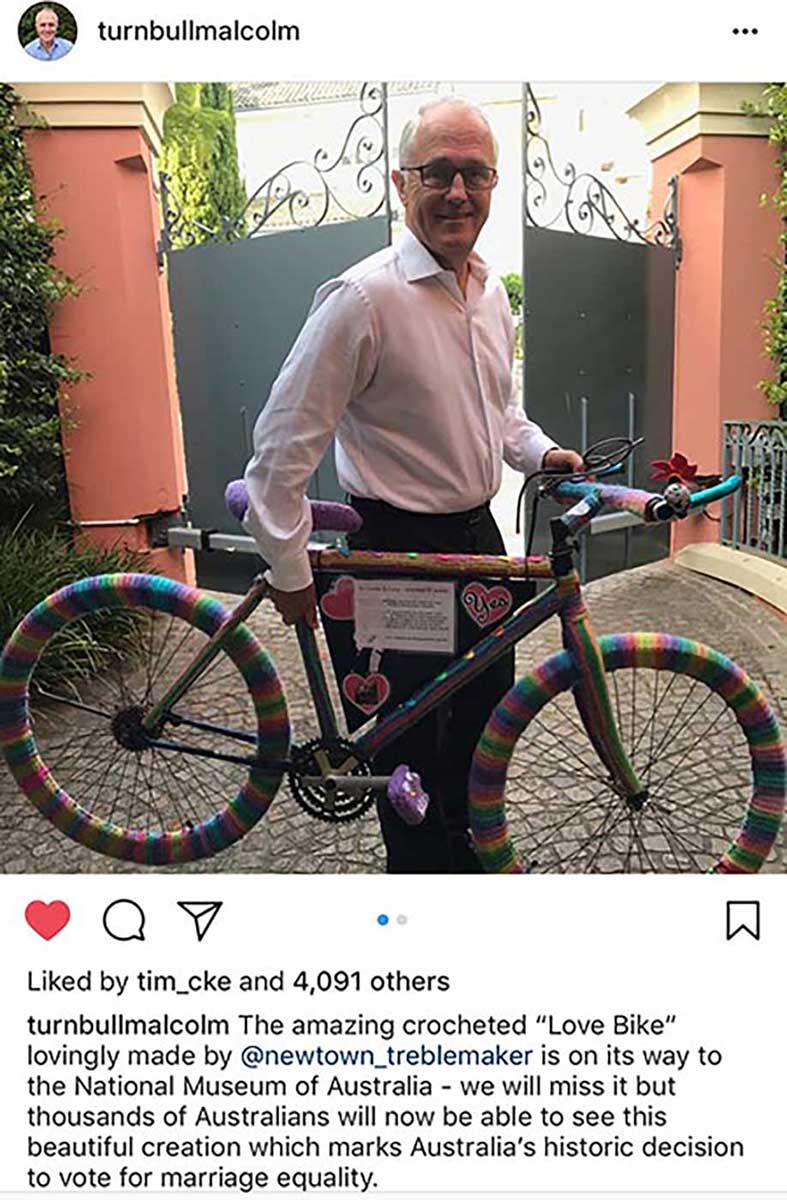 On 2 October 2017, Eloise chained Love Wheels to a street sign outside Malcolm and Lucy Turnbull's private Sydney residence. She hoped the Turnbulls might see the bike and be moved by it, but knew that it could be removed by security. Unbeknownst to Eloise, the Turnbulls saw the bike – and they loved it.
When Woollahra Municipal Council placed an impounding notice on the bike, the Turnbulls arranged for the lock to be cut and took it into their garden for safekeeping, leaving a note for the artist on the street sign – which Eloise never saw.
When the survey result was announced, Eloise assumed that she would never see Love Wheels again. Then, on 7 December 2017 – the same day that the Australian Parliament passed the new marriage laws – Malcolm Turnbull posted photographs of the bike on social media, seeking information about the maker and proposing that the bike be transferred to a national cultural institution.
His Instagram post received more than 4,700 likes and 130 comments expressing diverse opinions. One of Eloise's friends saw the post and Eloise contacted Malcolm Turnbull on Instagram. Within 24 hours, Lucy and Malcolm contacted Eloise and thanked her for the work.
Eloise spoke to us of her surprise of hearing from the Turnbulls:
To find out that they loved the bike so much, and their grandson in particular loved the bike, and to hear they were so concerned about what was going to happen to the bike outside in the rain that they organised to have the locks taken off and brought Love Wheels into their house – it was such a shock!
The Turnbulls arranged for the transfer of Eloise's bike to the National Museum and today is the first time it has been on public display. Love Wheels media release
Eloise outlines why she made Love Wheels and left it for the Turnbulls:
I made Love Wheels because I really wanted to make a positive contribution to the marriage equality debate. I started crocheting the wheels first, not really knowing how it might unfold. As I was making the bike, I was listening to the marriage equality debate. It seemed like there was a whole lot of noise and hot air about things that were completely irrelevant. I thought people were missing the point. It was simply about people's right to love one another and to have that love publicly recognised.

I started thinking about all the people I know who have amazingly strong love partnerships. I thought about my own parents who were about to celebrate their 62nd wedding anniversary.

I also started thinking about Malcolm and Lucy's partnership. I remembered reading an article in which Malcolm talked about how he'd felt 37 years ago when he married Lucy. What he said really moved me: 'Marrying Lucy was the best call I ever made, bar none. I'm the luckiest guy ... Now it's almost impossible to imagine, let alone remember, what it was like not to be together. So much so that I have a much clearer sense of "Lucy and me" than I do of "me"'.

I thought this said it all. I wanted to be able to say how lovely it would be if everyone could have the same feelings Malcolm did all those years ago by being free to marry the person they love as well.
Return to

Top