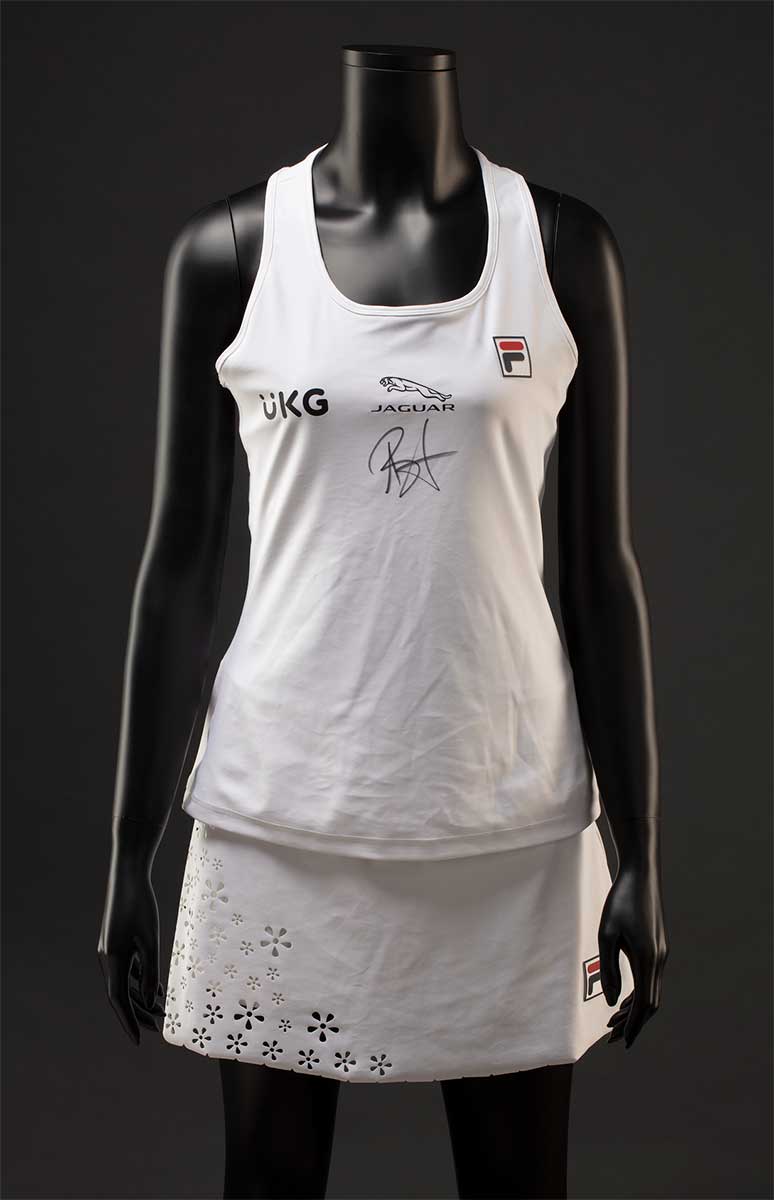 One of the most exciting events in the annual global sporting calendar is the Australian Open.
This year's competition is particularly significant as it also commemorates 100 years of women's involvement at the Australian Grand Slam. No doubt all eyes will be on Ngarigo woman and world no. 1 tennis superstar Ash Barty.
Let's take this opportunity to highlight one of our most recent acquisitions – the outfit Barty wore during her successful 2021 Wimbledon tournament – and explore its design story.
Wimbledon win
Owing to the pandemic, Barty did not play competition tennis for much of 2020, and that year's Wimbledon tournament was cancelled for the first time since the Second World War.
Barty returned to the professional arena in late 2020, ranking no. 1 in the world. At the beginning of 2021 she publicly revealed her childhood dream – to win Wimbledon.
On Saturday 10 July 2021 this dream became a reality. Barty defeated Czech player Karolína Pliškovà in the women's singles championship final (6–3, 6–7, 6–3). She became the third female Australian tennis player and second First Nations woman to win Wimbledon.
Barty's win had a profound resonance as the finals took place during the 2021 NAIDOC Week and marked 50 years since her friend and mentor Wiradjuri woman Evonne Goolagong Cawley first won the championship in 1971.
Ash Barty:
Evonne is a very special person in my life. She has been iconic in paving a way for young Indigenous youth to believe in their dreams and to chase them. She has done exactly that for me.
A special design
Barty's tournament outfit – designed by her apparel sponsor Fila in collaboration with Barty as part of the Trailblazer collection – pays homage to Goolagong Cawley by imitating the floral, scalloped hemline of the dress that Ted Tinling designed for her to wear during the Wimbledon tournament in either 1971 or 1972.
Goolagong Cawley's dress was designed by Ted Tinling, a British tennis player and sportswear designer who revolutionised women's sporting apparel.
In the New York Times Barty shared the influence of Evonne's Wimbledon outfit on her:
… her favourite dress, probably her most iconic dress, is something that inspired me and inspired our generation of Indigenous youth. I hope that my version of it, my outfit, can do the same for the next generation of Indigenous youth coming forwards.
A new home
The National Museum of Australia was thrilled to acquire Barty's 2021 Wimbledon tournament outfit for the National Historical Collection. Here it will be preserved alongside one of the dresses designed by Tinling for Goolagong Cawley. A perfect match.
Return to

Top