Project and exhibition partners
Yiwarra Kuju: The Canning Stock Route exhibition is a joint initiative between the National Museum of Australia and FORM.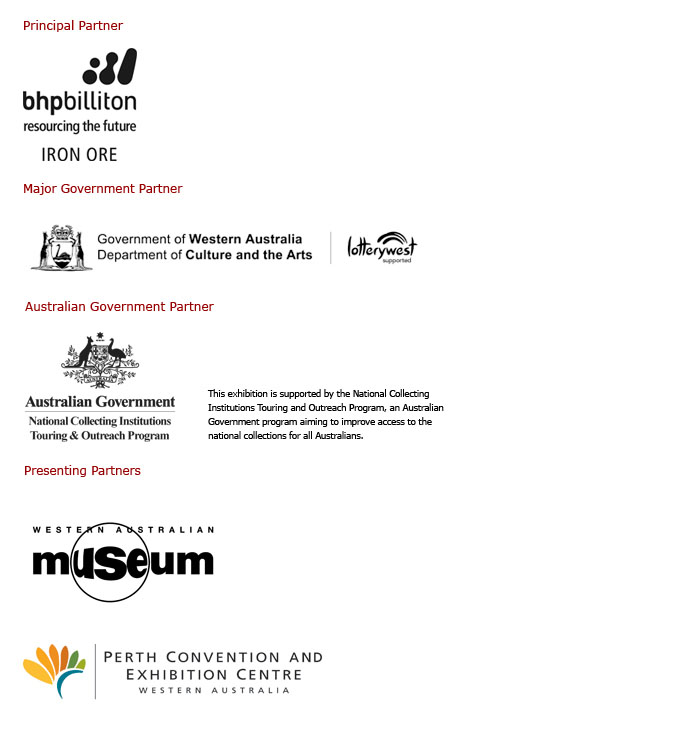 Project Partner
Indigenous Land Corporation
Supporting Partners
Freehills
BHP Billiton Nickel West
SPOT Imaging Services
Government of Western Australia
Department of Regional Development and Lands
Lotterywest
Landgate
Department of Industry and Resources, Aboriginal Economic Development
Department of Water
West Australian Museum
Aboriginal art and cultural enterprises
Birriliburu Artists, Tjukurba Gallery (Wiluna), Kayili Artists (Patjarr), Mangkaja Arts Resource Agency (Fitzroy Crossing), Martumili Artists (Newman, Jigalong, Parnngurr, Punmu, Kunawarritji, Nullagine), Ngurra Artists (Ngumpan and Wangkatjungka), Papunya Tula Artists (Kiwirrkurra), Paruku Indigenous Protected Area (Mulan and Billiluna), Warlayirti Artists (Balgo, Mulan and Billiluna), Yulparija Artists (Bidyadanga).
Tim Acker (co-founder and executive support), Hayley Atkins (co-curator), Morika Biljabu (filmmaker and photographer), John Carty (co-curator and anthropologist), Wally Caruana (curatorial mentor), Carly Davenport (co-founder, project manager, co-curator), Clint Dixon (filmmaker), Monique La Fontaine (co-curator, content manager, production editor), Putuparri Tom Lawford (cultural adviser and translator), Nicole Ma (multimedia director and mentor), KJ Kenneth Martin (filmmaker), Doolmarria Louise Mengil (co-curator), Murungkurr Terry Murray (co-curator), Curtis Taylor (filmmaker), Ngalangka Nola Taylor (cultural advisor and translator).
Hayley Atkins, Martina Badal, Clifton Bieunderry, Morika Biljabu, Joshua Booth, Lizzie Ellis, Susie Gilbert, Wuntupayi Jane Gimme, Nanan Hazel Hobbs, Olive Knight, Putuparri Tom Lawford, George Lee, Lena Long, Gracie Mulligan, Eva Nagomarra, Anne Nowee, Joy Nugget, Gail Smiler, Curtis Taylor, Ngalangka Nola Taylor, Taji Desmond Taylor, Daniel Walbidi, Dorothy Ward, Annette Williams.
Aboriginal community leaders
Manmarr Daisy Andrews, Jakayu Biljabu, Joshua Booth, Joe Brown, Sandy Cox, Yanpiyarti Ned Cox, Kumpaya Girgaba, Kuji Rosie Goodjie, Jack Gordon, Kamina Larry Gundora, Angus Hobbs, Jeffrey James, Milkujung Jewess James, Anga Friday Jones, Mayarn Julia Lawford, Ngarralja Tommy May, Jawarta Donald Moko, Eubena (Yupinya) Nampitjin, Billy Patch (Mr P), Dadda Sampson, Muni Rita Simpson, Jukuja Dolly Snell, Ngilpirr Spider Snell, Wilfred Steele, Geoffrey Stewart, Jawurji Mervyn Street, Jukuja Nora Tjookootja, Kamara Brandy Tjungurrayi, Patrick Olodoodi (Alatuti) Tjungurrayi, Mantararr Rosie Williams, Kilalapari Butcher Wise.
Aboriginal people who assisted the project
Rebecca Anderson, Tossy Baadjo, Bawoorga crew, Margaret Bumblebee, Claude Carter, Reggie Chungulla, Jeffrey Fletcher, Kerryanne Hobbs, Taralee K-Lyons, Simon Kungah, Carol Kwilla, Lloyd Kwilla, McKenzie Lawford, Angus Lewis, Lawrence Lulu, Anthea Nargoodha, Derek Paddoon, Dion Patch, Peter Samuel, Monica Whisputt.
Lynda Dorrington, executive director; Carol Ingley, finance manager; Mags Webster, executive support. Project support: Elisha Butler, Zane Hill, Ashleigh Lyford, Paulene Mackell, Monique Oosthuizen, Ebba Wehmeyer-Ernst, Zac Whitely, Peter Zylstra.
Kim Akerman, Tom Baxter, James Canning, Jason Collard, Karen Dayman, Sue Davenport, Joe Duncan, Dr William Fox, Dr Michael Gallagher, Professor Ross Gibson, Alix Grice, Daniel Glasby, Allison James, Peter Johnson, Bill Kruse, Frank Lane, Ken Leighton, Pat Lowe, Dr Jo McDonald, Kim Mahood, Gloria Morales, Professor Howard Morphy, Emmaline Schooneveldt-Reid, Nalda Searles, Professor Robert Tonkinson, Dr Daniel Vachon, Dr Peter Veth.
Regional and remote community agencies
Association of Northern, Kimberley and Arnhem Aboriginal Artists; Central Desert Native Title Services; Desart; Goolarri Media Enterprises; Kanyirninpa Jukurrpa, Martu Cultural Knowledge Program; Karrayili Adult Education Centre; Kimberly Aboriginal Law and Culture Centre; Kimberley Interpreting Service; Kimberly Language Resource Centre; Kimberley Land Council; Martu Media; Shire of East Pilbara; Shire of Wiluna; Wangka Maya Pilbara Aboriginal Language Centre; Waringarri Aboriginal Artists; Western Desert Lands Aboriginal Corporation; Yiriman Project; Yulella Aboriginal Corporation.
Paul Elliot (Light Corporation), Michael Hill (Lightwell), Nicole Ma Productions, Cameron McGrath, Chris Myrea (Cybertrix Media), Dave Wells (Martu Media).
Kay Dancey, The Australian National University; Indigenous Land Corporation; Landgate; Geoscience Australia; Sinclair Knight Merz and SPOT Imaging Service.
Eleonora Deak, Jessica Denniss, Sally Dixon, Amee Glass, Ken Hansen, Joyce Hudson, Lola Jones, Deanne Lightfoot, Jan Mountney, Eirlys Richards.
Badjar Ogilvy; the FORM Board; Glasfurd and Walker Design; Reconciliation Australia; Research School of Humanities, The Australian National University; The Pound; Helen Ansell; Megan Barham; Erika Blades; Heather Charlton; Sally Clifford; Annette Cock; Ann Darioli; Nicky Everson; Susan Freeman; Wade Freeman; Leon Henry; Jessica Jeeves; Kevin and Jenny Kelly; Jonathan Kimberley; Coby Kirwan; Roz Lipscombe; Katie McGuire; Mandy McGuire; Anna McLeod; John McLennan (Old Mac); Peter McLernon (Big Mac); Debra McNeil; Kerry Martin; Paul Miller; Wes Morris; Craddock Morton; Tim Pearn; Andre Poigneaux; Emily Rohr; John and Pat Ruedavey; Luke Scholes; Moya Smith; Craig Snell; Michael Stitfold; Gabrielle Sullivan; Paul Sweeney; Sam Tarling; Abi Temby, Dot West.
Return to

Top