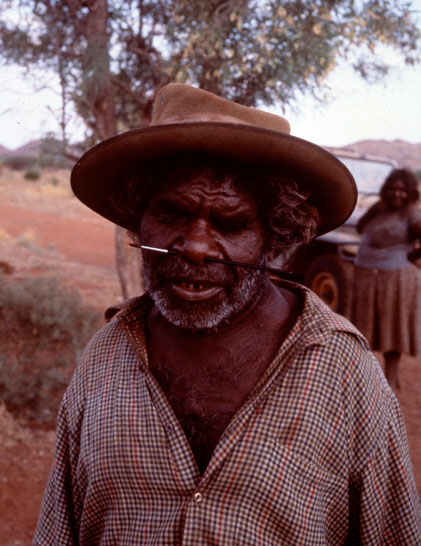 about 1918–2001
Born in a remote part of the Western Desert, Johnny Warankula moved to a Christian mission with his family in the 1930s, where he worked as a labourer. He later moved to Papunya and joined the painting group, where he rapidly developed his distinctive 'painterly' style of over-dotting. An energetic and expressive man and painter, he loved to tell audiences the stories of his paintings in the Pintupi language.
Mala and the Bad Uncles at Tjikarri (I and II), 1974

The place name referred to in this painting is associated with a group of ancestral beings who travelled together during the Dreaming. Their story is one the artist regularly painted, depicting the ancestors through their respective track marks. The Dingo Man was an uncle of the Mala (Hare Wallaby) ancestors, but he sometimes killed and ate them. The Kingfisher Man was also an uncle, but he often drank all their water. The Mala eventually speared the Dingo Man to death, but the Kingfisher Man, who was a magic healer, brought him back to life.
Return to

Top