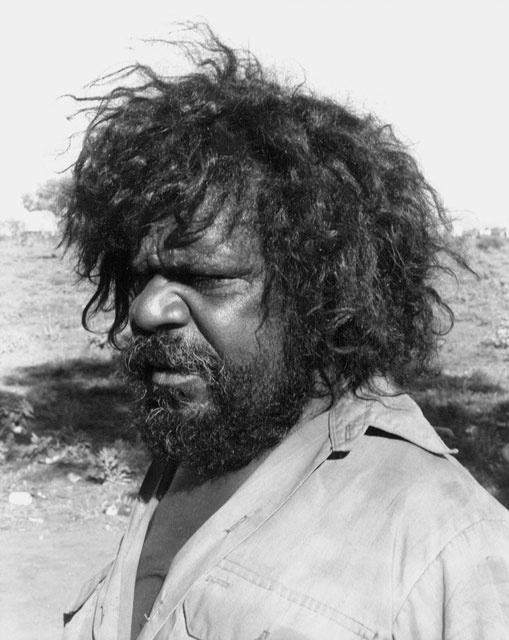 about 1932–2002
Born in a creek bed on Napperby cattle station, Clifford Possum worked from late boyhood as a stockman. He began carving in his late teens and had a reputation as a craftsman before the Papunya painting movement began. His skill and inventiveness and his enormous enthusiasm for life made him the most celebrated Aboriginal artist of his generation. He was chairman of Papunya Tula Artists in the 1980s and received the Order of Australia in 2002.
Dreaming Story at Warlugulong, 1976

This painting depicts the sacred Bushfire Dreaming story. It is named after the place west of Yuendumu where the fire began, indicated by the concentric circles at the centre of the glowing fire-burst, which conveys the explosive nature of the fire. The charcoal grey areas indicate the burnt-out country, and the white dots represent ash.
Slideshow
In the early 1950s the artist went to live at a recently opened lodge that catered to tourists drawn to the area by the landscapes of the Hermannsburg Mission watercolourists. By the time he started visiting Papunya in the mid-1960s he had a well-established reputation as a woodcarver, based on his talent for capturing lifelike effects of motion. His subjects — usually snakes and lizards — were the same ancestral beings later seen in his paintings.
Return to

Top