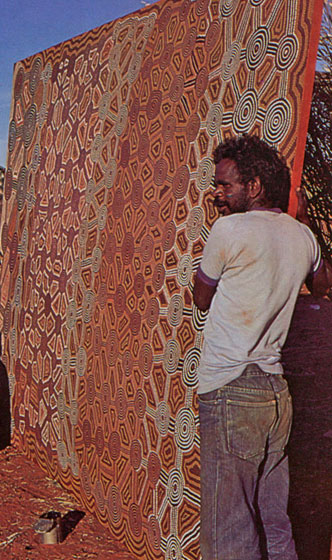 born 1949
Charlie came to Papunya in 1964 after living a traditional life in the desert. He began painting for Papunya Tula Artists in 1977, in the line-and-circle grid style typical of Pintupi men's art of the period. In 1981 he went to the United States of America for a major exhibition. Nearly 20 years later he was one of 4 Papunya Tula artists brought to Sydney to construct a traditional ground painting for the Art Gallery of New South Wales during the 2000 Olympics. He had his first solo exhibition in 2003.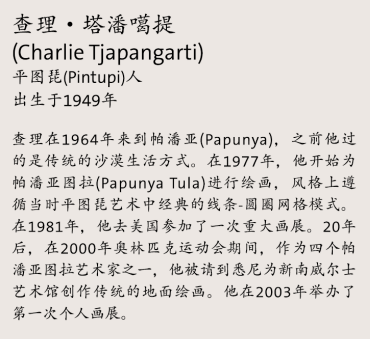 Tingarri Dreaming, 1981

This painting was one of 3 Papunya paintings included in a prestigious exhibition at the Art Gallery of New South Wales in Sydney, Australia, in 1981. It is inspired by the designs used in Tingarri ceremonies associated with sites near Jupiter Well. The young artist was assisted by senior colleagues in painting this sacred story. A ritual manager oversaw the work on the painting to ensure the Dreaming was accurately depicted.
Return to

Top