WARNING: Visitors should be aware that this website includes images and names of deceased people that may cause sadness or distress to Aboriginal and Torres Strait Islander peoples.
---
Kidnapped: Keendahn's story
The story of Keendahn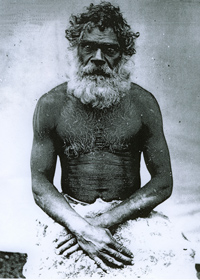 One member of Bilin Bilin's community had a terrifying experience with the Queensland Native Police. Keendahn was a young Yugambeh boy. Around 1860, when he was about ten years old, he was kidnapped by the Native Police from his homelands along the Nerang River, along with five other youths from that area. They were taken by ship to Rockhampton and then to a nearby police camp, where the boys were to be trained for the Native Police.
The commandant of the camp was Lieutenant Frederick Wheeler, the most notorious officer of the Native Police. His violence was legendary. He threatened to kill anyone who disobeyed him or tried to escape. Wheeler was the only officer to be charged with murder, although he was never tried because he absconded while on bail.
It was the sight of the murder of one of the trainees that led the six Yugambeh boys to plan their escape. They waited for some months because their escape had to be successful. They knew they would be shot if they were recaptured.
Escape!
One night they took the chance and fled the camp, hiding in the bush until the sounds of the search party faded. Then they set off to walk 550 kilometres home. They knew that when they were taken north the sea had been on their right and the land on the left. So they reasoned that if they walked along the coast with the sea on their left they would eventually get home. They avoided local Aboriginal communities for fear of attack or betrayal.
Three months later one of their party climbed a tree and called out Wollumbin! Wollumbin! (Mount Warning). They were home. Two years later Wheeler was posted to Brisbane not far from Keendahn's home. Keendahn lived in fear of recapture for the rest of his life. When he recounted this story as an old man he recalled running away many times when he knew the police were nearby.

Other stories of resistance