Devonshire migrant Mary Deane left her Sydney teaching post in 1844 to marry pastoralist William Pitt Faithfull of Springfield sheep station, near Goulburn, New South Wales. It is likely that this is Mary's wedding dress: its sloping shoulders, pointed, fitted waist and bell-shaped skirt is typical of the mid-1840s, and the luxurious silk damask was a fashionable choice for brides who could afford it.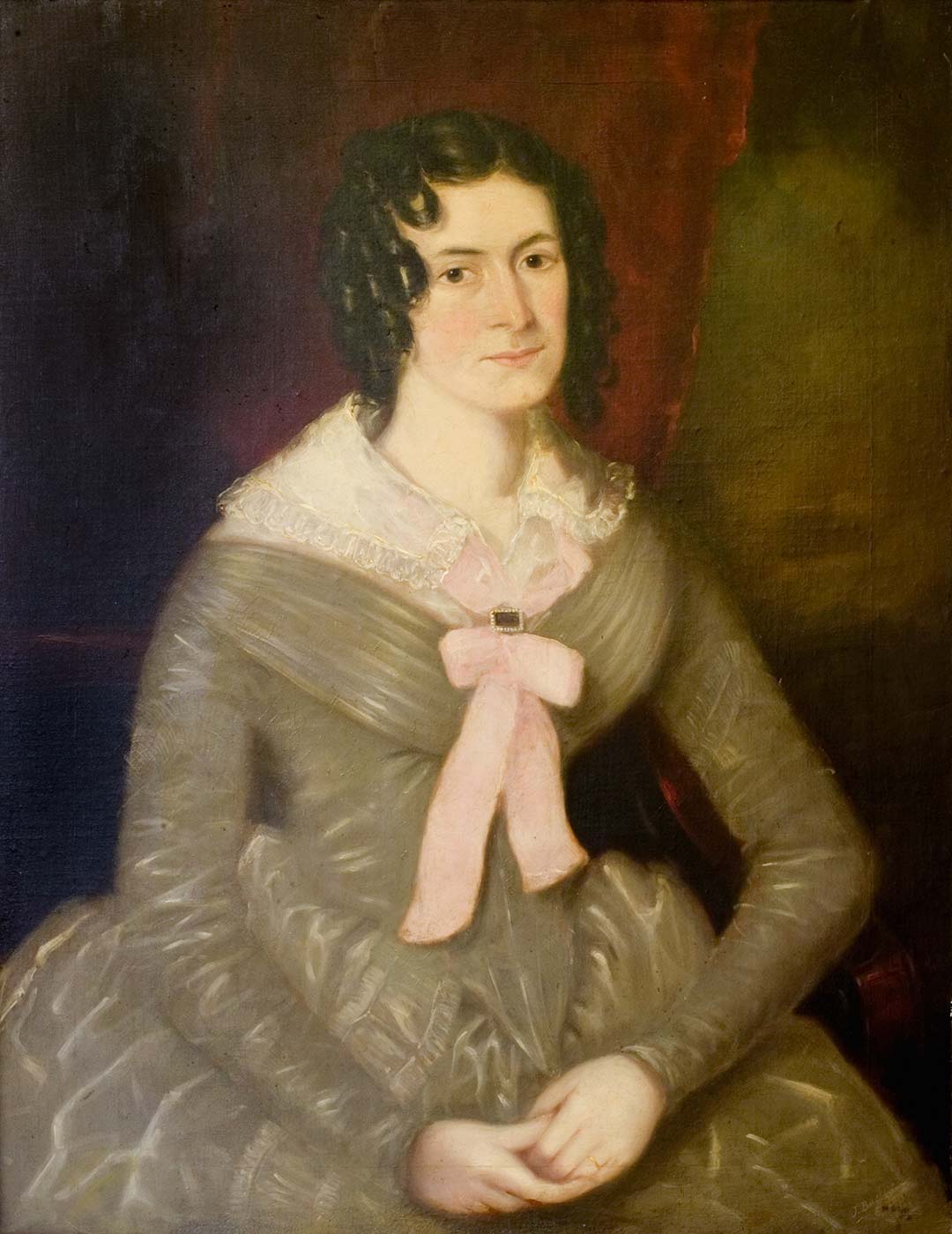 Mid-1840s fashion
This finely constructed 1844 dress, with its fitted waist and full bell-shaped skirt, does not carry a maker's label. It was probably made for Mary from imported silk by a skilled seamstress in Sydney.
The severe peak of the bodice and the gathered skirt emphasised Mary's tiny proportions. Her waist, a very slender 55 centimetres (22 inches), was slightly larger than the ideal size of the time.
The waistline of the dress was later enlarged, possibly for family members to wear on fancy dress occasions, and the alterations concealed beneath a large rosette.
The revolutionary crinoline cage – or hoop skirt – had not yet been invented, so Mary would have worn many petticoats to achieve a voluminuous skirt.
Colonial courtship
Mary met pastoralist William Pitt Faithfull while he was on a trip to Sydney to collect his nieces, Alice and Susannah Gibson, from the Misses Deane school.
William was in his late 30s when he met Mary. Although at the time this was regarded as middle-aged, marrying 'late' was not uncommon in colonial Australia. Men outnumbered women in the colony, and finding a suitable and willing bride could be difficult, especially for those living on isolated pastoral properties.
William was in luck when he met Mary, an educated, cultured and resourceful woman. The couple married on 20 January 1844, at St James' Church, Sydney. Following the wedding, Mary left her school and urban Sydney life to join her husband on Springfield sheep station, near Goulburn, New South Wales. Her mother, sister and nephew accompanied her.
Faithfull family
Over the next 15 years Mary and William had six sons and three daughters. As the Faithfull family grew, so did Springfield. By the 1850s it was a prosperous merino stud with an elegant homestead. Teachers at heart, Mary and Ann opened a library at Springfield for all to use, and were involved in educating the Faithfull children and the children of their employees.
Mary and William's children and grandchildren enjoyed a privileged upbringing, including a fine education and a range of leisure activities – symbols of civilised settlement in colonial Australia. Many also travelled to mainland Europe and England, where they visited Devon, their mother's and grandmother's former home.
Dark cream silk damask dress
It is possible that this dress was worn by Mary Deane on her wedding day when she married pastoralist and founder of Springfield sheep station, William Pitt Faithfull at Saint James' Church Sydney on January 20, 1844. Between 1844 and 1859, William Pitt Faithfull and Mary had nine children.
Explore more on the Springfield–Faithfull family collection
Return to

Top