Closing credits (right to left)
The creators acknowledge and thank those involved in the project and relate details of the scroll's journey to completion.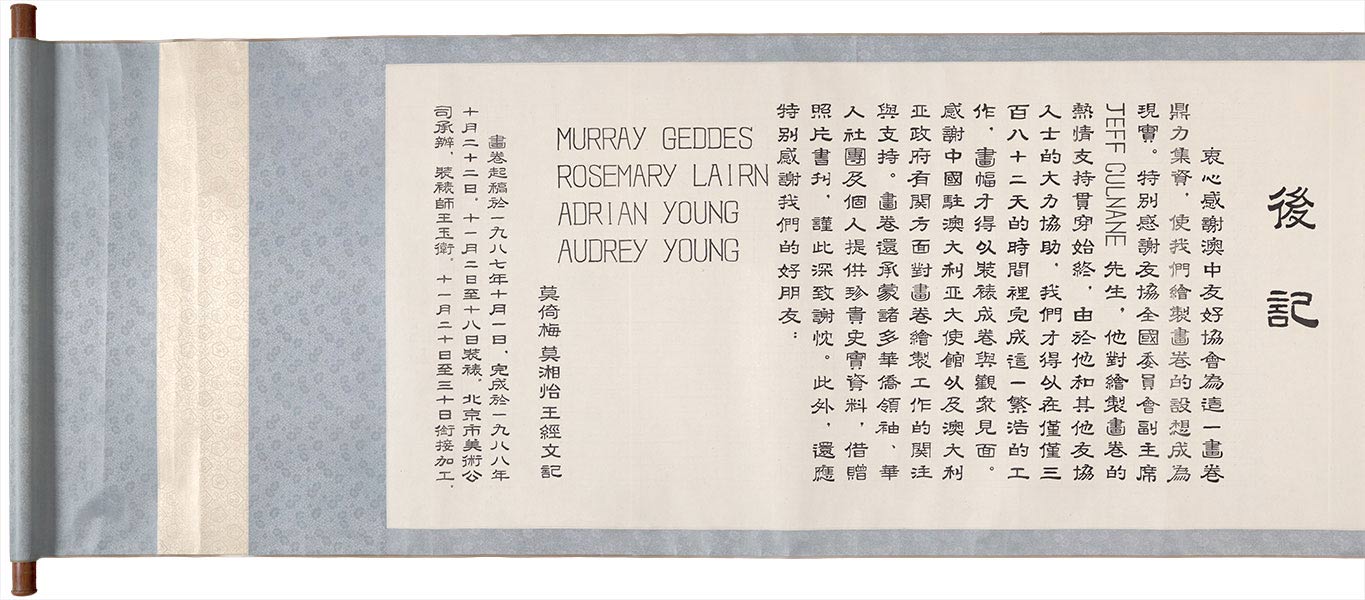 My heartfelt thanks to the Australia China Friendship Society for their support and fundraising efforts which helped turn the dream of this scroll into reality. A special thanks to the National Vice-President of the Australia China Friendship Society, Mr Jeff Culnane, for his enthusiastic support for this project from start to finish. Because of the tireless efforts of Jeff and other members of the society it took only 382 days to complete this whole masterpiece.

The support and assistance of the Australian Government, the Embassy of the People's Republic of China, Canberra, and the presidents of the local Chinese associations are also acknowledged. Thank you also to the members of the local Chinese community for their role in providing stories, photographs and books which formed the basis of this painting.

A final thank you to our good friends Murray Geddes, Rosemary Lairn, Adrian Young and Audrey Young from Mo Yimei, Mo Xiangyi and Wang Jingwen.

The painting was started on 1 October 1987 [Chinese National Day] and finished on 22 October 1988. After the painting was finished it had to be mounted, as a scroll, in order for it to be displayed. The scroll was mounted by Wang Yuwei, Beijing Artist Company, between 2 and 18 November 1988. From 20 to 30 November 1988, the finishing touches were added.
Return to

Top