A much-loved toy pig with a missing tail connects the United States to Australia in the aftermath of the Second World War.
The pig belonged to Erin Craig, the daughter of Australian war bride Iris Adams and US Army Master Sergeant Jim Craig. Erin received the pig as a prize on board a ship as she and her mother sailed to meet her father in the US in 1946.
She treasured the pig for 60 years and donated it to the National Museum in 2007.
US servicemen in Australia
Between 1942 and 1946 almost one million US service men and women were stationed in or visited Australia. The social impact of the temporary migration in places including Melbourne, Sydney and regional Queensland was massive.
As war raged in the Pacific, US troops were initially seen as saviours and the Australian public was encouraged to open their hearts to them. Personal and romantic relationships flourished and more than 12,000 Australian women married American GIs. About 10,000 left Australia for America.
The impact of American servicemen on Australia during the Second World War is often framed as a 'friendly invasion'.
War bride
Iris Adams and Jim Craig met at dance in Sydney in December 1942. They were married on 23 March 1943 and Erin was born on 10 May 1945 in Sydney.
Iris was one of the many war brides who decided to leave Australia to be with her American husband.
Iris and Erin travelled to San Francisco on the SS Lurline, a ship which had been used during the war and was then employed to take Australian war brides to America. Erin first met her father when the ship docked in San Francisco in early April 1946.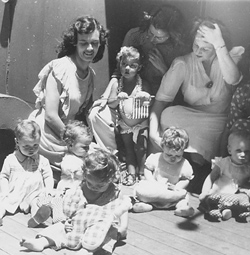 Prize-winning pig
It was during her trip on the Lurline that Erin won the pig. To entertain mothers and children on board, a competition was held to find the child with the reddest hair.
Iris recalled some mothers wetting their children's hair to make it appear darker, but at 10 months, Erin naturally had very red hair and won the prize.
The toy pig is handcrafted from red-and-white spotted cotton. The fact that it is homemade speaks to the imposition of restrictions during wartime, and the efforts of organisations like the Red Cross to provide support for Australian war brides
After many years the pig has lost its right ear and its tail. It was treasured by Erin for more than 60 years before it was donated to the National Museum. The Erin Craig collection also contains a debarkation tag which Erin wore on her arrival in San Francisco in 1946.
Iris and Jim had a baby boy, Terence, in 1947. Jim died in 1968 and the family remained in the US. They regularly return to Australia for visits. Today, Erin lives in California. She is a past president of the World War Two War Brides Association.
Return to

Top