A studded metal dog collar illustrates a dramatic story of a dog saving a man during a flash flood in Melbourne in the 1880s.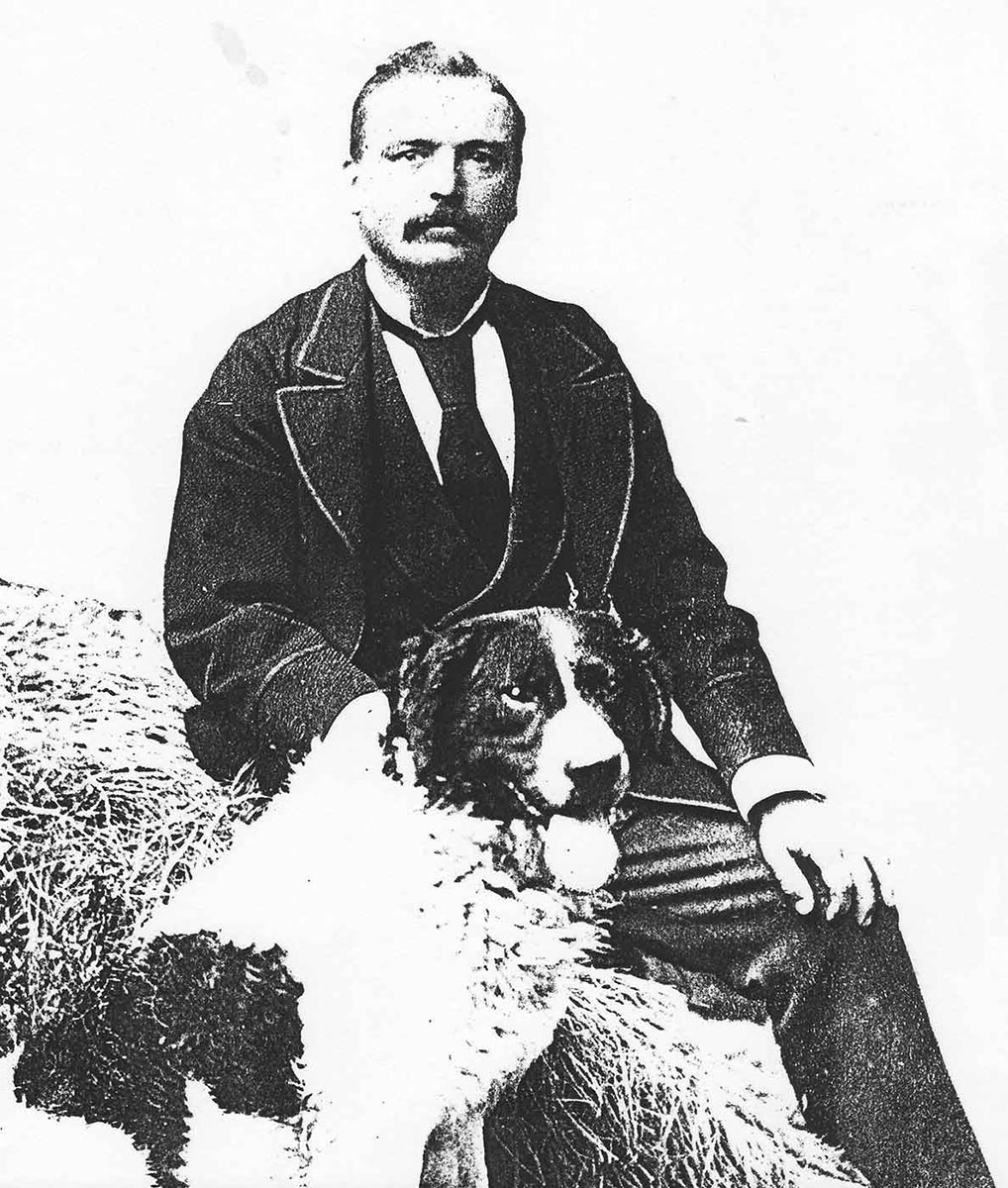 Nelson the Newfoundland helped rescue Thomas Brown, a cab driver who was swept away by flood waters in Swanston Street on the night of 15 November 1881.
When the 130-year-old collar was acquired by the National Museum in late 2011, little was known about Bill Higginbotham and his dog, Nelson, before or after the rescue.
Bill's family contacted the Museum and helped to fill in some of the blanks, in response to a call for more information.
Flooding from the River Yarra
Melbourne's location close to the River Yarra meant that it was prone to flooding. The Illustrated Australian News reported that when it rained the city streets became 'miniature rivers, down which the water rushes at an extraordinary rate, and pedestrians find it exceedingly difficult to cross'.
At 8pm on 15 November 1881 a thunderstorm broke over central Melbourne. Heavy rain fell for nearly an hour, and the city was soon flooded. The south ends of Elizabeth Street, and Swanston Street, which runs parallel to it, were worst affected.
The Argus reported that 'in both these streets the water was flowing in one broad stream extending from shop door on one side to shop door on the other'.
At the intersection of Swanston and Lonsdale streets, Thomas Brown, the driver of a horse-drawn cab, was pulled into the torrent.
Fifty years after the event, in 1931, the Melbourne Herald had this account of Brown being swept away:
Close to the gutter, which was a torrent five feet deep, seething to a culvert 50 yards down the hill, a cabman was trying to keep his horse still while waiting for his passengers. At length he clambered down to quieten the beast, and at that moment it tossed its head and knocked him insensible into the gutter. In a moment he was being swept down toward the culvert.
Brown's cries were heard by Bill Higginbotham and his dog, Nelson.
Luckily for Brown, Nelson was a Newfoundland. Bred by fishermen in Canada, Newfoundland dogs have a strong instinct for water rescue and retrieval. With their large, powerful bodies, water-resistant coat and webbed feet, they were often employed to save people and cargo from shipwrecks.
Attempts to save drowning man
The Argus article reports that Nelson the dog jumped into the stream and caught hold of Brown's clothing, but it gave way. Brown was swept quickly down the block.
Near the corner of Little Bourke Street, the dog seized him again, but could not keep his grip. Just as Nelson let go, Mr Higginbotham, who was clinging to a post and leaning out into the water, grabbed hold of Brown.
The power of the racing stream was so great that he too lost his grip on the cabman, who disappeared into a covered channel that ran under Little Bourke Street.
It seemed almost impossible that Brown could be saved – but undaunted, Nelson managed to catch him as he emerged from the channel on the lower side of the street. Again though, the current was too strong, and Brown was wrenched from Nelson's jaws and pulled at great speed towards the channel that ran under Bourke Street.
A last desperate attempt was made to save Thomas. Mr Higginbotham, a Mr Mates and Nelson plunged into the stream and managed to haul Brown out of the water. When they got him safely to the side of the street, they found his clothes had been torn to shreds, probably as a result of Nelson's indefatigable efforts to catch hold of him.
The incident was widely reported in the colonial press, and the Illustrated Australian News praised Nelson's 'courage and sagacity', suggesting he would be a 'worthy candidate for the Humane Society's medal'.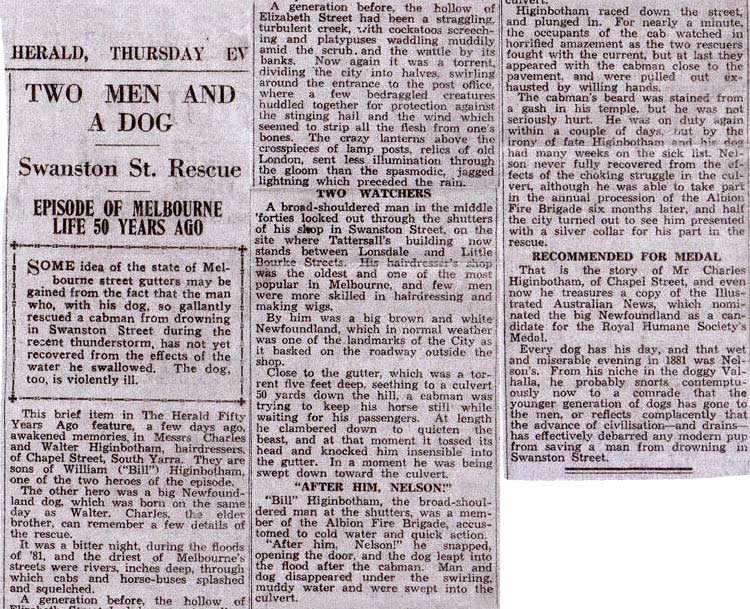 Higginbotham family history
William John Higginbotham, known as Bill, was born in London on 5 August 1832.
A family history provided by great grandson Russ Higginbotham says that Bill's father was a hatter who worked in the London theatre district as a wigmaker and hairdresser.
In 1853 Bill married Mary Ann Jones and they had two children, William John Junior and Hannah.
In 1857 Bill's uncle, Tom Higginbotham returned to London from Melbourne. Tom had lived in Melbourne since 1839 and established a successful painting and glazing business.
It is thought Tom might have told a great story of the new colony, and over the next 10 years all his siblings, nieces and nephews moved to Australia.
Bill and Mary arrived on the Suffolk in May 1858 with their two children. Six sons – Thomas, John, Arthur, James, Charles and Walter – and three daughters – Charlotte, Mary and Sarah – were born in Victoria.
Bill operated salons in Bourke St, Swanston St and for a few years in Bendigo. Most of the sons followed Bill into the hairdressing trade, mainly in the city and near suburbs. Charles and Walter Higginbotham operated a hairdressing salon in Chapel Street, South Yarra.
The young Higginbotham family lived in Fitzroy and Collingwood for many years and may have lived above the Swanston Street shop (now 244 Swanston St). Bill's prime trade was in wig making and his salon was well placed to service the theatre industry.
A number of advertisements for his business appeared in the Melbourne Argus in the 1870s:
Hairdresser wanted: Must be steady. Apply Higginbotham, Wig maker, 237 Bourke St East

Mayors fancy ball – A grand assortment of Ladies and Gentlemen's Court and Ringlet wigs on hire. Higginbotham Theatrical Wig Maker, 122 Swanston St.
It is believed Bill also made a collection of ornate head pieces for the Indigenous display at the Melbourne Museum, and Russ recalls seeing them as a child.
Bill died in 1912 at his daughter Charlotte's home. He is buried in the Melbourne General Cemetery with his wife Mary.
Nelson and his dog collar
The Museum doesn't know what became of Thomas Brown and until contacted by Russ Higginbotham, knew little about Bill or Nelson, beyond the dog's collar and information from newspaper accounts of the rescue.
The Higginbotham family history states that Nelson was born in Bendigo on the same day as Walter Higginbotham, 25 May 1874. Nelson was well known to many inner city Melburnians as he used to sit outside Bill Higginbotham's shop.
Made from copper with brass studs, the 16.5cm diameter collar is engraved 'Dog Nelson, W Higginbotham, 122 Swanston St'. The Museum's Conservation team closely analysed the copper collar and found that it was once nickel plated and shone like silver.
It was originally thought Nelson may have been wearing the collar when he made his daring rescue, but in 1931 Bill's hairdresser son, Charles, told the Melbourne Herald it was presented to the dog later:
Nelson never fully recovered from the effects of the choking struggle in the culvert, although he was able to take part in the annual procession of the Albion Fire Brigade six months later, and half the city turned out to see him presented with a silver collar for his part in the rescue.
Russ suspects the collar may actually have been presented by the Union Fire Brigade in Collingwood, where Bill was a volunteer. The brigade met at the Albion Hotel, which might explain the wording of the newspaper report.
For many years the collar remained in the Higginbotham family, with Russ' aunt Nina until about 1960. It was offered for auction in 2008 as part of the collection of antique dealer Richard Berry. The collar was auctioned again in 2011 when the Museum was the successful bidder.
Dog collars have a long history, with metal or leather being the most popular materials. Metal collars allowed the owner to engrave their name and address, enabling the dog to be returned if it wandered or was stolen. They probably also offered some protection for the dog if it was in a fight – although perhaps Nelson's canine neighbours would have thought twice before taking on an 80kg Newfoundland.
Why a Melbourne hairdresser and tobacconist had a Newfoundland dog is a mystery. Russ Higginbotham wrote:
The family was certainly not seafaring and it was a large dog to have in a relatively confined suburban space. The photo, from circa 1880 is probably before the flood so he obviously thought highly enough of Nelson to have a studio picture taken. (We don't have any photos of the family!)
The first Newfoundland came to Australia with the First Fleet in 1788. In 1900 another Newfoundland named Nelson was the mascot of the first contingent that left South Australia to fight in the Boer War.
Newfoundland dogs were exhibited at the Melbourne show from the 1860s. Perhaps Higginbotham had simply seen a Newfoundland dog and been drawn to the gentle, loyal breed.
City on a floodplain
Thomas Brown was lucky. According to the 1931 Herald report his: 'beard was stained from a gash in his temple but he was not seriously hurt. He was on duty again within a couple of days'. But many Melbournians were killed by floodwaters in the 19th century.
Victoria's capital was known as 'marvellous Melbourne' in the 1880s. Flush with wealth from the gold rush, it had grown from a small riverside village to an imposing city in less than 50 years. Still, the geographic advantages that had made the site so attractive for settlers could surprise its inhabitants.
Melbourne's founders were drawn to a spot on the banks of the River Yarra where a deep, steady flow of fresh water ran into Port Phillip Bay. In 1837 planner Robert Hoddle laid out a grid of wide streets on a gently sloping valley running down to the river. One of the main thoroughfares, Elizabeth Street, followed the course of a gully.
Melbournians soon had cause to regret building their town on the Yarra's floodplain. From 1839 the river inundated central Melbourne about every 10 years, as water from upstream burst its banks and met surges channelled along its streets and drains – many of which followed the valley's natural watercourse down to the Yarra estuary.
The constant threat of inundation in Melbourne's central business district led, from the 1860s onwards, to a sequence of works on the Yarra. The wide slow river of today was produced by straightening, widening and deepening its course, removing billabongs and cutting canals.
The large, open street drains of 1881, into which people poured their waste and sewage, earned the city a new nickname, 'Smellbourne'. These street drains were replaced by a huge network of underground drains maintained by the City of Melbourne.
Hidden beneath skyscrapers and footpaths, stormwater from Melbourne's streets still travels on its ancient course to the river and the sea.
Return to

Top