Wedding dresses are an important part of most cultural wedding traditions. Their preservation reveals the values and beliefs attached to them by the women who wore them, and the cultures that influenced their design.
Patricia Druce collection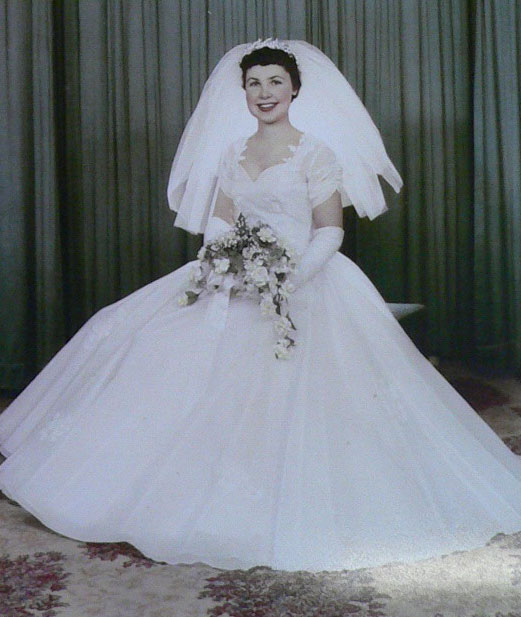 The Patricia Druce collection includes four wedding dresses worn by four generations of brides in the same family. The weddings all took place in Sydney in 1900, 1926, 1956 and 1992.
The dresses were collected by Patricia Druce (nee Barker) and donated to the Museum by her husband Alwyn in 2010. Each dress was kept by the bride until her death, then passed on through the family. The only exception was Janet who married in 1992 and donated her dress to Patricia's collection.
The three older dresses have all been altered but not so much as to make them unrecognisable as wedding dresses. Given their expense, it is not unusual for a bride to extend the life of her wedding dress in this way. This repurposing adds to their stories and cultural significance.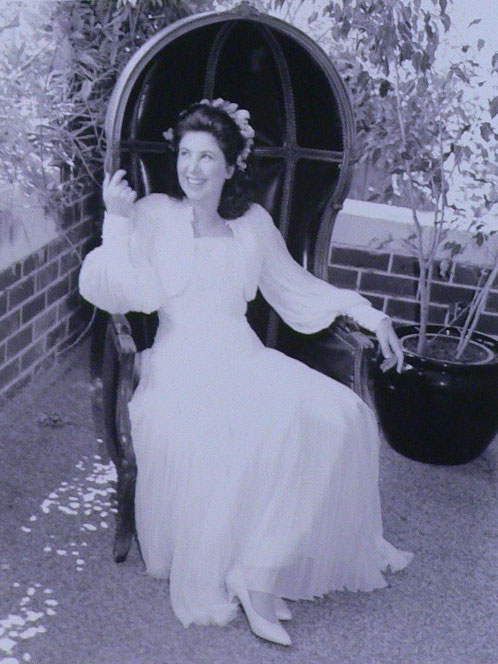 From the photographs, it appears that the white leather gloves first worn by Grace Isobel Brandon for her marriage to Percy James Newell Barker on 1 August 1900, were also worn by Rita Gwendoline Jones (Grace and Percy's daughter-in-law) for her marriage to Claude Adrill Perks Barker on 11 December 1926, and by Patricia Florence Barker (daughter of Rita and Claude) for her marriage to (Frederick) Alwyn Druce on 20 November 1956.
Janet Raie Druce (daughter of Patricia and Alwyn) married Craig Dunstan on 22 November 1992, and although she did not wear a veil and white gloves, her dress still nods to tradition through the inclusion of lace, seed pearls and a full skirt.
Janet has fond memories of occasionally being allowed to play dress-ups in her grandma's (Rita Gwendoline Jones) Edwardian dress 'if she was careful'.
Dresses reflect the times
While wedding dresses may signify societal expectations and adhere to tradition, they also adapt to newer fashions and incorporate the bride's individuality.
The Patricia Druce collection is remarkable in that it charts almost 100 years of the cultural, traditional and socio-economic changes that influenced each bride's choice of wedding dress, within four generations of one family.
When Grace Brandon married Percy Barker in 1900, her choice of wedding outfit reflected the fashion of the day and was typical for brides at the time. Few brides could afford to buy a dress for just one day. More often, they wore their best dress and hat.
For those who could afford to make or buy a new dress, cream was the preferred colour and the style chosen was one that would be suitable for alteration to day wear. A bride's choice of flowers and the addition of a veil were often the only accessories that could be afforded in aspiring to mimic a patrician wedding.
Wedding industry flourishes
After enduring the deprivations of two world wars and the 1930s economic depression, Australia was ready to embrace all that was new. In the wake of unparalleled production and consumption, weddings of the 1950s became the ultimate display of pageantry, wealth and achievement.
The wedding industry flourished through the mass distribution of idealised images of weddings that promoted the fairy princess ideal.
The dress chosen by Patricia Barker for her marriage to Alwyn Druce in 1956 typifies the fashionable full skirts and sweetheart neckline coveted by brides of the day.
Janet Druce's dress was a modern 1990s design and a world away from the typical wedding dress. But it was still something special, with a nod to tradition in its long-sleeved jacket worn over the strapless dress and a discrete circlet of silk orange blossoms worn in her hair.
Mosquito net wedding dress 1943
The donor dyed the dress blue at a later date for a fancy dress party but there is little evidence of this. The donor's mother, Ella Lindwall had the dress made by (it is thought) a dressmaker, Mrs Thayer in Auburn. The dress was also borrowed by Joan Jenkins (nee Booty) and Irene Christopher (nee Childs).
Return to

Top