Piinpi: Contemporary Indigenous Fashion is an exhibition that is brimming with colour, texture and talent. It celebrates First Nations art, history and culture through contemporary fashion and design, bringing together a selection of garments and textiles by First Nations designers and artists from around Australia.
Audiences already enjoyed the exhibition at the Bendigo Art Gallery in 2020 and at the National Museum of Australia in 2021, and in 2022 it will appear on the global stage, beginning in Paris.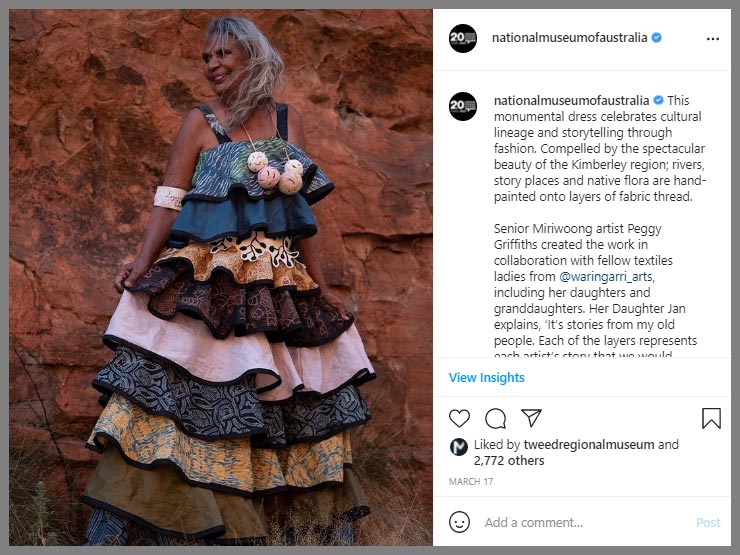 Curated by Shonae Hobson at Bendigo Art Gallery, Piinpi highlights the strength and diversity of the rapidly expanding First Nations fashion and textile industry. The Museum partnered with Bendigo Art Gallery to bring Piinpi to audiences in Canberra.
Seen by 25,000 people prior to Canberra's latest lockdown, the content of the exhibition also engaged our online audiences with a highly successful campaign that exceeded the Museum's average monthly engagements on social media. One post became the top-performing post on the Museum's Instagram channels since 2018!
There is no doubt that the interest in this cultural movement, and the stunning designs and works of art, have broad appeal. So we knew touring Piinpi globally would not only be popular, but would also redefine the way the world engaged with Australian culture and history.
The teams have worked together on developing an international tour, and the response has been phenomenal. As with all international tours, the exhibition will provide a platform for broader conversations, foster connections, and showcase Australia's unique ancient heritage in a contemporary light.
And where better to display an exquisite showcase of exciting new work from rising stars in First Nations fashion design than the world's fashion capital, Paris. Watch this space for details!
Orange and white line and dot painting
A gouache painting on paper mounted on board. The design features white lines and dots, some of which are arranged in a circular fashion, on an orange background. Handwritten in pencil on the back is '7873 BAL081'.
Return to

Top