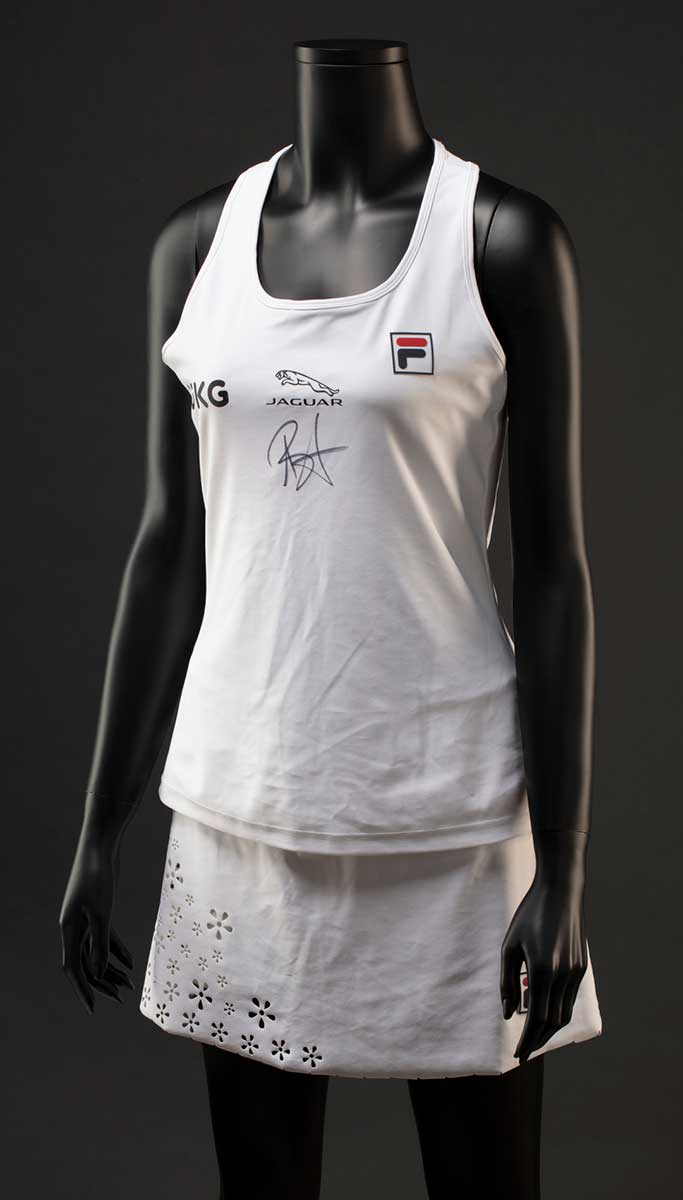 17 January 2022
Design inspired by Evonne Goolagong Cawley's 1972 Wimbledon dress
World number one and Australian tennis champion Ashleigh (Ash) Barty has donated the outfit she wore during her victorious 2021 Wimbledon campaign to the National Museum of Australia in Canberra.
Barty became the third female Australian tennis player to win Wimbledon on 10 July 2021 when she defeated Czech player Karolína Pliškovà in the Ladies Singles championship final (6–3, 6–7, 6–3). A proud Ngarigo woman, Barty also became the second Aboriginal woman to win the Ladies Singles title at Wimbledon, following friend and mentor Evonne Goolagong Cawley's victory in 1971. Barty's triumph also marked 50 years since Goolagong Cawley's historic win.
The National Museum's collection already includes Goolagong Cawley's 1972 Wimbledon dress, and the addition of Barty's 2021 championship outfit is of unique significance. Barty's white Fila 'Trailblazer' outfit features a laser-cut scalloped hem and floral design, paying tribute to Goolagong Cawley's 1972 white dress with blue trim designed by Ted Tinling, who revolutionised tennis fashion and created the scalloped trim that featured on many of Goolagong's dresses, including the one she wore in 1971.
National Museum director Dr Mathew Trinca was delighted to have the complementary objects together. 'Ash's outfit is a wonderful addition to the National Historical Collection and the acquisition enhances the Museum's ability to tell this amazing story of Australian sporting success. We hope to have Ash's dress on display soon to share with our visitors,' said Dr Trinca.
Program Manager, Collection Care and Management, Dr Jennifer Rodrigues, explained the importance of the acquisition. 'Barty's 2021 Wimbledon outfit adds a distinct significance to the Museum's sporting collection, it captures Ashleigh's journey and her exceptional achievements at the sport's elite level,' Dr Rodrigues said.
'Encapsulating the design inspiration from Goolagong's 1972 Wimbledon outfit already in the National Historical Collection, this object reminds us of the special relationship between these two tennis greats, and their shared heritage.'
The Ashleigh Barty collection includes:
White Fila 'Trailblazer' racerback tank top with laser cut floral decoration at back and Barty's handwritten signature in black ink on front.
White Fila 'Trailblazer' skort with laser cut scalloped hem and floral decoration at the front and side.
Media contact: Joss McAlpin 02 6208 5148 | 0409 819 258 or media@nma.gov.au
Return to

Top