20 November 2015
Australian Rules Grand Final winning jumpers and trophies, worn and won by the Richmond legend Royce Hart, are among items purchased by the National Museum of Australia in Canberra.
Regarded as one of the greatest centre-half forwards to ever play Australian Rules football, Hart won nearly everything there was to win in the 1960s and 70s and this significant collection of 57 pieces, documents his extensive career.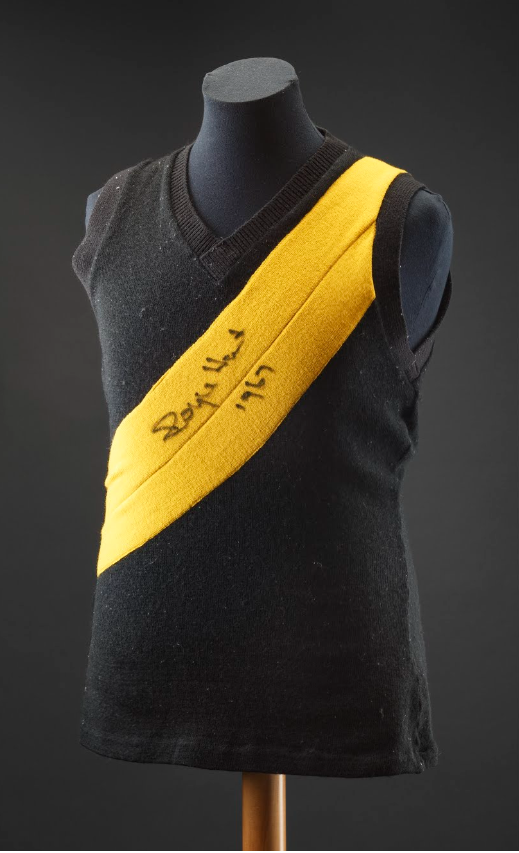 Hart won four premierships with Richmond, including two as captain; represented the Australian Galahs in one of their first international tours; was inducted into the Australian Football Hall of Fame and named in the AFL Team of the Century in 1996.
Hart was drafted for national service duty in 1968. While he did not serve overseas, Hart dutifully reported and spent the 1969 season based in Sydney and Adelaide with the Royal Australian Artillery, flying back to Melbourne each weekend to play.
Despite these unusual circumstances, Hart won Richmond's Best and Fairest award in 1969 and helped the team to their second premiership in three years.
Items acquired by the Museum cover Hart's entire career. Included in the collection are jumpers worn by Hart throughout his career; the first jumper he wore in the 1966 season when he won the Reserve Grand Final; his jumper when he represented Australia in 1967; and jumpers from winning Grand Finals in 1967, 1973 and 1974.
The collection also includes more unusual items including Hart's first contract with Richmond which included the agreement to buy him a suit, six shirts and a pair of shoes, in addition to paying him a weekly wage of £ 2-10-0; his premiership trophies; his Royal Australian Artillery beret and National Service medal; and a number of interstate jumpers he swapped for while representing Victoria.
Team blazers, medals, photographs, magazines and posters, are also featured in the collection.
National Museum of Australia senior curator Joanne Bach said she was excited about the acquisition.
'As one of the greats of the game, Royce Hart is not just an icon of the Richmond Football Club, but of Australian Rules history more generally. This collection tells the story of his entire career, from a 19-year-old debutante to a man who lead his team to glory on numerous occasions,' said Ms Bach.
National Museum director, Dr Mathew Trinca said the acquisition reflected the fact that Australian Rules is a game at the heart of Australian sporting history.
'Australian Rules is a game that is made here and is celebrated by people from all walks of life — in its very essence, Australian Rules football is an expansive game which draws on the characteristic Australian traditions of invention, athleticism and free-flowing play,' said Dr Trinca.
'For all these reasons these items are an important addition to the National Museum's collection,' he said.
For more information please contact Ashley Grimmer, (02) 6208 5091 – 0409 461 619 – media@nma.gov.au
Return to

Top