Our Kspace Sydney Harbour Bridge teacher resources include creative projects, assignment questions and an online quiz, all linked to the Australian Curriculum.
They were developed for use with our Kids learning space, where videos, photographs and background help provide answers and inspiration for students.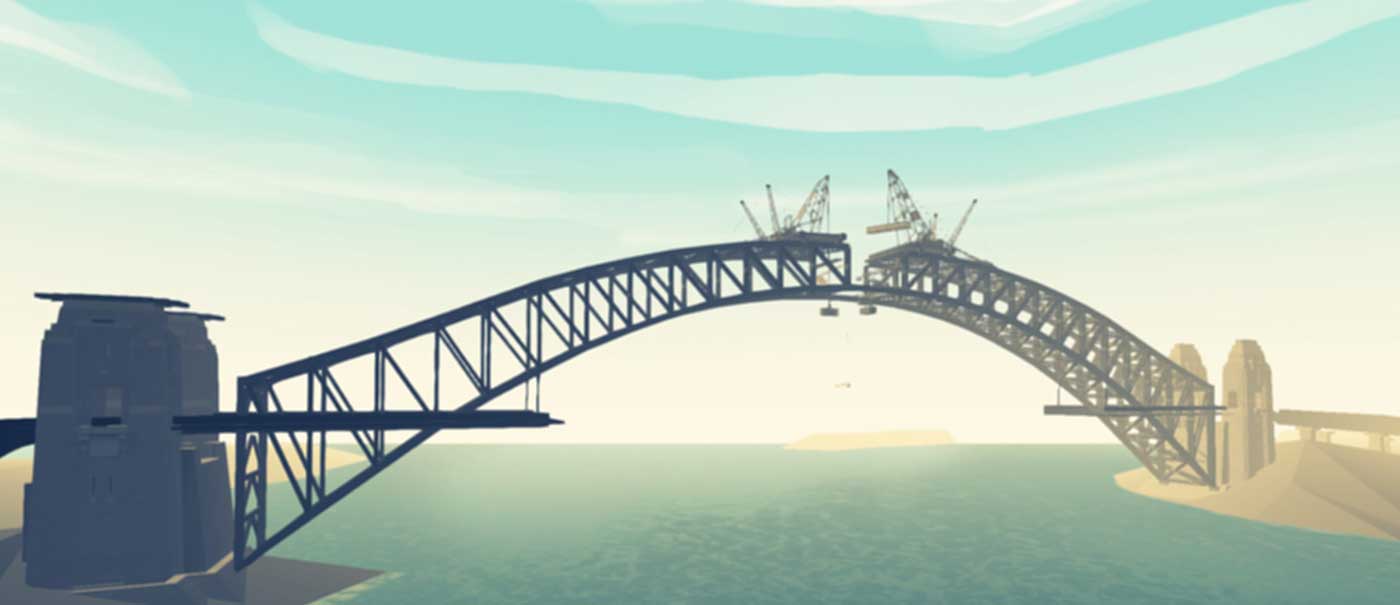 Kspace takes children to the Sydney Harbour Bridge in 1930. The construction of the bridge was an enormous engineering undertaking. It relied on a large, skilled workforce, and was completed in an era before computers or mass communication.
Questions children can keep in mind if visiting this scene at the Museum are:
Where is the scene set? How is it similar and how is it different from this place today?
What machines and tools can be seen? What do they reveal about the time?
Think about the jobs people are doing. Does their equipment and clothing offer them any special protection?
Our free, printable visitor access guide gives a sense of what happens in the game before you visit the Museum. It includes storyboards on the Sydney Harbour Bridge narrative and gameplay and a detailed description of the Kspace experience.
This guide is also helpful for students with hearing impairment, learning difficulties or limited mobility, who may need to prepare before they visit.
A medal awarded to a worker who survived a fall into Sydney Harbour in 1930 helps to illustrate the hazardous conditions experienced during the bridge's construction.
Suggested projects for children to make and do.
Draw a picture of the Sydney Harbour Bridge during its construction.
Create a diorama of the Sydney Harbour Bridge site, showing it as it was before, during or after construction.
Make a poster promoting the benefits of the Sydney Harbour Bridge.
Pretend you are a workplace safety inspector today, transported back in time to 1929. Write a report on the working conditions on the bridge.
Develop a PowerPoint presentation describing how the idea of a bridge across Sydney Harbour became a reality.
Suggested assignments questions encouraging children to think and write
In what way did the geography of Sydney influence its selection as a place for human settlement, both Indigenous and European. How did geography influence the need for infrastructure such as the Sydney Harbour Bridge?
What benefits did the Sydney Harbour Bridge offer the city and its people?
Apart from its primary function as a bridge across the harbour, what other role does the Sydney Harbour Bridge play in Australian society and culture?
What were the social consequences of the Great Depression? What role did the construction of the Sydney Harbour Bridge play during this era?
Why were Scottish and Italian stonemasons brought out to Australia during the construction of the Sydney Harbour Bridge? Where did they work and live?
Who proposed, designed and built the Sydney Harbour Bridge?
Note: inspiration and answers for online activities, creative projects and written assignments can be found in the Kids learning space
Return to

Top