Our Lake Mungo teacher resources include creative projects, assignment questions and online activities, all linked to the Australian Curriculum.
They were developed for use with our Kids learning space, where videos, photographs and background help provide answers and inspiration for students.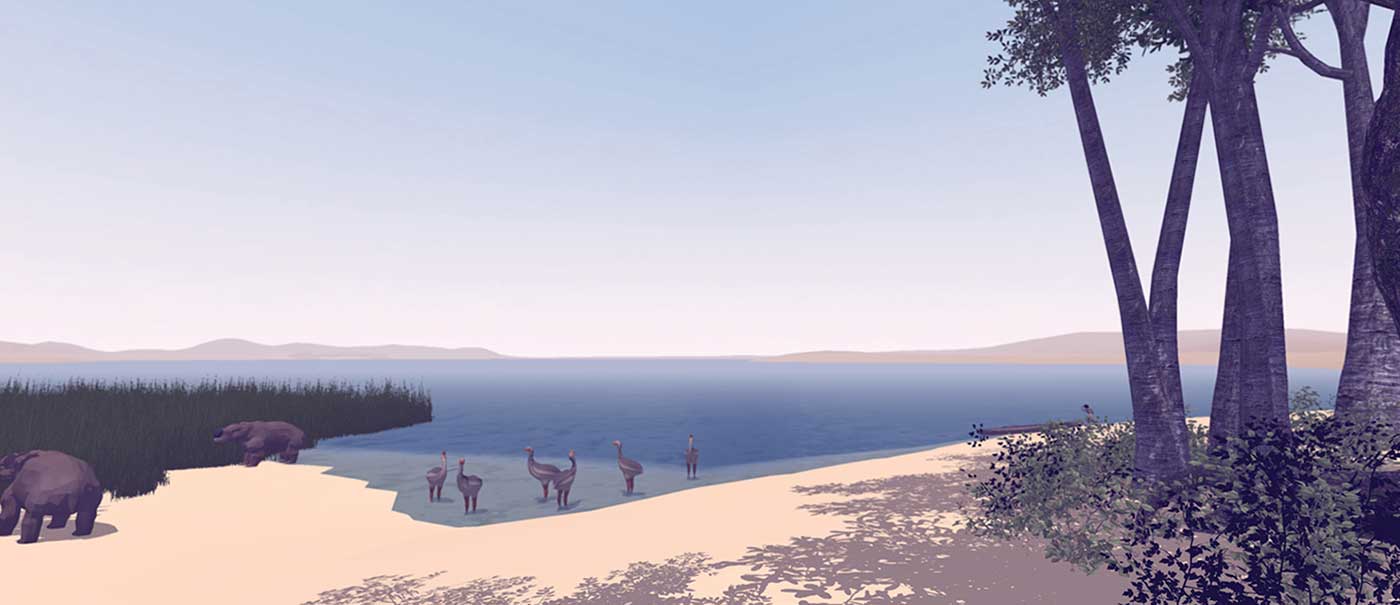 Kspace takes visitors to Lake Mungo, 45,000 years ago. People have inhabited the Australian continent for many tens of thousands of years, before animals including diprotodons and giant goannas were extinct.
Questions children can keep in mind if visiting this scene at the Museum are:
What do you notice about the animals in the scene? Are they familiar?
What objects and technologies are present in the scene?
What are people in the scene doing? What did they have to eat?
Our free, printable visitor access guide gives a sense of what happens in the game before you visit the Museum. It includes storyboards on the Lake Mungo narrative and gameplay and a detailed description of the Kspace experience.
This guide is also helpful for students with hearing impairment, learning difficulties or limited mobility, who may need to prepare before they visit.
A suitcase used by archaeologist John Mulvaney to transport the remains of Mungo Lady to the Australian National University, Canberra, in 1969, is now part of the National Museum's collection.
Ten multiple choice questions for students to demonstrate their knowledge of Lake Mungo. The quiz questions and answers are also available in a printable version PDF, 100.33 KB
Exercise 1: Online
Twenty questions for students to demonstrate their understanding of animals found at Lake Mungo 45,000 years ago.
Start the Lake Mungo online exercise
Students can work together or by themselves to cut and paste the words from the answer sheets, or they can write their answers to the questions in the spaces provided.
Suggested projects for children to make and do.
Create a picture or diorama of a Lake Mungo landscape and its inhabitants 45,000 years ago.
Devise a timeline, showing major events at Lake Mungo over the past 200,000 years.
Produce two images of Lake Mungo; one as it is today, and the other as it may have looked 45,000 years ago.
Create a comic strip or story, based on the events that led to the footsteps at Lake Mungo being created 20,000 years ago.
Write and perform a play featuring scientists discussing the extinction of Australia's megafauna.
Produce a PowerPoint presentation on the significance of Lake Mungo to Indigenous people and scientists.
Draw a picture of a people interacting with extinct megafauna at Lake Mungo.
Return to

Top