Make a Turfan hat, collage camel, Arabic-style tile or Cyril the Chatty Camel Chatterbox, inspired by the exhibition Travelling the Silk Road.
Turfan-inspired hat (Turfan)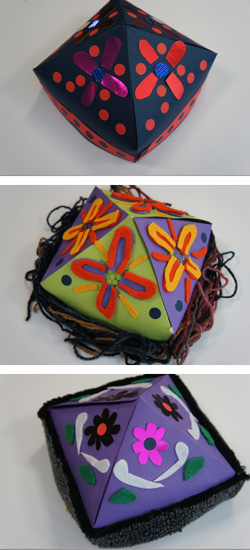 Skill level: ★★ Medium – you may need an adult to help
Time: 30 minutes
What you need:
A3 coloured card or paper
templates (see below)
decorations such as felt, wool, fake fur, paper, pens
glue sticks or PVC glue for heavy sticking
sticky tape
printer
scissors.
Steps:
Print the Turfan hat template directly onto your A3 paper or card, or cut it out and trace the outline onto your coloured card.
If you have a small head you can reduce the size of the template on a photocopier.
Use the Silk Road patterns template as inspiration for your design.
Cut around the outline of the Turfan hat shape on your coloured card and, while laying it flat, decorate using materials you have collected.
When you have finished decorating the hat, you can fold it along the black lines and join all the pieces together using the glue to stick the shaded tabs underneath. You might need to reinforce it with sticky tape on the inside.
Arabic-style tile (Baghdad)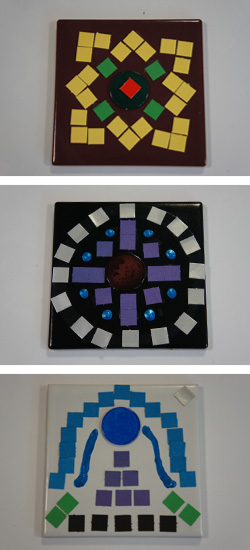 Skill level: ★ Easy
Time: 30 minutes
Inspired by the stunning tiled and patterned mosques of the Middle East, design your own Arabic-style tile.
What you need:
Silk Road patterns template (below)
small tile from the hardware store (we used 10 cm squares and they cost about 50 cents)
coloured paper cut into 1 cm squares
plastic discs (optional)
PVC glue brush for the glue
tile/glass paint (optional).
Steps:
For inspiration, google 'tile patterns mosques' and select images. Our Silk Road patterns template might also give you inspiration.
Make a practice design with the cut up pieces of paper and discs on the table in front of you.
When you have them arranged, spread glue on your tile and carefully place the paper or discs on the tile following your design.
When the glue is dry, apply the tile/glass paint for a final touch.
Collage camel (Samarkand)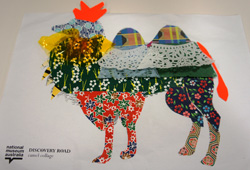 Skill level: ★ Easy
Time: 30 minutes
Travellers used camels to carry their goods and chattels over the Silk Road, where paper was made and traded. Create your own paper collage camel.
What you need:
camel collage template (below)
coloured paper
patterned paper/magazines
other paper decorations
pens and pencils
glue stick
scissors.
Steps:
Print out the template and use your coloured or patterned paper and scissors and glue to create an exotic camel.
Maybe your camel can be carrying interesting goods or wear shoes and a hat.
Cyril the Chatty Camel Chatterbox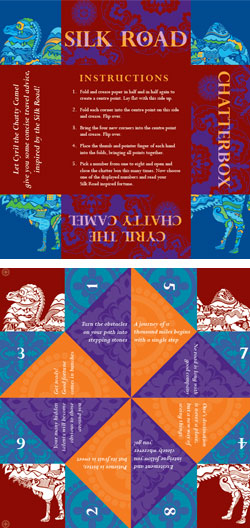 Skill level: ★★ Medium – you may need an adult to help
Time: 30 minutes
What you need:
Chatty Camel Chatterbox template
printer
A4 paper
scissors.
Steps:
Print out the Chatty Camel Chatterbox template on both sides of the A4 paper and follow the instructions for folding and using. You might need to trim it using scissors.
Fold and crease paper in half and in half again to create a centre point. Lay flat with this side up.
Fold each corner into the centre point on this side and crease. Flip over.
Bring the four new corners into the centre point and crease. Flip over.
Place the thumb and pointer finger of each hand into the folds, bringing all points together.
Pick a number from one to eight and open and close the chatter box this many times.
Now choose one of the displayed numbers and read your Silk Road inspired fortune.

Cyril the Chatty Camel's travel advice:
Turn the obstacles on your path into stepping stones
Patience is bitter, but its fruit is sweet
Get ready! Good fortune comes in bunches
One's destination is never a place, but a new way of seeing things
A journey of a thousand miles begins with a single step
Your many hidden talents will become obvious to those around you
No road is long with good company
Excitement and intrigue follow closely wherever you go!
Return to

Top