Ideas, research and scholarship underpin all of the National Museum's work. Our curatorial centres drive a bold exploration of ideas and public engagement that connect the Museum and its collection to profound questions in Australian and global life.
The Swayn Centre for Australian Design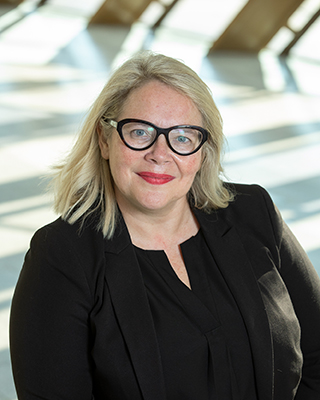 The Swayn Centre for Australian Design will collaborate with designers, creative practitioners and institutions across Australia to develop a stimulating program of events, exhibitions, special projects and design collection, to enhance public knowledge, interest and enjoyment of Australian design nationally.
Developed over the next two years, the new centre will focus on all aspects of design, including architecture, landscape architecture, fashion, graphic design, furniture as well as product and digital design. The goal of the new centre will be to increase public connection to and appreciation of Australian design, through collections, collaborations, exhibitions, events and research.
Adrienne Erickson
Ms Adrienne Erickson, the inaugural Swayn Fellow in Australian Design, will lead the creation of this new curatorial centre. Ms Erickson is a landscape architect with extensive experience and networks in design having worked in a diversity of roles including design professional, educator, strategy consultant, exhibition creative producer, and as a manager of cultural diplomacy initiatives.
Our Indigenous Knowledges Curatorial Centre explores Australian history from an Indigenous perspective.
It aims to expand knowledge of Aboriginal and Torres Strait Islander cultures, traditions, art, histories and world views.
Margo Neale
Adjunct Professor Margo Neale is Head of the Indigenous Knowledges Curatorial Centre.
Margo has published widely and curated major pioneering exhibitions including the multi-award winning Songlines: Tracking the Seven Sisters.
Explore more Indigenous history and culture
Our Anthropocene Australia Curatorial Centre will inspire audiences to love and cherish our ancient and unique continent. It aims to bring Australians together to foster an active, hopeful response to the challenges of living in a changing environment.
The centre is developing the new Life in Australia permanent exhibition gallery at the National Museum, due to open in 2020, and contributes to the Everyday Futures website.
Martha Sear
Dr Martha Sear is the Acting Head of the Anthropocene Australia Curatorial Centre. As an historian and curator her work has focused on rural life, environmental history and animal stories.
Explore more environmental history
The Defining Moments in Australian History Curatorial Centre researches and creates resources around key moments in the history of Australia.
The centre encourages discussion and debate about our nation's past and develops allied educational resources.
Libby Stewart
Libby Stewart is the Acting Head of the Defining Moments in Australian History Curatorial Centre and is a Senior Curator at the National Museum of Australia.
Explore more on defining moments
Our Shared Histories Curatorial Centre explores the concept of shared histories as a way of marking and representing the enmeshed Indigenous and non-Indigenous experiences and histories of life on the Australian continent.
Ian Coates
Dr Ian Coates is the Acting Head of the Curatorial Centre for Shared Histories.
His team is developing the Endeavour 250 exhibition on the anniversary of HMB Endeavour's voyage along the east coast of Australia, opening in 2020.
Explore more shared histories
Our Australia in the World Curatorial Centre explores Australia's profound interconnection with the rest of the world, and how these connections have shaped transnational histories and contemporary life.
The Head of Centre position is currently vacant.
Explore more Australia in the world
ARC collaborative research projects
Museum researchers are participating in collaborative research and development projects including these Australian Research Council projects in 2017–18:
Return to

Top