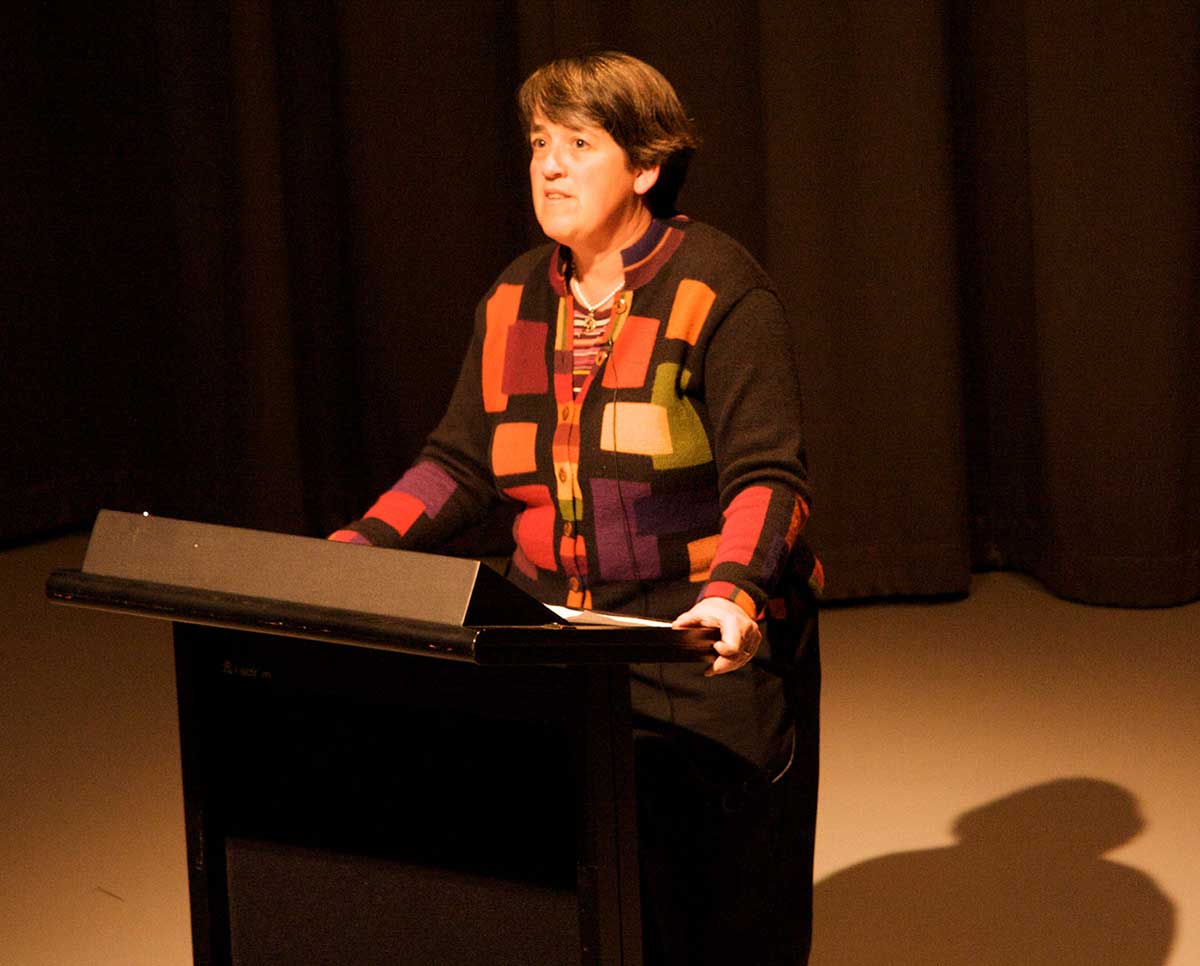 Libby Robin
Libby Robin is an historian of science and environmental ideas. She is a Senior Research Fellow at the National Museum of Australia's Centre for Historical Research and a Senior Fellow at the Fenner School of Environment and Society at the Australian National University. She has published widely in history, Australian studies, museum studies, environmental science and the ecological humanities.
Summary
The idea of resilience refers to the capacity of a social-ecological system to withstand perturbations from shocks and to rebuild and renew itself afterwards. In her talk Libby Robin considers the concept of resilience as a means to interpret environmental anxiety.
The Art of Resilience
Hear Libby Robin discuss the concept of resilience as a means to interpret environmental anxiety.
Open player in a new tab
Presenters:
Libby Robin, National Museum of Australia and Fenner School, Australian National University
LIBBY ROBIN: My subject is the art and science of resilience. When we talk about global change, we're talking science. Most analysts begin as climate or earth system scientists. Global change is bigger than climate change, but the climate change is one of the drivers of this idea. Science is the most usual approach, even though these scientists realise many factors together are creating unprecedented conditions for our planet as a whole. But I'm here to tell you how art got in on this gig.
First some background: we're seeing changing carbon and methane cycles alongside increasing population, increasing industrial pollution, global financial systems, and growing poverty. All of these together are a socio-ecological system. Scientists are mapping the ways wide reigning elements feedback and accelerate change and often make the next state of the system more unpredictable.
The idea of resilience comes out of this sort of science. Resilience refers to the capacity of a social ecological system to withstand perturbations from shocks, to rebuild and renew itself afterwards. No longer are we seeking sustainability, which implies a steady state system, but rather we're considering the resilience of the system itself under conditions of change. This particular way to study environmental anxiety has an international following, and last year there was a World Congress on resilience in Stockholm, which I attended.
The Congress was hosted by the Stockholm Resilience Centre, a new interdisciplinary centre that researches complex social ecological systems and seeks to apply its findings to management and government practices for living with change.
The Centre defines resilience as the capacity to deal with change and continue to develop. The Centre is interested in local Swedish governments, but its outlook is global. Its business is mostly conducted in English, and it has close associations with the Intergovernmental Panel on Climate Change (IPCC).
One of the elements that signaled to me that this was no mere science congress was that the talk fest was complimented by an exhibition to explore the artistic dimensions of global change and resilience thinking. Changing Matters (or is that Changing Matters?): The Resilience Art Exhibition was curated by four people: an artist, a professor of strategy, an ecological economist, and a museum curator. It showed at the Royal Swedish Museum of Natural History.
The artist Peter Hagdahl invited fellow artists to contribute, to interpret, examine, and raise questions about dynamic transformations using sculpture, installation, photography, video and sound.
The installation I chose from the exhibition is called Sealed Prototype. It's the work of an artist, Gunilla Bandolin, and a historian of science, Sverker Sörlin. Sverker has lived and worked so much of his life in the far north of Sweden, near the Artic Circle. The Prototype is the classic 760 model Volvo — 'Vovo' as they call it — introduced in 1982 as Volvo's first luxury car for executives. It's a commentary on the politics of the 1980s when Swedes wanted both equality and luxury — a sort of 'champagne socialist' reference in Australian terms, but they call it a 'Sossecontainer' — a Social Democrat container.
But how is it sealed? It's sealed with animal intestines. Not seal intestines, as are common amongst certain polar peoples like the Inuit in North America, but the principal is the same. People wear seal intestine anoraks to keep them dry in their kayaks. They must be totally protected from the icy seas and driving rain. The sealing must be perfect. Animal intestines, although very soft, are strong and completely protective.
In this work, new and inherited knowledge are united. The artists used the work to ask questions: 'Our developments and technological advancements have benefited us; but how do we now behave in an age where the negative effects of inventiveness and efficiency start to show? Hard and soft, old and new — where do we meet?'
Frances Westley, the Canadian professor of strategy comments, 'Art is deeply engaging. It makes cultural landscapes out of physical spaces.' And this is exactly what the soft internal animal engineered Volvo does. It also captures the interdependence of development and ecological systems, the central concern of resilience. The Volvo offers a new perspective on nature, and this is why it's valued by Claes Enger, the Director of the Museum, who sees art as 'making room for the unexpected'.
I couldn't bring in much from this exhibition as an image. Many of the works in Changing Matters were themselves dynamic. Artists used video and moving sculpture. One of the most compelling pieces could not be displayed in the Museum at all. It had to have its own sound space, a soundproof marquee directed on the Stockholm University campus, outside the Great Hall where the Congress was taking place.
It was a sound sculpture called Bacterial Orchestra by Olle Cornéer and Martin Lübcke. It was a self organising, evolutionary musical organism comprising several audio cells.
Explore more on Violent Ends
Return to

Top