This dress from the Springfield–Faithfull family collection is one of the oldest and rarest in the Museum's collection. It is thought to have belonged to Englishwoman, Ann Deane.
Ann was the mother of Mary Deane, who married William Pitt Faithfull. Ann probably wore this dress between 1810 and 1813. It is believed to have been brought to Australia with the Deane women and passed down through several generations of the family.
Devonshire migrant
Ann Pidsley was born in Devon, possibly Crediton, in 1772. She married landowner, Thomas Deane in 1807 at Upton Pyne in Devon and they had six children. Two of Ann's children died young and her husband passed away in 1826.
In 1838 Ann immigrated to Sydney with her son Robert, daughters Ann and Mary and nephew, Edgar. It is unknown why the family decided to leave Devon. There was widespread upheaval in the lace and wool manufacturing industries in this area and it is possible the social and economic instability caused by the Industrial Revolution motivated the Deanes to seek new opportunities elsewhere.
Unlike many of Britain's labouring poor who emigrated as assisted passengers, the Deanes were an educated family with the means to purchase their own fares. Ann brought this ilk dress and several other 18th and early 19th century garments to New South Wales with her.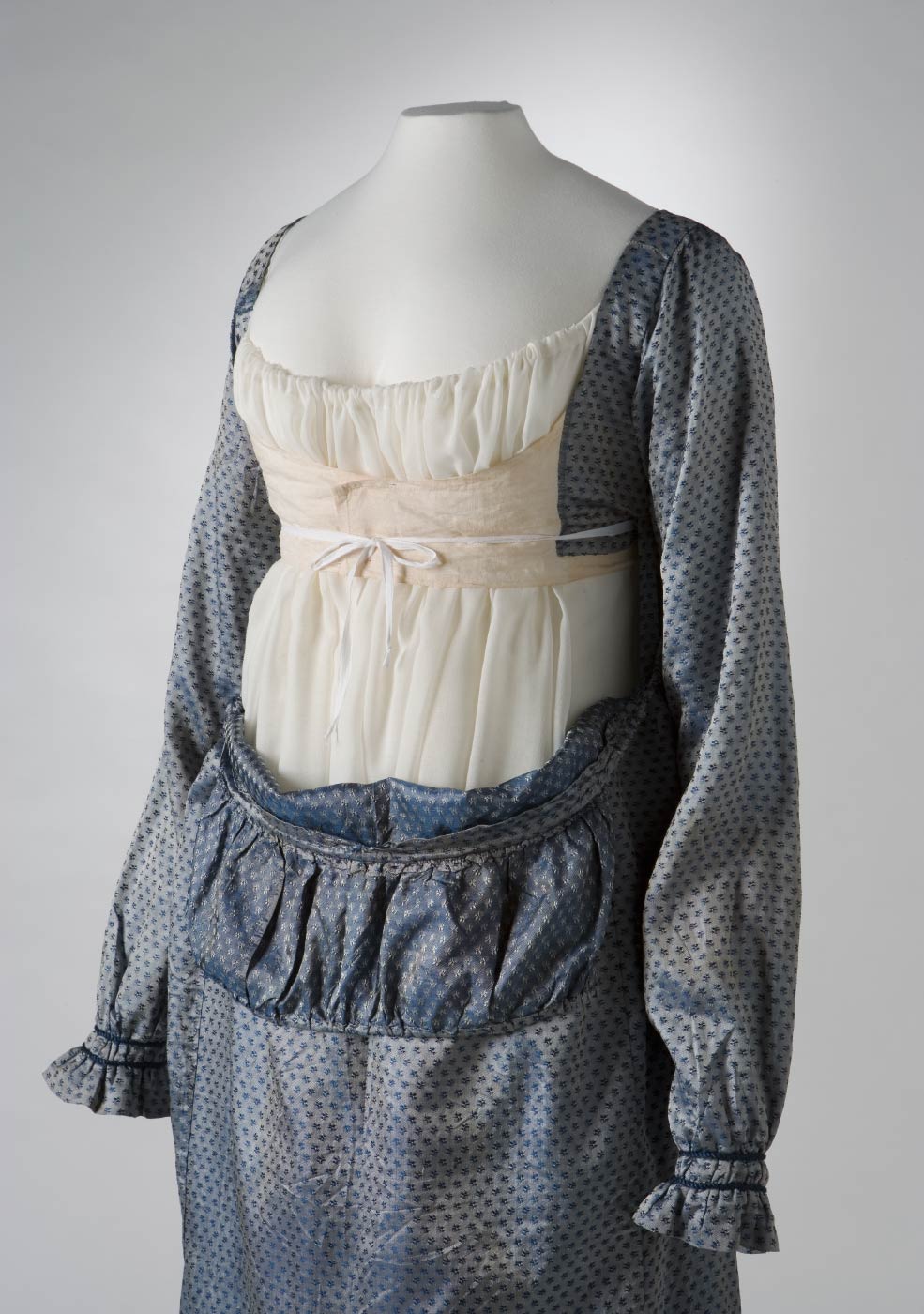 Rococo to Regency
Between the late 1700s and the early 1900s momentous social and political change swept through Europe and had a dramatic effect on women's fashion.
The Age of Enlightenment and the French Revolution were flourishing, giving rise to ideas of liberation and individualism.
The Napoleonic Wars and hostilities with England ended in 1814 and the Industrial Revolution was in full swing.
Women began discarding the heavily-corseted and voluminous silk gowns once popular in the Rococo courts of Europe for less restrictive, more free flowing garments.
Fashion experienced a classical revival and women began to wear clothing that, inspired by the architecture and sculpture of antiquity, favoured flowing, diaphanous fabrics and drapery.
Ann's blue silk dress emphasises the elegance and simplicity popular during the Regency period (about 1795 to 1820). It features the high waist, bib-front and columnar skirt that made empire line dresses less restrictive than many other 19th-century styles.
While this style allowed women to abandon the corset (known as stays during the 18th century) many continued to wear them to achieve the desired silhouette.
Ann Deane had given birth to four children by the time her dress was fashionable and it is likely that beneath her light, free-flowing garment she wore several layers of underwear. A shift, petticoat and a stay perhaps with a busk (a strip of wood, bone or metal running down the centre of the stay) would have achieved the desired shape and ensured the correct posture.
Outdoor leisure pursuits, such as walking in the countryside, became a popular pastime in England during the early 19th century. If Ann decided to take a stroll in this dress, a suitably protective poke bonnet would have shaded her face. A chemisette (sleeveless bodice) or fichu (a lightweight triangular scarf) would have filled the low neckline of her dress and as drapery was important for this classical look, she may have accessorised with a large shawl.
Treasured dress
Dress styles changed dramatically throughout the 19th century and Ann's empire-line dress would not have been part of her everyday attire when she arrived in Sydney in 1838. Made from valuable silk, it is likely the dress was an important family heirloom bequeathed to her daughter.
The Springfield–Faithfull family collection includes Ann's will. The will reveals her wishes:
Alas I have but little to give yet I hereby give devise and bequeath unto my daughter Ann Deane all and every thing I may die possessed of namely my wearing apparel.
In 1844 when Ann's daughter Mary married William Pitt Faithfull, the dress went with the Deane family to Springfield station in New South Wales.
When Ann and her family embarked upon the three-month sea voyage to Australia in early 1838, the blue silk dress was not the only cherished possession among their luggage.
The Faithfull family collection contains a range of objects and material brought from England including sketches and paintings of English land and seascapes, scrapbooks filled with newspaper clippings, recipes and poetry, books – many of which have been inscribed with affectionate messages from friends left behind – and a number of dresses and accessories.
Ann's dress would have shared a trunk with an extravagant green and floral brocade dress (about 1730) and a striking red, green and gold striped silk dress (about 1785), both with wide skirts made voluminous by hip panniers.
The collection also includes a white muslin dress from about 1805–1810. The slight train and beautiful vertical embroidery suggest it was not mere daywear. White muslin was difficult to keep clean, so many reserved such dresses for evening wear or special occasions. As Ann was married in 1807, it is possible the muslin dress was worn on her wedding day.
The dresses brought to Australia with the Deane women and passed down through several generations of the one family are among the rarest and oldest in the National Historical Collection.
Full transcription of Ann Deane's handwritten will
This Indenture bears witness that I Ann Deane late of Sydney now an inmate at Springfield near Goulburn being of sound disposing mind and memory make this as my only Will and testament. Alas I have but little to give yet I hereby give devise and bequeath unto my daughter Ann Deane all and every thing I may die possessed of namely my wearing apparel — China and all the Articles of Silver save and except those Articles which I have already given to my daughter Mary Faithfull and also by those presents I mean and intend to give the said Mary the Silver Dish I now use as a Sugar Basin and also Two Table Spoons of Silver now in use in the house at Springfield. My books are few and those belong to my daughter Ann Deane.
Signed sealed and delivered this twenty third day July 1845 in the presence of ? Smith.
Ann Deane
Explore more on the Springfield–Faithfull family collection
Return to

Top