The National Museum and Art Processors have created six exciting interactive digital exhibits for the new Great Southern Land gallery. They celebrate Australia's vast natural landscapes, and our relationships with them, as we confront the challenges now facing us.
The cultivation of a strong relationship to place is important if we are to address global changes in our environment. For First Nations people, the connection to place is an inseparable part of their identity.
Arrernte/Luritja woman Catherine Liddle:
Connection to Country is inherent, we are born to it, it is how we identify ourselves, it is our family, our laws, our responsibility, our inheritance and our legacy.
All Australians have a place that matters to them, that they feel strongly connected to, whether it's their home, the farm, a holiday destination or a favourite beach.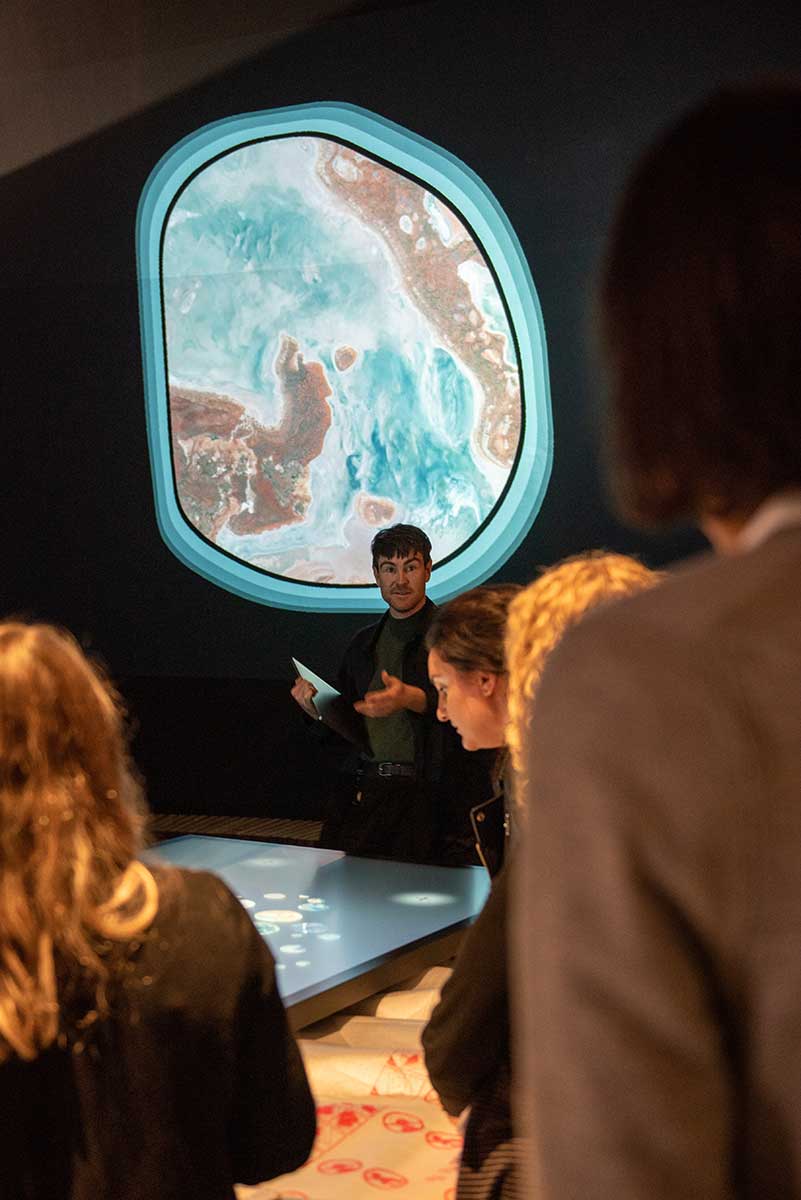 The Great Southern Land gallery's conclusion area addresses connection to place in a direct but playful manner.
As you enter the space, you encounter a giant touch table illuminated with a map of Australia that was constructed from high-definition satellite images. We built a system that pinpoints a spot in the centre of the satellite image and uses a mapping provider to give us a location and state name.
Here, you can explore the map, find your own special place, add a personal touch, and submit it to the shared map. The image you create is then projected onto an adjacent wall, offering a moment of reflection that is both personal and public.
As you explore the map, you are surrounded by an immersive soundscape that has been inspired by natural sounds from native species and phenomena.
When we were first installing and testing the interactive at the Museum we came across a few tradespeople who were working on the new galleries and had taken time out to use the table. They were having a great time finding places that they knew that meant something to them. It was a lovely moment to see that other people found the interactive just as compelling as we did.
Naming places
Art Processors worked with First Languages Australia to highlight First Nations languages and place names on the map, alongside familiar gazetted names.
Committee members Melinda Holden and Bridget Priman:
Many of these [languages] had not been well mapped previously and few were recognised beyond their custodians. It is important to show Australians that this is one of the world's most diverse language regions. Without this knowledge, Australians have not been able to see the richness of this continent. It is important we all have access to the real nature of this place.
I recommend checking out the Gambay: First languages map. It makes you appreciate the rich and complex history of this continent that could be lost if we don't support language activities today.
As these are living languages, we created a system that translates any changes in the First Languages Australia data directly to the exhibit. This builds on the existing satellite imagery and place names to help visitors find that one place that is special to them.
This interactive experience provides us with a broad yet highly personal perspective on the Australian continent. We can map our own connection while also gaining a better understanding of the meaning a location may hold for others. The aim is to foster conversations, curiosity and respect.
What places will you choose when you visit, and why?
Living Together
A multi-coloured double bed sized quilt featuring a map of Australia surrounded by human figures.
Return to

Top