A global movement
Over 7.6 million people across the globe took to the streets between 20–27 September this year as part of the Global Climate Strike. Calling for action on climate change, the strike was the biggest climate mobilisation in history.
Australian strikes
On Friday 20 September, three days out from the United Nations Emergency Climate Summit in New York, an estimated 300,000 Australians attended strikes in 112 cities across the country. The collective strike is believed to be the largest environmental protest in Australia's history.
I travelled to Melbourne with two of my curator colleagues to attend what was anticipated to be the largest of the Australian marches. The movement in Australia was calling for the federal government to commit to the following three demands:
No new coal, oil or gas projects.
One hundred per cent renewable energy generation and exports by 2030.
Funding for 'a just transition and job creation for all fossil fuel industry workers and communities'.
The protests were organised by School Strike for Climate, a group led by school students striking from their schooling to send a message to the country's decision-makers about climate issues.
School Strike for Climate, 2019:
We are striking from school to tell our politicians to take our futures seriously and treat climate change for what it is – a crisis.
Collecting activism
From its inception the Museum has collected objects relating to activism and activist movements. Such objects and stories, including significant material relating to the damming of the Franklin River (Bob Brown collection) and more recently, decisions around the Murray-Darling Basin (Murray-Darling Basin Authority collection), are important in documenting democratic ideals of Australian life – the right to protest – and the attitudes of communities towards defining issues.
The strikes and the activism that surrounds them align with the Museum's core research and collecting areas, including people's interaction with the Australian environment, and so are deemed significant for the museum to document.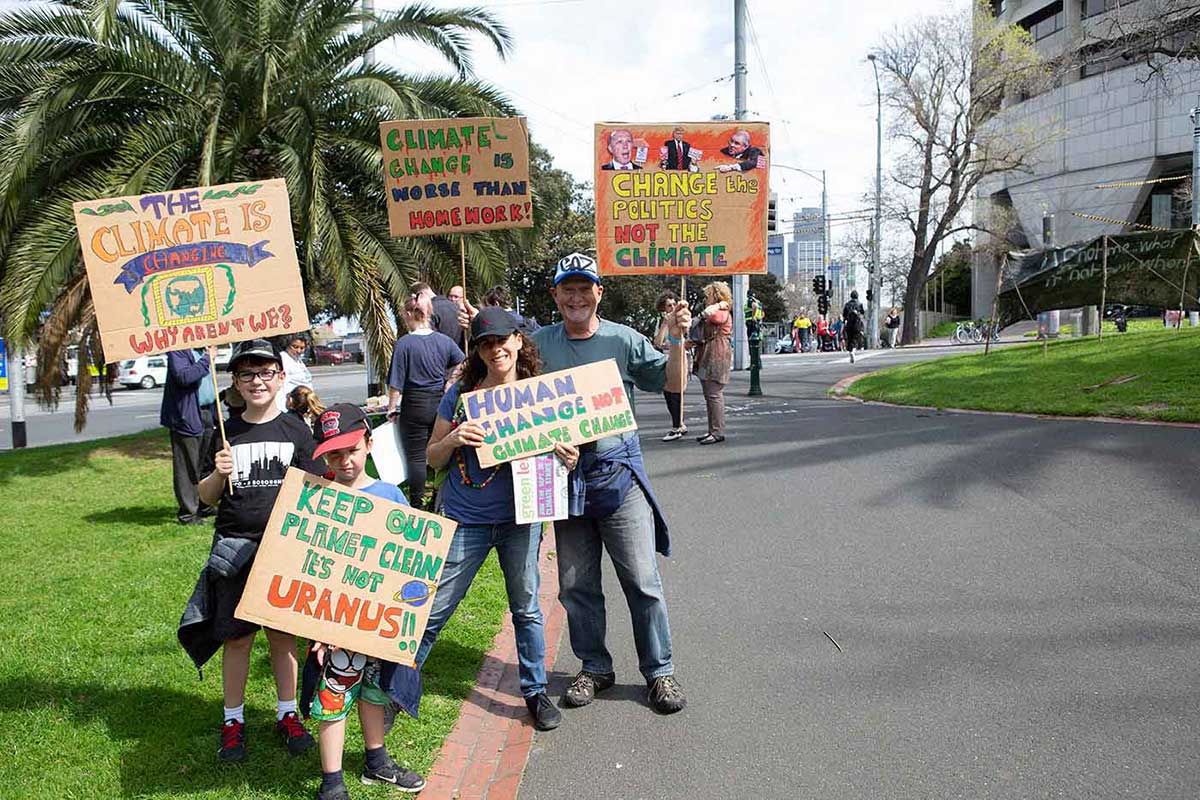 We had a set of tasks that guided our work on the day. The goal was to capture the feeling of the event, why people decided to attend, and what they believed was important.
We staged vox pops to capture the voices of those who attended. After a quick lesson from the Museum's official photographer we snapped away to get as many views of the event as possible, including documenting potential acquisitions for the Museum's collection.
We talked to attendees about their posters and placards, the meanings behind them and how they created them.
It was the people behind the protest we wanted to get a sense of: their passion, commitment, concerns, and calls for change to business as usual.
Over the course of the day we collected 23 items of ephemera, including stickers, badges, posters, flyers, and a keep cup. We identified three potential acquisitions for the National Historical Collection, including a group of placards created by a family of four. We spoke to many attendees and collected six vox pops.
This collection of material will now be sorted and managed by museum curators and conservators to ensure safe keeping for future use in exhibitions, programs, and research.
Did you attend one of the strikes in Australia? Perhaps you have a placard you think we would be interested in collecting? We would love to hear from you.
Get in touch by emailing curator@nma.gov.au
Vox pop: Global Climate Strike
Erin Doupe (17 years old) attending the Global Climate Strike in Melbourne, 20 September 2019.
Return to

Top