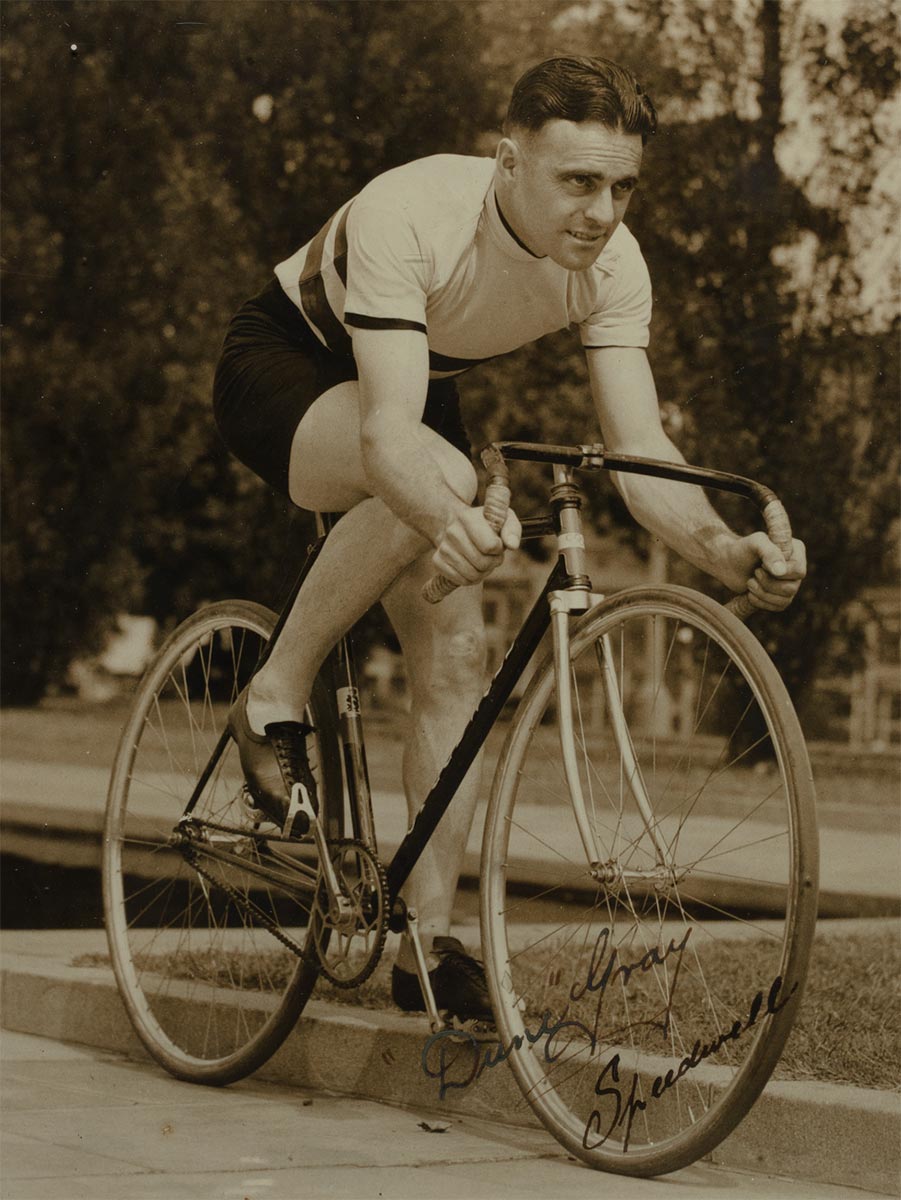 A major new acquisition relating to champion cyclist Edgar 'Dunc' Gray allows us to reflect on Australia's first Olympic cycling gold medallist.
Goulburn Evening Penny Post, August 1932:
Don Bradman and Dunc Gray were two real specimens of what Australian sportsmanship should be.
This declaration was made in response to a question that raises as much relevance now as it did back then: Are we good sports?
Cycling champion
Ask Australians today to write a list of the greatest Australian athletes of all time and you'd be certain to find the name Don Bradman somewhere near the top.
But Dunc Gray is another Australian sportsman of the same era who in his time was considered to be of the same quality – both as an athlete and also as a person of character.
It was my privilege as an intern at the National Museum of Australia to research the Dunc Gray collection, a treasure trove of objects and ephemera recently donated by his son Mark.
Olympic gold medallist
Dunc Gray (1906–1996) represented Australia at three Olympic Games – Amsterdam 1928, Los Angeles 1932 and Berlin 1936.
He won Australia's first Olympic cycling medal (a bronze) in 1928, and Australia's first Olympic gold medal for cycling in 1932.
In 1936 Gray also led the Australian Olympic team at the Opening Ceremony. He carried the Australian flag at the infamous Berlin Olympics, which have since been immortalised in Leni Riefenstahl's Nazi propaganda documentary, Olympia.
Gray, who hailed from Goulburn, New South Wales, was also a great Australian character who was universally admired by his peers.
Thorough sportsman
Goulburn Evening and Penny Post, May 1932:
Those who have formed an intimate association with him, and even the hundreds who know him by name only, have come to regard Dunc Gray as a brilliant exponent of cycling, a thorough sportsman in every sense of the word, a modest hero and happy possessor of an irreproachable character. He represents the finest ambassador that Australia could have, and that he will do well by his native land cannot be doubted in view of his stewardship at the last Olympiad.
Racing, as he did, during the 1920s and 1930s, the Dunc Gray collection is not only incredible for the sporting and Olympic memorabilia it includes, but also for the picture the objects build of the extreme social, political and economic changes the world endured during those decades between world wars.
It provides us with extraordinary access to the Australian international experience of the Roaring Twenties, the Great Depression and the rise of Nazi Germany.
National Historical Collection
Gray was something of a bowerbird and the number of objects he collected across his Olympic and cycling career was not only immense, but their narrative worth was, frankly, astonishing.
From his Olympic medals, official team blazers and the Australian flag he carried at the 1936 Berlin Olympics to souvenir torch holders produced to mark the first Olympic torch relay and a blueprint for the 1932 Los Angeles Olympic village, Dunc Gray's collection is a remarkable gift to the nation.
Return to

Top