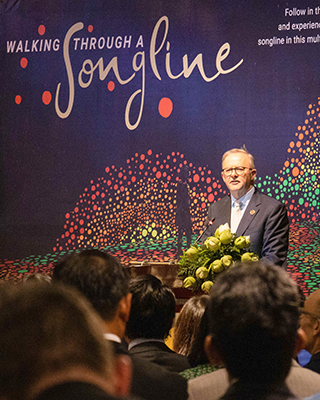 Walking through a Songline is a pop-up digital experience based on part of the National Museum of Australia's internationally-acclaimed exhibition Songlines: Tracking the Seven Sisters.
Visitors make their way through stunning projections that show a songline in an artistic and striking way. This is an immersive experience at the nexus between ancient knowledge and new technology.
Walking through a Songline is showing internationally and in Australia at:
Cobb+Co Museum, Toowoomba, Queensland, 17 June to 2 October 2023
Museum Kota Makassar, Indonesia, 14 September to 5 October 2023
Redcliffe Museum, Queensland, 14 October to 26 November 2023
Prime Minister the Hon Anthony Albanese was joined by His Excellency Ly Thuch, Senior Minister and First Vice President of Cambodian Mine Action and Victim Assistance Authority and Director of National Museum of Australia Dr Mathew Trinca, to launch Walking through a Songline in Phnom Penh, as part of the 70th anniversary of diplomatic relations between Australia and Cambodia.
Seven Sisters
This groundbreaking show follows in the tracks of the Seven Sisters Tjukurrpa (Dreaming), across the Western and Central deserts of Australia, as they are chased by a male pursuer. Their encounters are imprinted in the features of the land and tell of where to find food and water and how to behave correctly.
All Ancestral journeys create songlines, which can be seen as pathways or corridors of knowledge. The stories they hold form the foundational history of Australia, as told by artists, custodians and traditional owners.
Walking through a Songline is a portable and easily installed exhibition that is suitable for all ages. It consists of a self-contained projection structure that uses visuals, sounds and interpretative panels that provide insights into First Nations songlines and explore how an entire continent has been mapped for, and by, its people over millennia.
Education and public program resources will also be available.
The exhibition requires few prerequisites from participating venues, other than an appropriate space and minimal audio-visual support.
If you are interested in hosting the exhibition, please email touring@nma.gov.au
Acknowledgements
Walking through a Songline is produced by the National Museum of Australia in partnership with Mosster Studio, with the ongoing support of the traditional Aboriginal custodians and knowledge holders of this story.
The international touring exhibition is presented in partnership with the Australian Government Department of Foreign Affairs and Trade. The Australian tour is supported by the Australian Government's Visions of Australia program and the Museum's donor community.

Walking through a Songline was also on show at:
Jakarta History Museum, Indonesia, 6 to 23 July 2023
Ciputra World Mall, Surabaya, Indonesia, 1 to 17 August 2023
Museum of Tropical Queensland, Townsville, Queensland, 1 April to 4 June 2023
The Vietnamese Women's Museum, Hanoi, Vietnam, 28 April to 21 May 2023
The Factory Contemporary Arts Centre, Ho Chi Minh City, Vietnam, 16 March to 16 April 2023
Jervis Bay Maritime Museum, New South Wales, 4 February to 19 March 2023
Factory, Phnom Penh, 13 November to 11 December 2022. Read the media release (PDF 152kb) from the Australian Embassy Cambodia
Thailand Creative and Design Centre, Bangkok, 4 October to 6 November 2022
Tamworth Regional Gallery, New South Wales, 9 July to 28 August 2022
National Art Gallery of Malaysia, Kuala Lumpur, 8 June to 11 September 2022
Museum of Sydney, New South Wales, 7 May to 17 July 2022
Museum and Art Gallery of the Northern Territory, Darwin, 12 March to 26 June 2022
Return to

Top