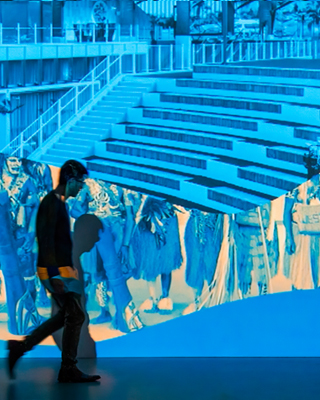 Inbetween: Cultural connections through design was an immersive, large-scale filmic experience, reimagined from an exhibition in Australia's pavilion at the 2021 Venice Biennale of Architecture.
Inbetween was on show at the National Museum of Australia from 17 November 2021 to 12 June 2022.
Inbetween presented a collection of architectural projects selected for their powerful representation of Indigenous peoples and cultures.
These projects enabled cross-cultural exchanges to occur and highlighted the importance of – and the need to preserve – Indigenous knowledge, agency and voice.
They were undertaken in locations across Australia, Aotearoa (New Zealand), Papua New Guinea, Samoa, Fiji and Vanuatu.
Architecture becomes the enabler, allowing us to connect, to evoke Country, to reveal layers of history and memory and to give cultural expression, predicated on a people-centred approach to a shared humanity.
Each of the selected projects has been aligned with one of five key themes: Language, Storytelling, Knowledge, Preservation and Country. Crucially, all the projects have a strong connection and crossover with one or more of these themes. These act as chapters for the film, allowing the viewer to be transported through a series of key elements anchored in place and culture.

Return to

Top