Surf lifesaving began on the beaches of Sydney then spread around the country, first to Western Australia and Queensland then later to the other states. The Royal Life Saving Society, which originated in Britain, placed lifelines on beaches and held classes.
Manly Council was among the first to protect surf bathers, employing two fishermen, the Sly brothers, to patrol offshore and, in 1905, a lifeguard, Edward 'Happy' Eyre.
Mostly, surf bathers had to look after themselves but some organised training sessions to improve their lifesaving skills. Local businessmen and councillors, often surf bathers as well, saw the economic benefits of providing safe beaches.
The first surf lifesaving club was founded at Bondi in February 1907 and several others followed soon after. In October that year, the Surf Bathing Association of New South Wales was formed to regulate and promote surf bathing. Australian surf lifesaving was born.
Lone Hand, 1 January 1910:
The lifesavers represent the very highest class. They are the Samurais, the oligarchs, the elite. They strut the beaches with superiority that is insolent, yet at the same time, tolerant ... of lesser breeds – a gladiator class, envied by all the men, adored by all the women.
| | |
| --- | --- |
| 1803 | Convicts warned not to swim in Sydney Harbour because of the dangers of sharks and stingrays, and for reasons of decorum. |
| 1838 | Bathing in Sydney's harbour and beaches is banned between 6am and 8pm. |
| 31 Jul 1894 | The Waverly Branch is formed in Sydney, the first Australian branch of the (later Royal) Life Saving Society. |
| 7 Dec 1899 | The Manly Life Saving Brigade is formed. |
| 1902 | Bans on daylight surf bathing are relaxed. |
| 1903 | The Sly brothers begin patrolling Manly Beach, Sydney. |
| 1905 | Edward 'Happy' Eyre is employed as a lifeguard by Manly Council. |
| 21 Feb 1907 | Bondi Surf Bathers' Life Saving Club is formed. |
| 23 Mar 1907 | First use of the surf-reel, at Bondi. |
| 18 Oct 1907 | Surf Bathing Association of New South Wales is formed. |
| Sept 1909 | Cottesloe Life Saving and Athletic Club is formed – the first surf lifesaving club in Western Australia. |
| 1909 | Tweed Heads and Coolangatta Surf Lifesaving Club is formed – Queensland's first |
| 2 Jan 1910 | First surf lifesaving bronze medallions awarded, to club members from Coogee and Bondi. |
| 1910 | Surf Bathing Association of New South Wales holds its first carnival. |
| 1912 | Charles Paterson becomes president of the Surf Bathing Association. |
| 1915 | Duke Kahanamoku demonstrates boardriding at Freshwater Beach, Sydney. |
| 1915 | First Australian surf lifesaving championships held at Bondi. |
| 1921 | Surf Bathing Association of New South Wales becomes the Surf Life Saving Association of New South Wales. |
| 1921 | Tasmania's first surf lifesaving club is formed in Burnie. |
| 1922 | Jack Chalmers and Frank Beaurepaire receive the first surf lifesaving meritorious awards. |
| 1923 | Surf Life Saving Association of New South Wales becomes the Surf Life Saving Association of Australia (SLSAA). |
| 1924 | SLSAA and the Royal Life Saving Society agree to separate responsibilities: SLSAA for surf lifesaving and RLSS for still water lifesaving. |
| 1925 | Western Australian State Centre of SLSAA is formed. |
| 1925 | South Australia's first surf lifesaving club is formed at Henley Beach. |
| 1930 | Queensland State Centre of SLSAA is formed. |
| 1934 | Adrian Curlewis is appointed president of SLSAA. |
| 1935 | Red and yellow beach flags become standard. |
| Oct 1937 | Laying of shark nets off Sydney beaches begins |
| 3 Jan 1939 | Red and yellow quartered caps become standard patrol gear. |
| 1941 | Roy Doyle becomes interim president while Curlewis serves in the AIF. |
| 1945 | Adrian Curlewis returns as president. |
| 4 Jan 1946 | Victoria's first surf lifesaving club is formed at Torquay. |
| 9 Jan 1947 | Victorian State Centre of SLSAA is formed. |
| 1947 | First national championships outside New South Wales are held at Greenmount, Queensland. |
| 1948 | Tasmanian State Centre of SLSAA is formed. |
| 10 Oct 1952 | South Australian State Centre of the SLSAA formed. |
| 6 Feb 1954 | The Royal Carnival is held at Bondi for Queen Elizabeth II. |
| 25 Nov 1956 | International and Australian Surf Championship Carnival begins at Torquay, Victoria. |
| 1956 | International Council of Lifesaving formed. |
| 1966 | First ironman event held in Australia. |
| 1975 | Alan Whelpton becomes president of SLSAA. |
| 1 July 1980 | Women permitted to become full members of SLSAA. |
| 1984 | The Coolangatta Gold premieres, starring Grant Kenny. |
| 1987 | Cathy Harding of Mooloolaba SLSC becomes the first female captain of a surf club |
| 1989 | Northern Territory Centre of SLSAA formed. |
| 1991 | Surf Life Saving Association of Australia becomes Surf Life Saving Australia. |
| 1994 | World Life Saving and Federation Internationale de Sauvetage merge to form the International Life Saving Federation. |
| 2001 | Ron Rankin becomes only the fifth president of SLSA. |
| 2007 | Australians celebrate the Year of the Surf Lifesaver. |
Patrolling the beach
Surf lifesavers are volunteers who have qualified for the surf bronze medallion. They patrol the beach on weekends and public holidays. Lifeguards are employed by local councils to patrol the busier beaches.
Surf lifesavers had to qualify for the Royal Life Saving Society's proficiency certificate or bronze medallion until the Surf Bathing Association introduced the surf bronze medallion.
Today anyone over the age of 15 can qualify as a surf lifesaver. First you must pass a series of tests including a first aid exam and a simulated rescue. You must also complete a 200-metre run, a 200-metre swim then another 200-metre run in less than eight minutes.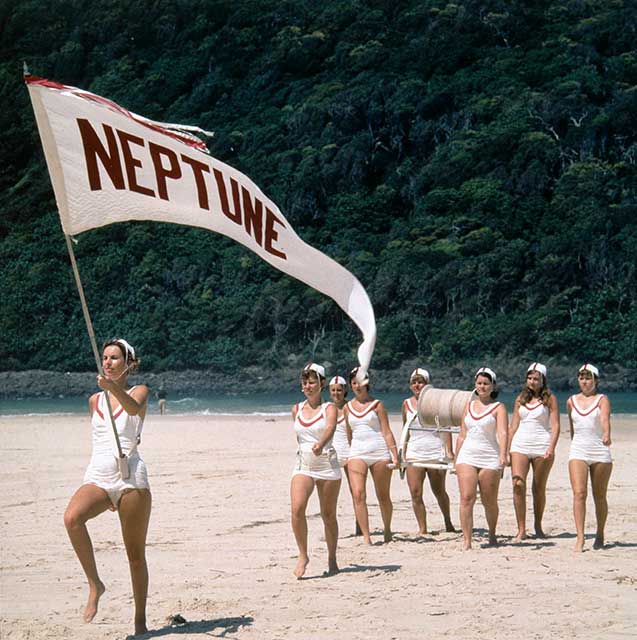 Women and surf lifesaving
Arguing that women were not strong enough to operate the equipment or swim in heavy surf, the Surf Life Saving Association banned them from qualifying for the surf bronze medallion and therefore from patrolling.
Despite this, many women worked behind the scenes or were valuable fundraisers. Others formed ladies' surf clubs and competed in carnivals, especially outside Sydney, where clubs were less concerned with the rules and more focused on their immediate community.
The Surf Life Saving Association finally admitted women as full members in 1980. Since then, the number of active surf lifesavers has almost doubled.
Nippers
Nippers are junior surf lifesavers aged between 7 and 14. They learn about surf awareness and safety, and compete in swimming and beach events.
Surf lifesaving clubs began Nipper programs for boys and girls in the 1920s and 30s. These programs operated differently at each club, with some only accepting boys while others ran Nipperette or Mermaid programs for girls.
With falling memberships and some clubs facing closure, the Surf Life Saving Association established a national Nipper program in the 1960s. The program expanded rapidly after 1980 when girls were eligible for full membership. The parents of many Nippers also joined up. There are now nearly 40,000 Nippers training to be future surf lifesavers.
Red and yellow
In 1855 an International Code of Signals was introduced for ships at sea. The letter 'O' signalled 'man overboard' and was represented by a red and yellow flag divided diagonally. This was probably the inspiration for the surf lifesaving flags introduced in 1935. Before then, patrol flags were blue and white. Red and yellow caps became standard in 1939.
Acts of bravery
In 1919 the Surf Bathing Association of New South Wales introduced meritorious awards – a silver medal, a bronze medal, and a certificate of merit – for acts of bravery in the surf. The medals are awarded only when a surf lifesaver has exceeded his 'ordinary duty' and displayed exceptional bravery and resource.
In 2007 only 37 silver medals had been awarded and only one since the late 1960s.
Black Sunday
In February 1938 three huge waves rolled into Bondi Beach. The receding water swept many into a rip and panic erupted.
Fortunately, a surf club race was about to start and there were plenty of lifesavers on the beach. They swung into action, swimming out to those in trouble. Frantic swimmers grabbed at the lifesavers and surf lines. Over 200 people were rescued that day. Remarkably, only five lives were lost.
Outstanding bravery
Surf lifesaver Leo Ryan was attacked by a shark at Burleigh Heads on 25 November 1950. Although the shark was still nearby, Gavan Horsley put on the belt and swam out. Ryan had lost his left hand and was swimming feebly, leaving a trail of blood. Horsley brought him safely to shore.
A shark believed to be the culprit was caught three days later. Leo Ryan still owns its jaws. For his bravery, Gavan Horsley was awarded the Surf Life Saving Association of Australia's silver medal.
Bears on the beach
In the 1940s trainee Royal Australian Air Force pilots wore flying suits with fake fur on the inside. After the Second World War, the linings were available from war surplus stores. Surf lifesavers wore the linings with the fur on the outside. Known as bear suits, they were a cheap and comfortable way to keep warm while on patrol. Lifesavers also wore them to dances and on road trips.
Safe from stingers
Lifesavers in northern Australia need protection from venomous box jellyfish and other marine stingers. In the 1970s they wore pantyhose while on patrol. This led to the development of the tight-fitting lycra stinger suit.
Bathing areas surrounded by stinger nets provide a safe place to swim. Lifesavers drag the enclosure with a net each morning to make sure no stingers have drifted in.
Return to

Top