Experience interactive displays from iconic DreamWorks movies
11 September 2019
Intriguing behind-the-scenes sketches, models and artwork from beloved animations star in the internationally acclaimed DreamWorks Animation: The Exhibition, opening at the National Museum of Australia on 12 September 2019.
Following its global tour, DreamWorks Animation: The Exhibition is coming to Canberra. It showcases new content which reveals how some of our favourite films were conceived and developed.
New works include an impressive scale model of the Far Far Away castle from Shrek 2 (2004), development sketches of characters from Trolls (2016), and character models, development sketches and early concept multimedia from the production and creation of movies like Kung Fu Panda 3 (2016), Prince of Egypt (1998), Bee Movie (2007) and more.
From Shrek's muddy swamp and the lemur-filled jungles of Madagascar to Berk's high-flying dragons and the dangerous but exotic 'Croodaceous' period, favourite children's characters, worlds and stories come to life in DreamWorks Animation.
The exhibition takes visitors on a journey from sketch to screen. Highlights include the immersive Dragon Flight theatre experience, in which visitors view the town of Berk from the back of a dragon, and the interactive animation desk digital kiosk in which participants have the opportunity to create their own short animations.
Showcasing DreamWorks Animation's creative legacy — from its first feature film Antz (1998) through to Captain Underpants (2017) — the exhibition takes you behind-the-scenes on beloved family films like Shrek, Madagascar, Kung Fu Panda and How to Train Your Dragon.
Featuring more than 400 unique items from the studio's archive of rare and precious material, the exhibition includes concept drawings, storyboards, models, masks, maps, photographs, posters, paintings and other original artworks.
National Museum Director, Dr Mathew Trinca, said that digital entertainment plays an increasingly important role in how we share stories and connect with others in the 21st century.
'This exhibition demonstrates the Museum's commitment to telling stories that resonate with Australian audiences in technologically rich, engaging and challenging ways,' said Dr Trinca. 'Fans of animation and filmmaking, nostalgic adults and families, will all love this show.'
Created by ACMI (Australian Centre for Moving Image) in partnership with DreamWorks Animation, the exhibition unfolds over four main sections — 'Character', 'Story', 'World' and 'Drawing Room'.
'Character' traces the evolution of iconic DreamWorks characters from original concept drawings and sketches to fully developed personalities. We see how new artistic processes and technologies are swiftly adopted from film to film, to help flesh-out the characters and provide the realism, complexity and expressiveness that audiences have come to expect from animation today.
'Story' explores the process of constructing feature-length narratives, from original inspiration to final storyline, with examples of original story pitches from Shrek (2001) and Madagascar (2005). The Story Room is the heart of the story development where storyboard artists, directors, writers and producers spend countless hours pitching ideas, sketching scenes, developing plots and writing dialogue that may or may not survive the film's final cut.
Magical environments come to life in the 'World' section with Dragon Flight, a specially created 180-degree spine-tingling adventure through Berk on the back of Toothless the dragon. Alongside this immersive experience are examples of books, artworks, films and international locations researched in the development of the fantastical detailed worlds brought to life in DreamWorks' films.
The final section, 'Drawing Room', asks visitors to become the animator. It allows them to use the same technology and software that DreamWorks artists use to create their own drawing and short animated movie sequences.
DreamWorks Animation is the first ever large-scale, behind-the-scenes exhibition created to celebrate 20 years of DreamWorks' much-loved films and the talented artists who created them. The National Museum welcomes the exhibition to Canberra as part of its ongoing international tour.
The Museum is committed to bringing exciting international exhibitions to Australian audiences. DreamWorks Animation: The Exhibition follows the success of three international exhibitions from the British Museum held at the National Museum — Rome: City and Empire, Encounters and the record-breaking A History of the World in 100 Objects.
After opening at ACMI in Melbourne (2014), DreamWorks Animation: The Exhibition has toured the world, with new content added along the way. It has been enjoyed by audiences in Singapore, New Zealand, South Korea, Taiwan, Mexico, Canada and Brazil.
The exhibition will be on display at the National Museum in Canberra from 12 September 2019 until 2 February 2020.
Media contact: Diane Morris, 02 6208 5497, 0436 030 741 or media@nma.gov.au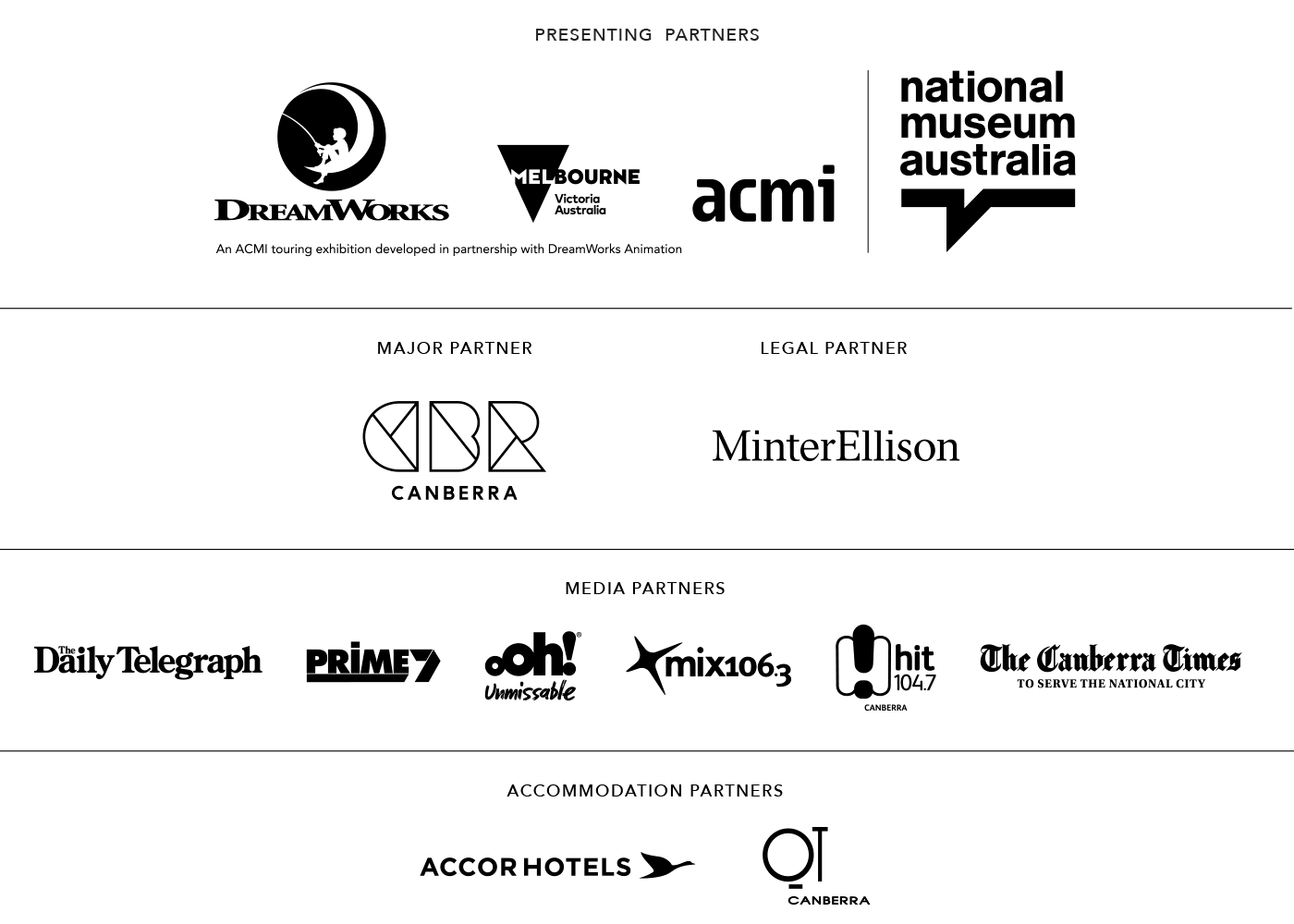 Return to

Top