The only way to move forward is through education. Education for both non-Aboriginals and education for our mob — look, listen and learn in both our worlds.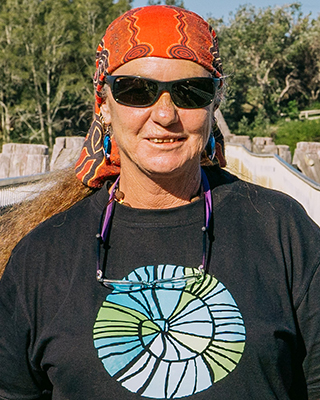 Cultural affiliations/language group: Gamilaroi/Gomeroi language group
Community focus: Gumbaynggirr, Dunghutti, Birpai and Worimi. From Coffs Harbour to Karuah, covering the four nations on the mid-north coast
Position: Aboriginal Project Officer
Employer: Saltwater Freshwater Arts Alliance
Interests: Education, community development, cultural heritage conservation, empowering women, camping and nature
I was born and raised in Sydney and then moved to the New South Wales North Coast in 1987 where I undertook adult education at TAFE (I only had Year 6 level of education at this time). I did catch-up studies in math and English before moving on to the Tertiary Preparation Certificate (Year 12 equivalent).
This enabled me entry into university as a mature-age student. I undertook a Degree in Applied Science (Coastal Management) and completed it with honours. I then took a year off before embarking on a Masters in Aboriginal Education.
I worked for Southern Cross University for 10 years after completing my Masters as an Aboriginal Tutorial Assistance Scheme tutor. Then I met my now-husband, moved to Coffs Harbour and landed a job as Executive Assistant to the CEO at Galambila Aboriginal Medical Service, where I stayed for 10 years.
I then took on the role of Cultural Heritage Coordinator at the Coffs Harbour Local Aboriginal Land Council where I worked for five years and had the pleasure of organising a repatriation ceremony for a Gumbaynggirr ancestor.
I now work for Saltwater Freshwater Arts Alliance on various community projects.
The Ceramics Masterclass Series project provides the communities of the saltwater freshwater region the opportunity to engage in cultural conversations and express their culture through the making of ceramics.
We ran three workshops for female artists in Kempsey, Taree and at Red Rock. Several of the finished works were then selected for the Saltwater Freshwater Travelling Art Exhibition.
Weaving workshops provide our female Elders with the opportunity to pass on cultural traditions in weaving to the younger generations. Workshops were held at Port Macquarie's Glasshouse, and we recently completed four workshops at South West Rocks. We will run another five workshops during November at the Manning Regional Art Gallery.
The annual Women's Master Camp was held in July of this year. It brought together women from all four nations for a few days of cultural activities.
The Saltwater Freshwater Arts Festival brings together community from all four nations to celebrate our survival as the oldest living culture in the world. It is held every year on 26 January.
Meet our Cultural Connections Program partners
Banner photo: Steve Back Photography
Return to

Top