The history of our People can be traced from the birth of time itself on this continent, the material evidence of which can be found all over the original tribal peoples' territories. It is our belief that our People, our ethnic and tribal customs, our rituals, culture, Law and languages have emerged throughout these territories over the past tens of millennia; long before legal history and beyond legal memory.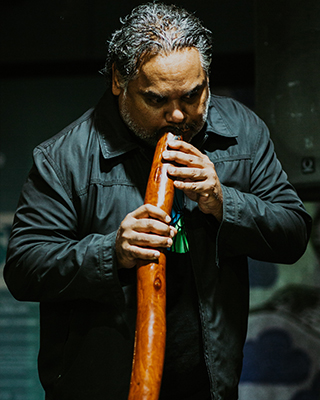 Cultural affiliations/language group: Gumbaynggirr, Dunghutti, Bundjalung
Community focus: Gumbaynggirr, Dunghutti, Biripi, Worimi
Position: Aboriginal Cultural Programs Coordinator
Employer: Saltwater Freshwater Arts Alliance
Interests: Research, education and history, project design and management, research and data management, Aboriginal site heritage and repatriation
My name is Ben Ferguson and I was born and raised in Coffs Harbour, the lands of the Gumbaynggirr people. I am also a descendant of my parents' mob, the Bundjalung and Dunghutti tribes, which make up the northern east coast of New South Wales, now more commonly referred to as northern New South Wales. We are saltwater/freshwater people.
Over the last 17 years I have been employed by the New South Wales Department of Education and have been teaching mainstream history, modern history and Aboriginal studies to Year 7–12. I have a Diploma in Teaching and a Bachelor of Education from the University of Sydney.
I have been working with the Saltwater Freshwater Arts Alliance for 10 weeks. It has been a fresh start and has opened up a whole new world for me. I am very happy in this job with none of the stress and drama of being a high school teacher.
The Yarning Culture through Film project provides communities of the saltwater freshwater region the opportunity to engage in cultural conversations. It also allows our youth the chance to gain experience in cultural storytelling through making film under the guidance of Elders and knowledge-holders.
Made Deadly 2019 is a Triple J Unearthed-style project which supports Aboriginal musical talent between Coffs Harbour in the north, down to Karuah in the south. It offers open-mic sessions to Aboriginal musicians, singers and performers in seven mid-north coast locations.
Eight finalists will receive studio time to professionally record one of their tracks, along with mentoring and rehearsal time with a high-profile Aboriginal music mentor. They will also perform at the next Saltwater Freshwater Arts Festival on Australia Day 2020.
Meet our Cultural Connections Program partners
Banner photo: Steve Back Photography
Return to

Top