2020 marks the 250th anniversary of the HMB Endeavour's voyage along the east coast of Australia, a journey that disrupted my community's way of life, way of doing and way of being. With such an event, this is an opportunity to ensure that our story from the shore is heard, included and acknowledged.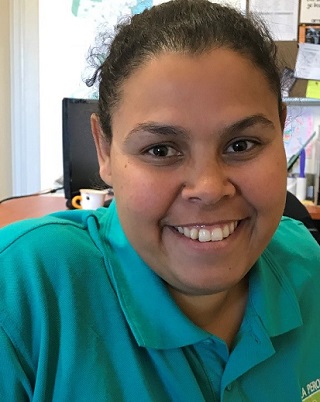 Cultural affiliations/language group: Dharawal
Community focus: La Perouse, New South Wales
Position: Project Officer 2020
Employer: La Perouse Local Aboriginal Land Council
Interests: Dharawal language use and revitalisation, spending time with family, travel and sport
Mentor: Chris Ingrey
Stacey Foster-Rampant belongs to the La Perouse Aboriginal community and has family connections to the Shoalhaven on the south coast of New South Wales. Stacey is a mother of two young boys and currently lives on the La Perouse Aboriginal Reserve and has lived there her whole life.
Her vision for community growth is strongly influenced by her grandmother, who spent her life fighting for Aboriginal social justice and equality.
Stacey is the newly appointed project officer for the La Perouse Local Aboriginal Land Council. Her role stems from the Cultural Connections Program with the National Museum of Australia.
Previously employed at NSW Health and Gujaga Multifunctional Aboriginal Children's Service at La Perouse.
The Cultural Connections Program is designed to assist Aboriginal and Torres Strait Islander cultural practitioners and communities located along the route of the Endeavour up the east coast of Australia, to lead and co-produce projects or events that enable them to manage, maintain and interpret their culture and history in a way that is meaningful to them.
The Kamay 2020 project aims to ensure that the La Perouse Aboriginal community leads conversations, includes local knowledge, truths and experiences and has input into chosen infrastructure and designs. Whilst Cook has come and gone, it is our cultural responsibility to ensure that our stories and experiences reflect our evolving histories.
Meet our Cultural Connections Program partners
Banner photo: Steve Back Photography
Return to

Top