Our Ancestors created the cultural connections to country, and I like to help restore this awareness with our families to help look after country in a way that our Ancestors would be proud to see. They are always watching how we do things especially our respect of how we conduct our cultural protocols and our encouragement towards each other in learning our cultural roles and responsibilities.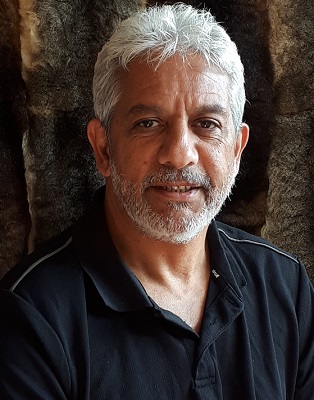 Cultural affiliations/language group: Gunnai and Yorta Yorta, Victoria
Community focus: To support living culture and cultural development in education and employment to care for our country
Position: Cultural Connections Co-ordinator
Employer: GLaWAC, Gunaikurnai Land and Waters Aboriginal Corporation
Interests: Promoting culture through language of song story and dance, language resources development, Gunnai astronomy presentations, live music — traditional music, didj, sticks, gumleaf whistling and guitar, video, multimedia photography and video editing.
My name is Wayne Thorpe. I recognise as being a descendant of the Gunnai people and I have family connections to Yorta Yorta.
Since 1980 I have been developing my experience in presenting and promoting our language and the awareness of our culture. Since 1997 I have been learning cultural ceremony and the respectful laws of lore from Uncle Max Harrison.
This has helped me in presenting cultural protocols, such as welcomes and smoking ceremonies, in the language of songs, stories and dance.
I have a Bachelor of Arts degree in language and linguistics and a Master of Education with a thesis titled 'Watbalimba — Language of Song, Story and Dance'.
As a team member of the Cultural Hub, I aim to help GLaWAC restore our cultural values, respect laws and structures of being custodians for our culture, our country and our language.
There are many people who want to learn about aspects of our cultural ways. We recognise the need to organise regular gatherings where we can encourage each other to contribute to our cultural society, family and culture. We can all benefit through sharing and learning our cultural ways of living.
I am currently working on developing cultural packages to support tribal identities of Gunnai–Kurnai and Koori communities that encourage organisations to respect the decision-making of our ancestor's land and waters. They include:
cultural competency for our families and staff
cultural safety for staff and community
cultural governance, including professional development, awareness for organisations and community, and cultural inductions for staff of community organisations.
By learning old and new ways of our culture we can develop and deliver projects and programs within the work place and community that help people feel safe and learn how to deal with situations when talking about the culture of Gunnai–Kurnai.
Meet our Cultural Connections Program partners
Banner photo: Steve Back Photography
Return to

Top