The Aboriginal People of the Far South Coast NSW are resilient and strong. We are creative and diverse. We are the people that live between the mountains and the sea, the Black Duck people, the Yuin. We are made up of the 13 tribes.

Our elders have lived through the chaos of colonization, yet managed to preserve our ancient creation stories that we now use to teach culture and to enrich our lives and that of our children's and many other people living on Yuin Country, willing to listen and learn.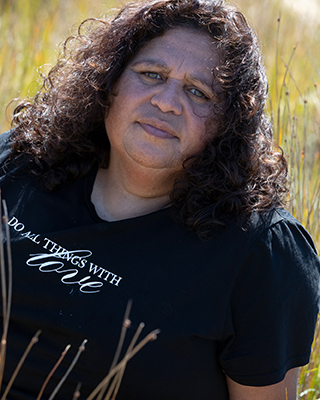 Cultural affiliations/language group: Walbunja and Ngarigo
Community focus: Yuin country, Narooma to Eden
Position: Aboriginal Creative Producer
Employer: Four Winds
Interests: Language, historical research, cultural education, art, storytelling and music.
Cheryl Davison is a Walbunja, Ngarigo woman. As a child she spent precious time sitting next to her grandfather in his old wooden boat on the shores of Wallaga Lake on the Far South Coast of New South Wales.
Cheryl's grandmother was a Ngarigo woman from the Snowy Mountains region of New South Wales. As a young child, Cheryl's grandmother was stolen away from country and never had the chance to return home in her lifetime.
Growing up, Cheryl felt privileged to be around many of her Elders and the community, listening to stories of the Yuin people.
Cheryl has studied and taught visual arts, graphic arts and printmaking. It was these foundations that shaped her life and fostered the artist and storyteller that she has become, exhibiting nationally and internationally.
She also sits on the Gulaga National Park Board of Management that governs the direction of care for the Yuin people's beloved and sacred mountain.
Cheryl is dedicated to her people, committed to healing the rifts caused by Australia's devastating colonisation and steadfast in honouring her elders' visions for her people and culture to be united, and strong — reasserting themselves in a world that is in desperate need of this ancient wisdom.
'As an artist, my project was always destined to be creative. That is why working in an environment brimming with quality musicians, imaginative producers and highly experienced event organisers is perfect for presenting our language, stories, history and aspirations to our own people, and to the wider community.
Supporting my community to present their experiences creatively returns them to their culture. It is what Yuin have done for millennia — sung, danced, told stories, painted our country and Dreaming. Creating and presenting works that tell old and new stories keeps us relevant and enduring as the oldest culture on earth.
My project, known as Bulwal Buradja — Strong Tomorrow, involves the establishment of a Koori Community Choir. The choir meets on a regular basis developing skills, repertoire and confidence to sing in front of large audiences, including at the Four Winds 2020 Easter Festival. Through this project, community will learn and revitalise language through song.
Also as part of Bulwal Buradja — Strong Tomorrow, plans are afoot to reignite the traditional skill among our local community people of making a possum cloak. The white possum cloak is central to our identity and that of Mount Gulaga.
I will also work with my community's wonderful dancers and choreographers to bring to life an old song about fishing with the winds. My project will bring our culture to life; it will not be in a museum, but dancing about informing audiences and inspiring my people – helping us stand tall.'
Meet our Cultural Connections Program partners
Banner photo: Steve Back Photography
Return to

Top