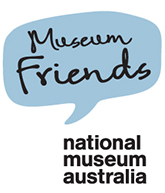 Contact
Membership enquiries
Tel +61 2 6208 5108
Tel +61 2 6208 5141
Member event bookings
Tel +61 2 6208 5021
General Friends enquiries
Tel +61 2 6208 5048
Email
friends@nma.gov.au
Connect

YouTube
Museum Friends
Museum Friends is the membership program of the National Museum of Australia. At the Museum Friends, we endeavour to provide unique events, engaging programs and increased benefits for our Members.
Join your Friends
The Museum holds a special place in the hearts and minds of Australians. Museum Friends:
Support the Museum's commitment to developing, conserving and interpreting the National Historical Collection and providing exceptional Australian history education to children and adults
Explore the Museum's extensive collection through exclusive access and behind-the-scenes tours
Discover the stories behind the stories at curator talks and seminars with guest lecturers and research centre staff
Enjoy the stunning lakeside Museum Cafe, Friends Lounge and surrounding open spaces with family and friends
Celebrate the many amazing people and events that define our Australian story
Connect with a wider community across Australia and the world with shared interests and concerns.
What's new?
The Museum is excited to launch its new Museum Friends membership program.
As a member of the Museum Friends you now have access to more benefits and the opportunity to include your friends and family in your membership group.
Friends of the National Museum of Australia started in 1989 as an advocacy group campaigning for the establishment of a national museum based in Canberra for all Australians. This dream was realised when the Museum opened in 2001.
Today, Friends is managed by the Museum and continues to build on the program established by our foundation members.
Through a vibrant calendar of events, talks, exclusive tours and gatherings led by Museum curators, conservators, hosts and special guests, the Friends program delivers meaningful and enjoyable experiences for our members.
---
Museum Friends are united by a passion for history and heritage and the vision of a world-class museum that explores Australia's past, illuminates the present and imagines the future. JOIN ONLINE NOW