Caution: This website includes images and names of deceased people that may cause distress to
Aboriginal and Torres Strait Islander peoples.
---
Encounters featured rare Aboriginal and Torres Strait Islander objects from the British Museum. This groundbreaking exhibition revealed the voices, emotions and stories connected to these powerful objects. Encounters was on show from 27 Nov 2015 to 28 Mar 2016.
Community films
Gimuy Walabura Yidinji Elder Henrietta Marrie talks about what it means to have objects taken from her traditional lands return to Australia for the Encounters exhibition.
Awards
The National Museum's Encounters exhibition won the Canberra Region Tourism Award for Major Festivals and Events in 2016. The Museum also received a commendation in the International Ready award.
The exhibition also won two 2016 Museums and Galleries National Awards (MAGNA):
Award for Best Major Temporary Exhibition
Co-Winner of the Best Museum Project Overall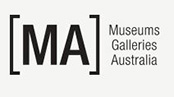 ---
Top left image: Vernon Ah Kee, cantchant (shield) 2015 (detail, reverse view), depicting the artist's great-grandfather, George Sibley. Collection: National Museum of Australia. Courtesy the artist and Milani Gallery, Brisbane.