Welcome to the National Museum of Australia
The National Museum of Australia brings to life the rich and diverse stories of Australia through compelling objects, ideas and events. It focuses on Aboriginal and Torres Strait Islander cultures and histories, Australian history and society since 1788, and people's interaction with the Australian environment.
There is always something unique to see and do at the Museum. Our permanent galleries are open from 9am to 5pm daily and there is an exciting calendar of world-class touring temporary exhibitions, virtual reality experiences, events, school holiday programs and festivals.
Discover fascinating and surprising objects in our collection, visit the Garden of Australian Dreams, explore our stunning location on the shores of Lake Burley Griffin and admire the building's impressive architecture.
Open hours
We are open daily from 9am–5pm, except Christmas Day.
Cost
General admission is free.
Costs apply for some special exhibitions and events. A $5 donation on arrival enables us to continue delivering world-class exhibitions and programs.
Address
National Museum of Australia
Lawson Crescent
Acton Peninsula
Canberra ACT 2601
Permanent Galleries
The Museum currently has two permanent exhibition halls.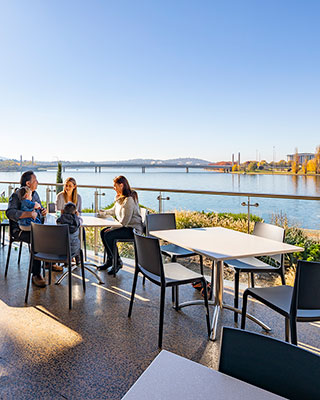 Museum Cafe
Open daily: 9:00–16:45
Spectacular views over Lake Burley Griffin make the Museum Cafe the perfect place to enjoy breakfast, lunch or a coffee with friends or family. Choose from our delicious cakes and pastries, light meals and daily specials featuring the season's best produce. Sit indoors or out on the deck, or relax in one of our comfortable lounge chairs and browse the internet with our free wi-fi.
Food:
Australian style dessert
Fresh Australian food
Premium coffee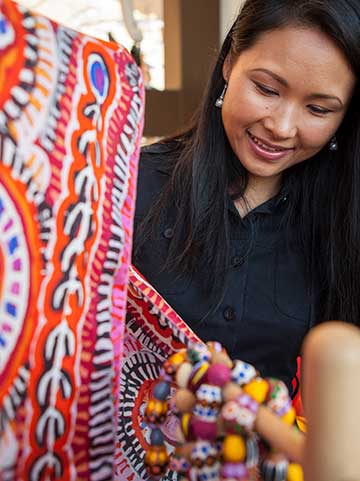 Museum Shop
Open daily: 9:00–16:45
The Museum Shop stocks beautiful homewares, glassware, jewelry, Indigenous products, toys, books, bath and body products,candles, giftware and more — everything we sell has a story to tell.
You can also visit the Museum Shop's online store.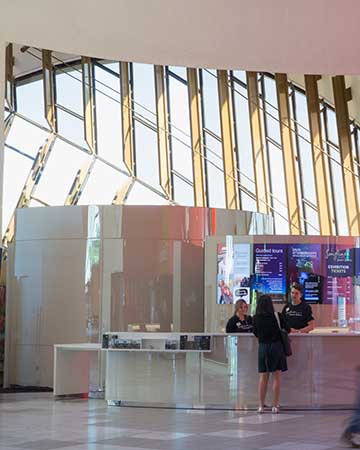 Information Desk
See the Information Desk inside the Museum entrance for:
tickets and tours
what's on and special offers
free wheelchair, scooter and stroller hire
maps in other languages
storing bags, umbrellas, baby backpacks or items larger than 30 cms.
The Information Desk can also help with any other questions or suggestions.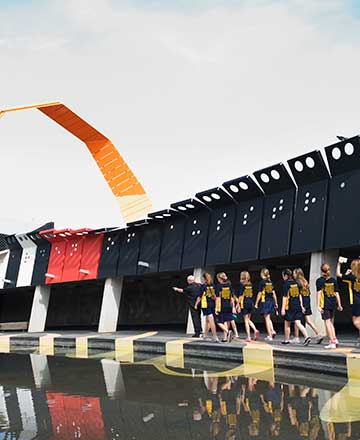 Guided Tours
Take a guided tour to see and experience the National Museum of Australia with one of our highly knowledgeable hosts. Hear the stories behind highlights of our collection, learn more about First Australians or enjoy the Ultimate Museum Experience.
There are three English tours every day at 10am, 1pm and 3pm. Group bookings are welcome. Tours in languages other than English are available by request, and private customised tours by appointment.
Bookings: phone +61 2 6208 5021 weekdays or email bookings@nma.gov.au
Wi-fi
Wi-fi is free at the Museum, as is the mobile recharge station in our Museum Cafe.
ATM
There is an automatic teller machine (ATM) with audio in the Gandel Atrium.
Parking
Fees apply for parking at the Museum from Monday to Friday from 8.30–17:00. There is free parking on weekends and public holidays, and always for limited mobility spaces and motorbikes.
Accessible parking spaces for visitors who have a mobility impairment and the required permit, are available free of charge near our main entrance.
Photography
Photography for personal use is allowed in our galleries, except in temporary exhibitions or where signs request no photography. Tripods and flashes are not permitted.
Wheelchairs
Bring your own or use one of ours. We suggest booking 24 hours in advance, with pick-up from the Information Desk just inside the Gandel Atrium, phone +61 2 6208 5110.
Parents room
Includes a toilet, change table and microwave. Breastfeeding is welcome in all areas of the Museum. Strollers for babies and young children up to 17kg are available for free hire from the Information Desk.
Culture Loop bus
A free shuttle bus, which transports visitors on a convenient loop to some of Canberra's most loved cultural attractions and places of interest.
Contact us
Free call: 1800 026 132
Phone: +61 2 6208 5000
Email: information@nma.gov.au
Contact us if you have questions about accessibility, or so we can tailor services to your needs before you visit.
Email: disability@nma.gov.au
Artwork: Budgerigars in the Sandhills, 1975, by Billy Stockman Tjapaltjarri
Return to

Top