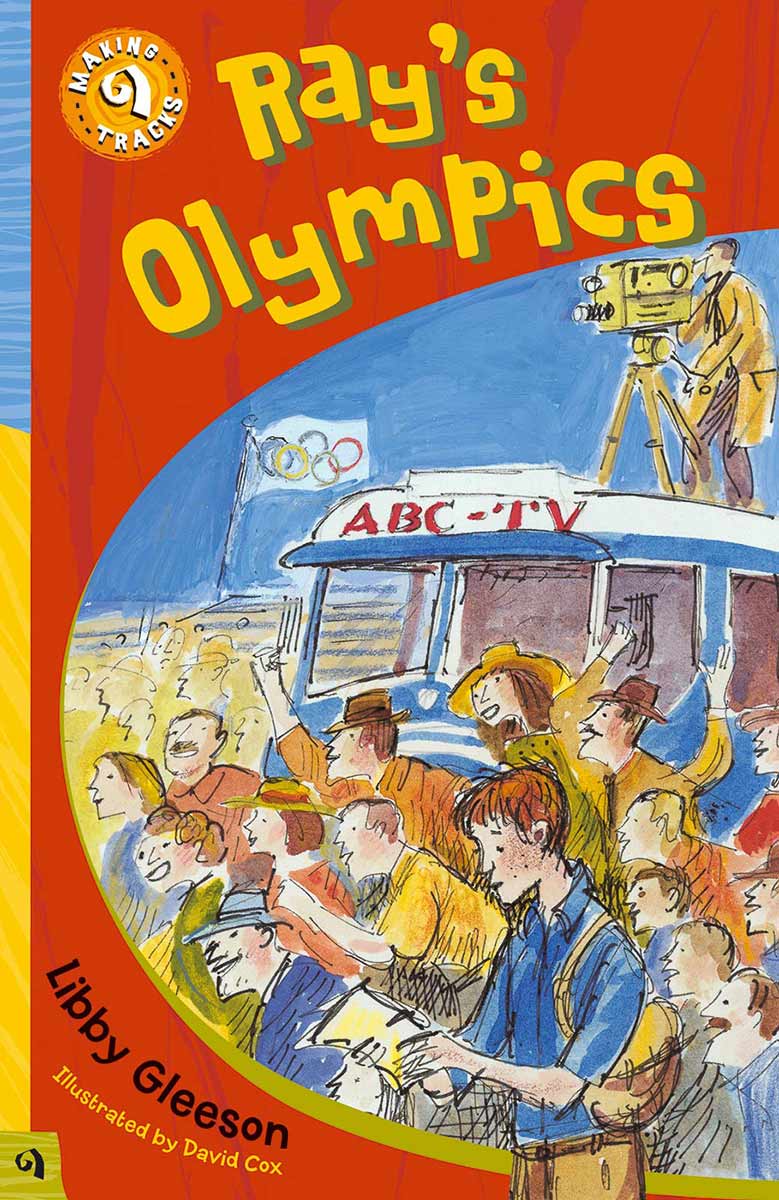 The 1956 Melbourne Olympic Games are about to begin and everybody wants to watch them. Mick Leary has a new television, tickets to the Games and a cousin competing in the water polo team. Ray, who is in the same class as Mick, has to make do with sitting on the pavement watching a television in a shop window. It doesn't seem fair!
When the other children follow the boasting Leary boys around the playground, Ray retaliates by telling a lie. He announces that he is also going to the Games with his cousin, who is filming the Olympics from the new ABC broadcast van.
Mick doesn't believe Ray's story and demands proof in the form of a photo. Ray realises that he needs an excellent plan or he will be in all sorts of trouble with Mick and his rough brothers. And so begins Ray's own Olympic challenge. In trying to deal with the situation he has created, Ray gets some help from his brother, advice from his grandfather and support from his friend Skeeta.
Ray manages to get into the Games, find the ABC van and meet a new 'cousin' who is happy to be photographed with Ray on the ABC van. It may have been a lie, but Ray gets the proof he needs.
Why did so many people gather outside a local shop to watch the Melbourne Olympic Games?
Why did Ray tell a lie to Mick Leary? How does Ray feel after he tells the lie? What do you think about Ray telling a lie?
How does Ray's brother, Ken, help Ray? How does Ray's grandfather help him?
What can the ABC broadcast van do? Why are people at the Games interested in the ABC van?
Why are Ray and Ted both called Bluey?
Do you think Ray learnt a lesson from his experience? Why, or why not? If so, what lesson did he learn?
Ask students to complete an entry in Ray's diary the day after he gets his prized photograph. Encourage students to reflect on how Ray might be feeling about everything that happened.
Use the Olympics correspondent worksheet (PDF 1.4mb) and ask your students to take on the role of journalists. Their task is to recreate the front page of the Herald as it might have looked during the 1956 Melbourne Olympics.
Use the Different stories worksheet (PDF 1.6mb). This activity encourages students to develop alternative storylines for Ray's Olympics.
The photo of Ray with his 'cousin' becomes a very special possession for Ray. Invite students to bring in a photograph from home that captures a special moment for them. Students should write about the photo and share their stories with the class.
Ray's teacher involves his students in 'Olympic projects'. Your students could complete their own projects on the history and significance of the Olympic Games.
Ask your students to look at the illustrations created by David Cox for Ray's Olympics. They should develop two lists headed '1956' and 'Now' and compare and contrast items in the pictures that have changed over time.
Ray's Olympics by Libby Gleeson
illustrated by David Cox
ISBN 1 876944 43 9
198mm x 130mm, 64pp
black and white illustrations
Published 2006. This book is out of print.
Return to

Top