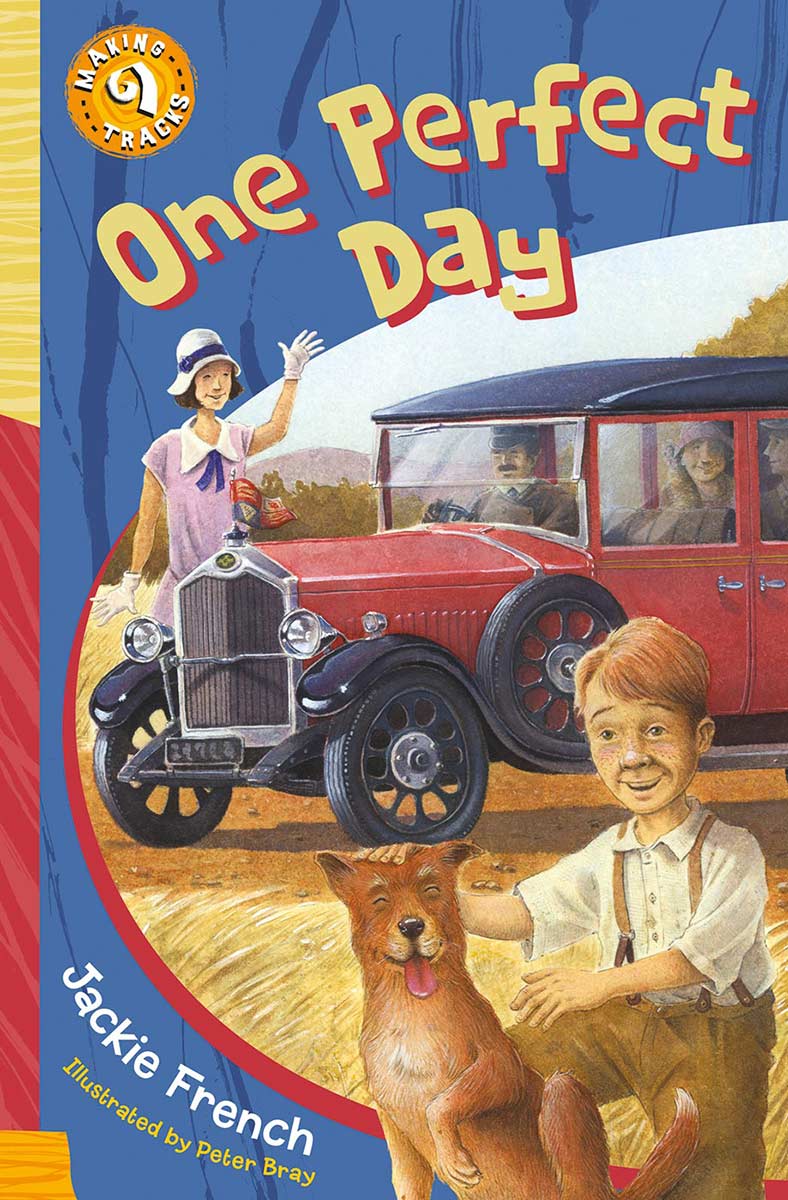 It is 9 May 1927, and celebrations to mark the opening of Parliament House are underway in the small town of Canberra. But for Billy, an orphaned farmhand on a nearby property, it is just another day of hard work and loneliness. His only friend is the work dog, Dusty.
Billy's plans change, however, when he learns that Dusty is to be shot and replaced by a younger dog. Billy sets off for the celebrations in the hope of finding a new owner for Dusty.
Billy never reaches Parliament House. On his way he befriends a chauffeur, Mr Thompson, and his young passenger, Myrtle. Their car has broken down on the way to the opening ceremony and they are stranded on the side of the road. Billy finds a home for Dusty, and the three share their stories: Myrtle tells of her desire to be Australia's first female Prime Minister; Mr Thompson talks about his wife who 'vanished' during the war; and Billy explains that his father went missing in action before his mother died.
Despite Mr Thompson's belief that 'things like this don't happen', Myrtle makes a connection between the stories and realises that Billy is Mr Thompson's son.
Why did Mr Cuddy want to shoot Dusty? Why was Billy so upset by this?
In what ways was the opening of Parliament House celebrated in 1927?
How did Mrs Button behave towards Mr Thompson? Why do you think she did this?
Myrtle thought that 'Women can do anything men can do!' What do you think?
Why did Mr Thompson think that he could not keep Dusty himself? Why did he change his mind?
What impact did the Great War have on the lives of Mr Thompson and Billy?
Chapter 8 is called 'Things Like this Don't Happen!' What does this phrase mean and why is it used?
What happened on 9 May 1927? Was it a perfect day?
Ask your students to develop a storyboard for One Perfect Day. Students can draw boxed pictures, like a strip cartoon, that indicate the key events in the story.
Working in small groups, students can look through One Perfect Day focusing on the illustrations of Dusty. Invite each group to write down which aspects of the story are conveyed through the illustrations. What is not conveyed by the illustrations of Dusty? Share the ideas generated in a class discussion.
Ask your students to complete the Myrtle's amazing day worksheet (PDF 2.1mb) where they complete a diary extract. This will encourage them to see the events of 9 May 1927 from Myrtle's perspective.
Use the Getting into role worksheet (PDF 2.4mb) and distribute role cards to students. Working in groups of four, students can read their cards and then take the roles of Billy, Mr Thompson, Mr Cuddy and Mrs Cuddy in a conversation. The conversation takes place when Billy and Mr Thompson return to Mr Cuddy's farm to pick up Billy's belongings.
Coincidence plays a major part in this story. Discuss 'coincidence' as a class, and then conduct a think, pair, share activity. Students can think of a coincidence that has happened in their lives, they can talk about it as a pair, then the pair can be given an opportunity to share their stories with the class (or a larger group).
Ask students to research and write a report on the history of Old Parliament House. Students may wish to use the Old Parliament House website (for example, the online exhibition and floor plan).
One Perfect Day by Jackie French
illustrated by Peter Bray
ISBN 1 876944 40 4
198mm x 130mm, 72pp
black and white illustrations
Published 2006; re-released 2015. This book can be ordered through good bookshops and educational suppliers.
Return to

Top