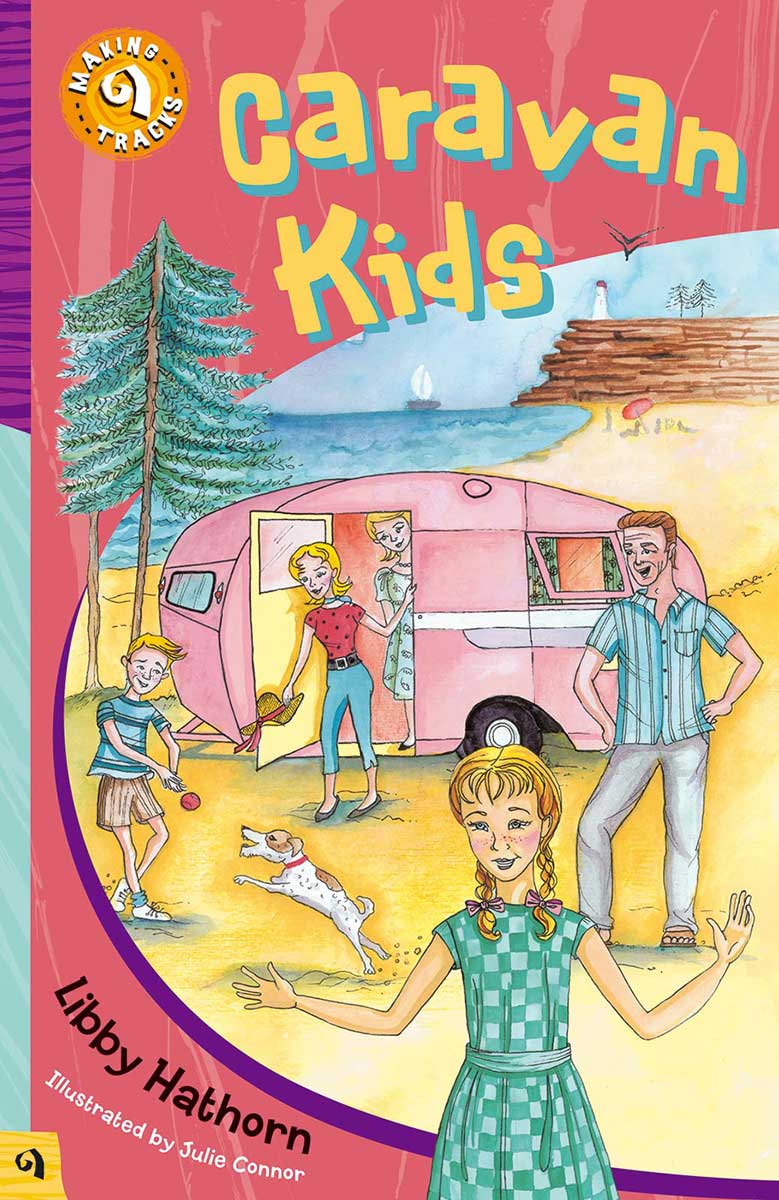 When the Smyth family win a pink caravan in the 1957 Christmas raffle, 10-year-old Sally thinks she might be able to have a long dreamed of adventure. Settled into Palm Beach, the holiday is everything the family wish for: Mum and Dad relax with other campers, Del finds boys to flirt with and Carl plays games with his new mates. Only Sally complains that she is not having a real adventure.
Sally thinks she might find adventure by visiting the 'scary old lady' Jessie or by upsetting the 'snobby' Anderson family. But she eventually finds adventure when she storms out of the caravan concert and accidentally stumbles, landing on a cliff ledge.
Sally is alone and injured as night begins to fall. Luckily her departure was noticed by one of the Anderson boys and her location is discovered by Jessie's dog, Jimpy. Before long Sally is rescued and returns to the camp with an adventure all of her own.
Why was Sally so keen for an adventure?
Why do you think the children at Palm Beach were scared of Jessie and her dog Jimpy? Why did Sally end up visiting Jessie on her own?
Why did Sally's family, and the other campers, think the Andersons were snobs?
Although Sally knew that her sister was flirting, she was very angry when Lynette called Del a flirt. Why?
What sort of person do you think Sally is? Do you think that you would like her if you met her?
How have beach holidays changed since the 1950s? How have they stayed the same?
What makes a good adventure story? Is Caravan Kids an adventure story?
Caravan Kids ends with the promise that the Smyth family will return to Palm Beach the following year. Ask your students to write about the adventures the family have when they return.
Use the Meet the Smyths worksheet (PDF 1.9MB) to explore the characters in Caravan Kids. Students are asked to reflect on members of the Smyth family.
Ask your students to complete the Then and now worksheet (PDF 1.4MB). In this activity, students illustrate how beach holidays have changed since 1957.
On page 58 of Caravan Kids, the text states: 'There was a lot to say about their holiday as they headed home.' Divide your students into groups of five. Ask each group to write a script for a conversation that the Smyth family may have had as they drove home. Group members should then each take a role and perform their conversation for the class.
Encourage your students to create a diorama of Palm Beach during the Smyth family's holiday.
Students may like to research Enid Blyton and select one of her adventure stories to read.
Students can complete an engaging interactive activity about the pink caravan featured in the story by clicking on the interactive below.
Caravan Kids by Libby Hathorn
illustrated by Julie Connor
ISBN 1 876944 44 7
198mm x 130mm, 64pp
black and white illustrations
Published 2006. This book is out of print.
Return to

Top