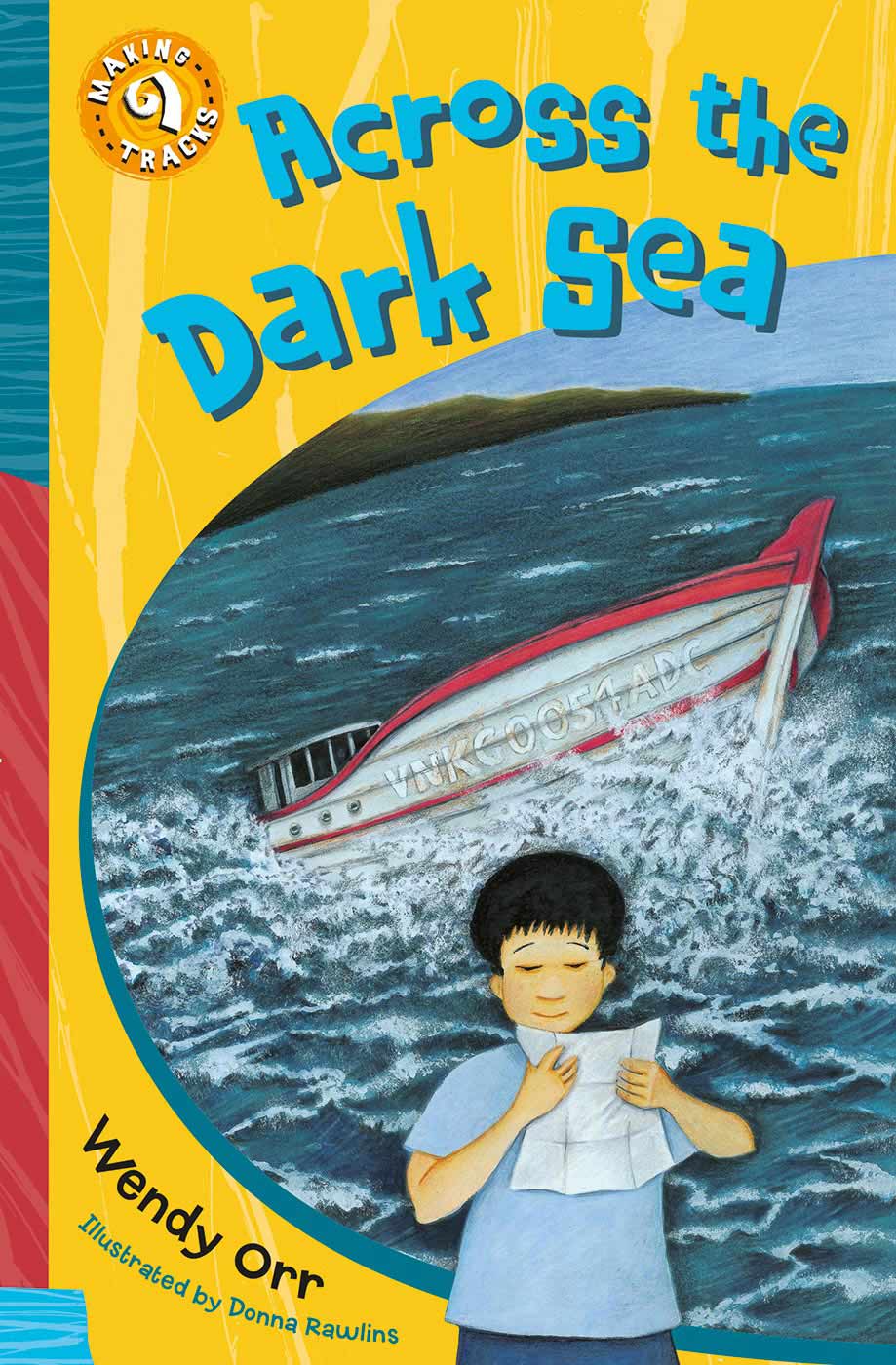 Trung's family is tragically separated during their attempt to escape to a new country. A raid by soldiers means that only Trung and his father make it onto the boat headed for freedom. Trung's mother and little sister are left behind in Vietnam. Trung's journey, in the hull of a crowded fishing boat, is fraught with danger and full of loneliness. His estranged father is too sad and desperate to offer much comfort.
Even when Trung arrives in Australia, his difficult journey continues. He has to contend with strange foods, streets, buildings and a new language. He begins school but feels alienated from the other students and staff. He is left alone with many hours to fill.
And throughout his journey he desperately misses his mother and sister in Vietnam. He writes them letters at first in his head and then on paper but a reply does not arrive.
Trung starts to develop a friendship with Andrew, who is also grieving the loss of his home. And, finally, one day a letter arrives from his mother in Vietnam. Trung's dark journey does not end, but he begins to hope again.
Why did Trung and Ba get separated from Ma and Mai? How does Trung feel about the separation?
What challenges does Trung face during the boat journey? How do you think he felt during this time?
Why is Ba so sad? How does Trung feel about Ba? Do Trung's feelings toward his father change during the story?
What was Trung's cricket cage in Vietnam used for? Why do you think this cage is so important to Trung?
Why does Andrew dislike Melbourne? What do Trung and Andrew have in common? Why does Andrew tease Trung?
Why do you think this book was called Across the Dark Sea? Do you like this title? Can you think of another title for the story?
Look carefully at the illustrations Donna Rawlins has created for Across the Dark Sea. How do they help to tell the story? How do they make you feel?
Was the end of this story sad, happy, or both?
Trung writes many letters home throughout the story. Some are letters that he only writes in his imagination. Discuss with students how Mai must have felt back in Vietnam after missing the boat. Ask students to write a letter that Mai might have written in her imagination.
The Trung's emotional journey worksheet (PDF 1.8mb) explores the emotions that Trung experiences throughout the story. In this activity, students are asked to comment on how Trung might have felt at various times.
Ask students to imagine that they are going to live in Vietnam for a year and attend a local school. In small groups, students should develop a dramatic performance depicting their first day in the new school.
The illustrations created by Donna Rawlins for Across the Dark Sea evoke many emotions. Discuss the illustrations with students and encourage them to express their reactions to them. Complete a class art activity, where your students draw in a similar style.
Use the Exploring Vietnam worksheet (PDF 1.8mb) to guide the students in undertaking research about Vietnam. Divide the class into six groups and give each group a different task card. When they have finished their research, students should present and display their work for other students.
Across the Dark Sea by Wendy Orr
illustrated by Donna Rawlins
ISBN 1 876944 45 5
198mm x 130mm, 64pp
black and white illustrations
Published May 2006; re-released 2014. This book can be ordered through good bookshops and educational suppliers.
Return to

Top