Made from fine wool, this two-piece dress dates from about 1885 and is affectionately known to its owner's descendants and National Museum staff as the 'pink merino' dress. It belonged to one of the three daughters of pioneering pastoralist William Pitt Faithfull and his wife Mary.
Miss Faithfull's dress is of a style fashionable between 1883 and 1885. During this period, an elaborately decorated voluminous skirt was one of the most outstanding features of women's clothing. This style of dress was also a statement about the Faithfull family's wealth and a signal of their social position in Australian colonial society.
The distinctive shape was achieved by wearing a bustle – a cage-like structure consisting of a series of semi-circular hoops and fabric tape that threw the skirt out horizontally from the back of the waist. Miss Faithfull's bustle would have emphasised her narrow waist as well as supporting and showing off the layers of fine fabric and lace frills.
The matching yet contrasting bodice was also a popular choice. It is very fitted, features tight pleats and a high collar, and was characteristic of a fashion period beginning to favour more tailored, suit-like styles for women.
The bodice would have been a perfect fit for Miss Faithfull; and here she was greatly assisted by the use of a corset – next to the bustle, the most important undergarment of the 1880s.
A tightly-laced corset stiffened with whalebone would have cinched her waist and ensured excellent posture at all times. The style of dress was modelled on fashions of Britain and Europe but it also communicated important information about the owner's position in Australian colonial society.
Pioneering and prosperous sheep station
The Faithfull girls Florence, Constance and Frances Lilian, known as Lilian, were born in the mid-19th century at Springfield. Their father, William Pitt Faithfull settled on the land in 1828 and, by the 1830s he was successfully exporting wool to London.
By the 1880s, when the dress was manufactured and worn, Springfield was a prosperous and well-established sheep station. As the daughters of one of the colony's most successful pastoralists, the Faithfull daughters dressed to reflect their class and social status.
The quality of the fabric and the expertise of the dressmaker would have been recognised as costly to procure. The fitted bodice with its tight, narrow sleeves and the extravagant skirt restricted movement and made strenuous activity difficult. The owner of this dress was clearly of the leisure class; she could afford not to work.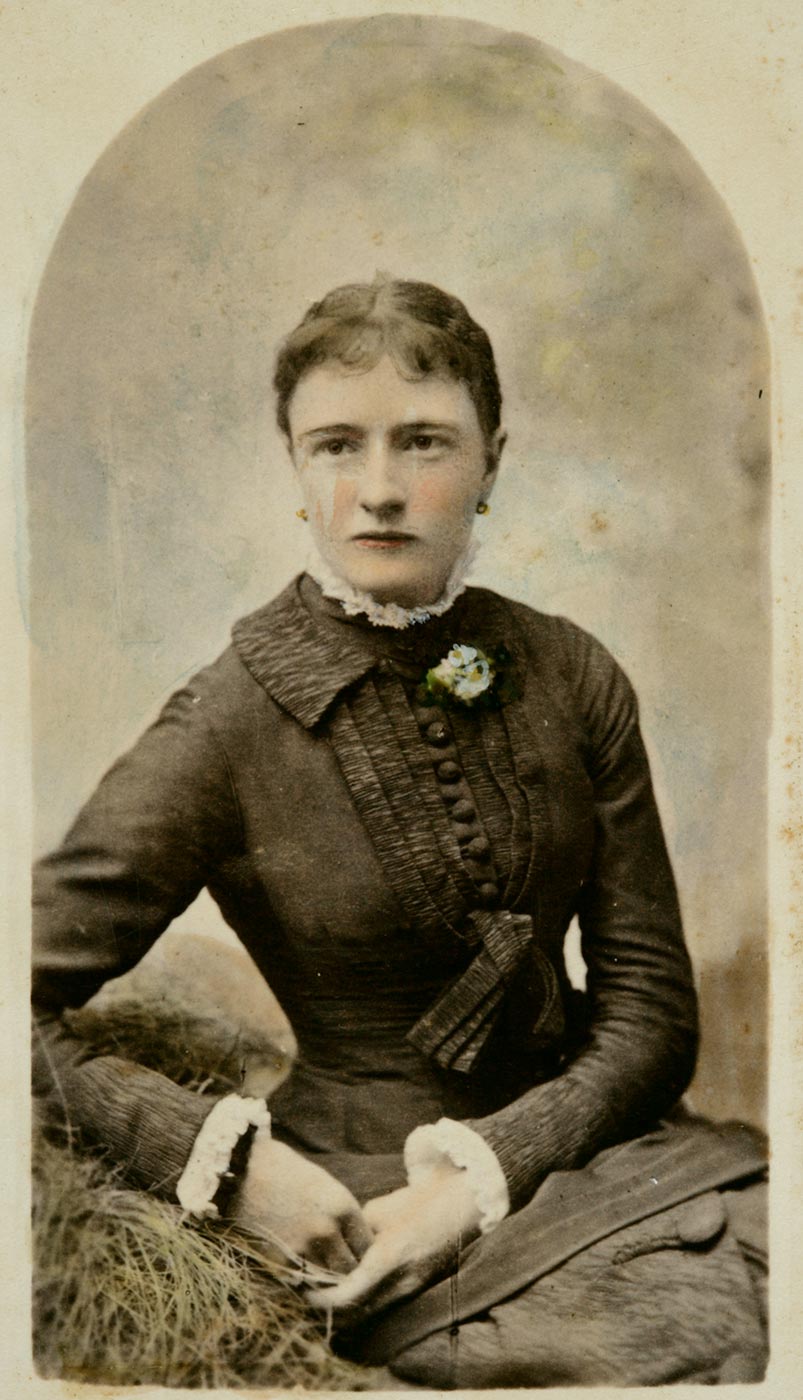 Lilian Faithfull's dress?
While we cannot be certain about which of the three Faithfull girls owned the dress, the narrow fit of the bodice, the small skirt waistband and the overall length of the dress suggests it belonged to the youngest daughter Lilian, who had a slighter frame and was of shorter stature than her sisters.
By the 1880s when the 'pink merino' was fashionable, Springfield was highly successful. William Pitt's son Lucian was now managing the property and was growing wool of exceptional quality and yield.
Springfield merino wool was exactly the type of wool sought after by the British textile industry to make quality clothing like Miss Faithfull's dress.
At the time the dress was manufactured, wool was a popular and fashionable fabric for clothing and would have been the ideal choice for the style Miss Faithfull desired.
The fine wool absorbed the pink dye evenly and achieved a close fit for the bodice and a soft drape for the skirt. Moreover, it would have offered warmth in the winter but was the type of fabric that could breathe in the summer months.
From flock to frock
Miss Faithfull's dress was manufactured from wool characteristic of the fine Australian merino wool that, by the 1870s, had become the country's most important product and export. By the 1880s, the majority of Australia's finest wool was shipped to London and sold to manufacturers throughout Britain and Europe.
In the Yorkshire area of England, mills were thriving, producing great quantities of fine woollen textile. In Bradford, Leeds and Halifax bales of Australian merino wool were scoured, carded and combed, spun, dyed, woven into cloth and, in the case of our wool dress, sold back to an Australian market in want of fine textiles and clothing.
While it is uncertain whether the dress arrived in Australia as a bolt of pink, woollen cloth or as a ready-made garment, we know Miss Faithfull purchased her dress from David Jones, as the company's label is attached to the inside of the bodice.
Zoom in to see the interior of the dress bodice, with hand stitching, boned construction and a David Jones & Company label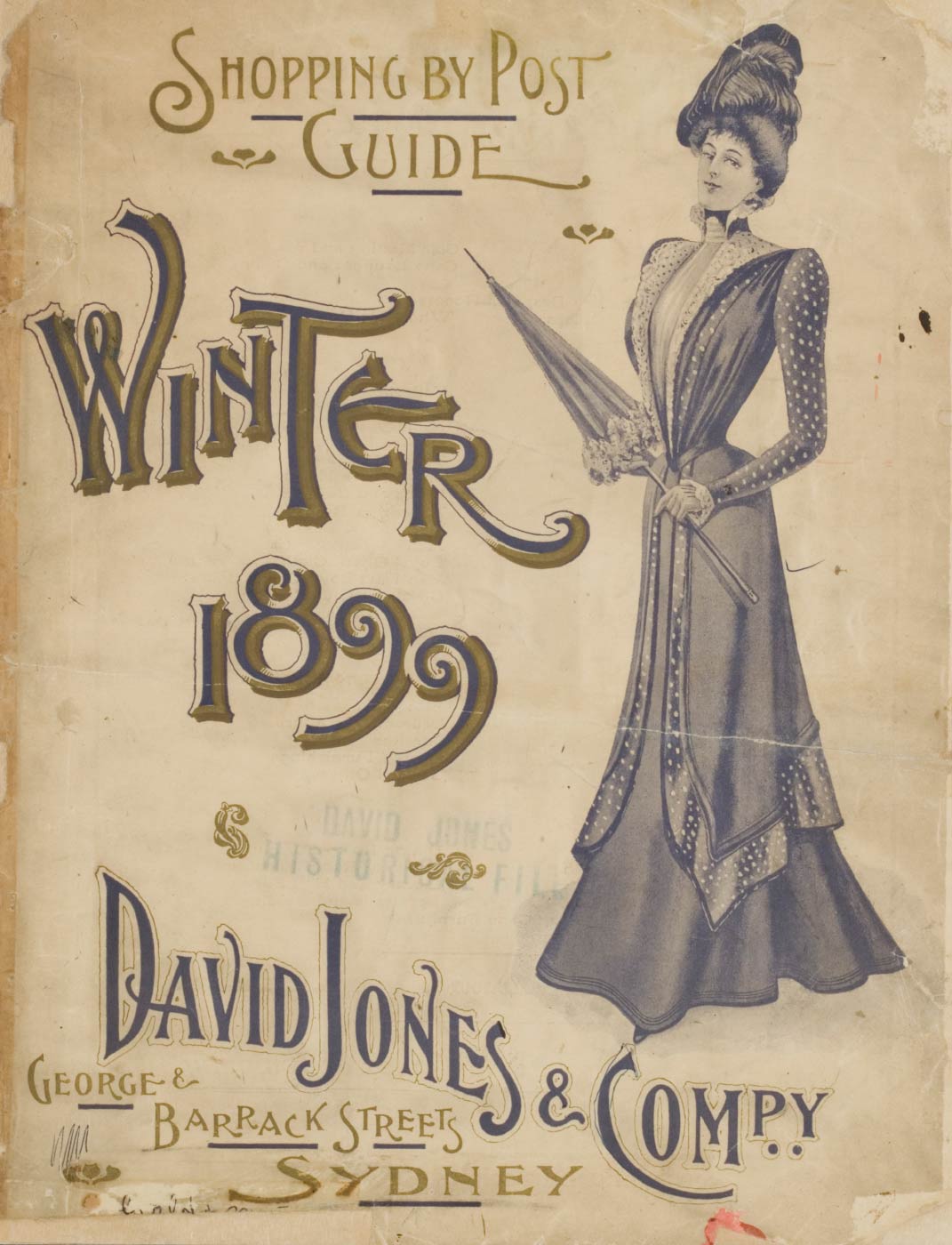 David Jones
David Jones played a significant role in providing Australian colonial society with access to the latest international fashions.
While Miss Faithfull's dress and many fine wool garments were the products of the successful symbiotic relationship between Australia and Britain, it was David Jones & Company – a global business – that brought fashionable clothing into the lives of 19th-century Australians.
Welsh-born, London-trained merchant David Jones arrived in Australia in 1838.
He opened a store on the corner of Barrack and George Streets in Sydney and immediately began importing a range of goods from Britain, introducing Australians to the European idea of the department store.
The furnishings, costume, millinery, glove and even parasol departments were kept well stocked by regular shipments from London.
In Basinghall Street, London, David Jones established a large office where, as the company advertised, 'several lady and gentlemen buyers carry on the work of selecting and forwarding to our Sydney establishment the latest and most approved fashions of the day'.
Miss Faithfull could have purchased her dress ready-made from David Jones or had it custom-made by a tailor in the costume department. David Jones not only imported fashionable clothing but also assisted with the migration of experienced dressmakers from Britain and Europe.
Advertisements were placed in the British newspapers and in 1887 David Jones & Company called for a dressmaker for 'high-class business in Australia'.
The successful applicant was Welsh dressmaker Harriet Ann Dixie. David Jones paid for Miss Dixie's first-class passage from London to Sydney where she was employed in the costume department for an initial period of 12 months at a salary of 300 pounds.
Miss Faithfull need not have visited David Jones to purchase her fashionable dress. By the 1880s, the company had established extensive postal departments and it is possible Miss Faithfull – as a rural customer – took advantage of this service. Seasonal fashion catalogues complete with coloured postcards and fabric samples were sent to settlers living in and around country towns.
Dressed for success
The Faithfull girls may have lived on a property that was a two-hour carriage ride from the closest town and a lengthy train journey from Sydney, but family letters, postcards, invitations and other ephemera reveal Florence, Constance and Lilian Faithfull were active members of the Goulburn region and Sydney society.
Spending a 'season' in Sydney, attending teas during the day and balls in the evening, calling on acquaintances, receiving visitors, shopping, afternoon walks and other social activities befitting a woman of their class would have required appropriate dress.
She would have accessorised appropriately with pointed walking shoes or boots and a pair of short kid leather gloves. A coarse straw hat and perhaps a parasol would have shaded her clear complexion from the bright Australian sun.
The three girls were in their 20s when this dress was made, and for these young women wearing the fashions of the day reflected more than personal taste; how they dressed was an advertisement of their family's wealth and a signal of their social position in Australian colonial society.
Two piece pink full length wool dress (bodice and skirt) with cream lace trimming
Two piece pink full length wool dress (bodice and skirt) with cream lace trimming. Pink wool bodice, long sleeved with lace at the cuff. It is lined and boned, with a stand-up collar also trimmed in lace. The front is pleated and smocked. Round brassy coloured buttons running down the front and feature an anchor design on the s...
Explore more on the Springfield–Faithfull family collection
Return to

Top