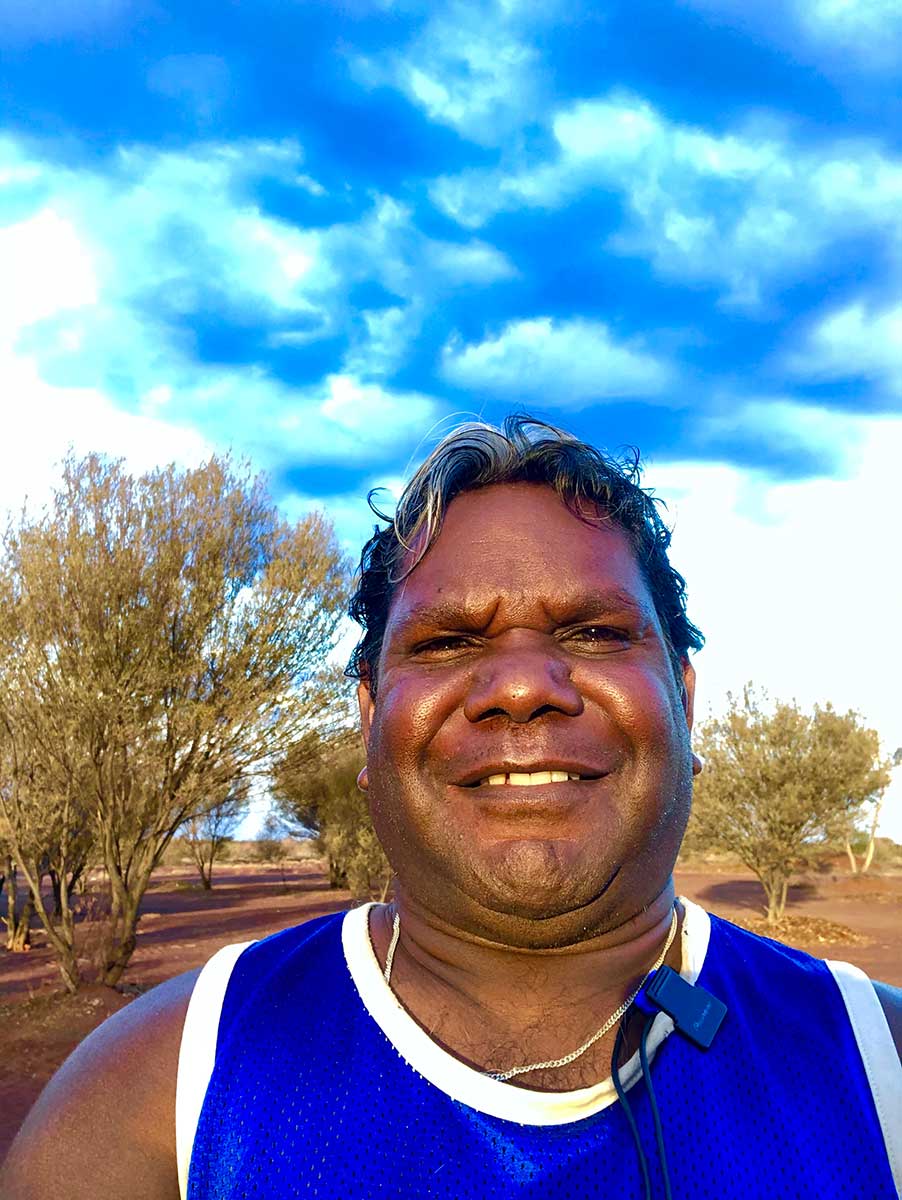 Right now, inside the expansive exhibition halls of the new Western Australian Museum Boorla Bardip, audiences can hear the contemplative and acoustic country song 'Ngurra Muntjiltjarra' by Martu custodian, artist and sandalwood entrepreneur Clinton Farmer.
The song was recorded as part of West Australian Music's (WAM) Sounds of Wiluna album and is the product of a professional song production tuition project. Its upbeat lyrics and guitar amplify and animate the large-scale painting Our Country (2011), produced by Martumili Artists and Clinton's family.
Both music and art are featured as part of the inaugural National Collections showcase. This is an ongoing partnership between the National Museum of Australia and the Western Australian Museum to connect the many strands of Australian experience and history, and share stories of significance to Western Australia.
National Collections highlights several iconic canvases from the original Yiwarra Kuju: Stories of the Canning Stock Route exhibition (2010), and is produced in partnership with FORM and 10 Western Australian Aboriginal art centres. National Collections is on show in Western Australia until November 2021.
Ngurra Muntjiltjarra
Listen to this upbeat and contemplative song, recorded as part of West Australian Music's (WAM) Sounds of Wiluna album, to accompany the painting Our Country (2011) by Martumili Artists and Clinton Farmer's family.
When I asked Clinton to describe his inspiration he replied, 'This is a tribute to my dad, Ken.' Clinton's father was a first-contact Martu man who walked out of the desert near Wiluna in the 1950s.
Clinton says:
Country is healing, and I speak from experience because being on Country has healed me and made me strong. I draw inspiration from the land and my old people, they are my heroes. I wrote this song to remind everybody of Country, so they know who they are, where they come from and stay connected.

The song is to remind all the families, old and young people, but especially young people as they just have to get back to Country. Since I wrote this song, we're doing more work in cultural tourism, which is good for everyone, cultural well-being and working towards the future.
Our Country was painted in the Parnngurr community by senior and emerging Martumili artists Kumpaya Girgirba, Kathleen Sorensen, Judith Samson, Sonia Williams, Natasha Williams, Noreena Kadibil, Thelma Judson, Karnu Nancy Taylor, Marjorie Yates, Noelene Girgirba.
The collaborative creation of this work provided an opportunity for emerging and senior artists to work together, sharing knowledge and skills. Through the fusion of music and art, they express the importance of Martu people's connecting to Country.
Senior artist Kumpaya Girgirba describes the work:
The jina (feet) show where Martu walked in pujiman (bush shoes), all through the desert, we still walk through our Country, now there are lots of Toyotas on the Canning Stock Route, tourists, and the Martu rangers working on the Country to look after it.
The painting, the song and the original Yiwarra Kuju exhibition more broadly, convey a dynamic lens through which to view the history of the Western Desert region. They speak of contact, conflict, family and resilience, and reveal the contemporary desert life around the Canning Stock Route. They also illustrate the artists' intimate connection and knowledge of their Country.
Special thanks to Clinton Farmer, WA Music Industry's sound engineer Nigel Bird, Martumili Artists and the WA Museum team.
'Canning Stock Route Country' by Patrick Tjungurrayi, 2007
In 1958, as a young man, Patrick Tjungurrayi walked north out of the desert, using the Canning Stock Route as a guide, looking for his family. In 2007, as part of the FORM Canning Stock Route project, Patrick returned to the Canning Stock Route to retrace the journey he had made out of the desert 50 years earlier. Patrick joined...
Return to

Top