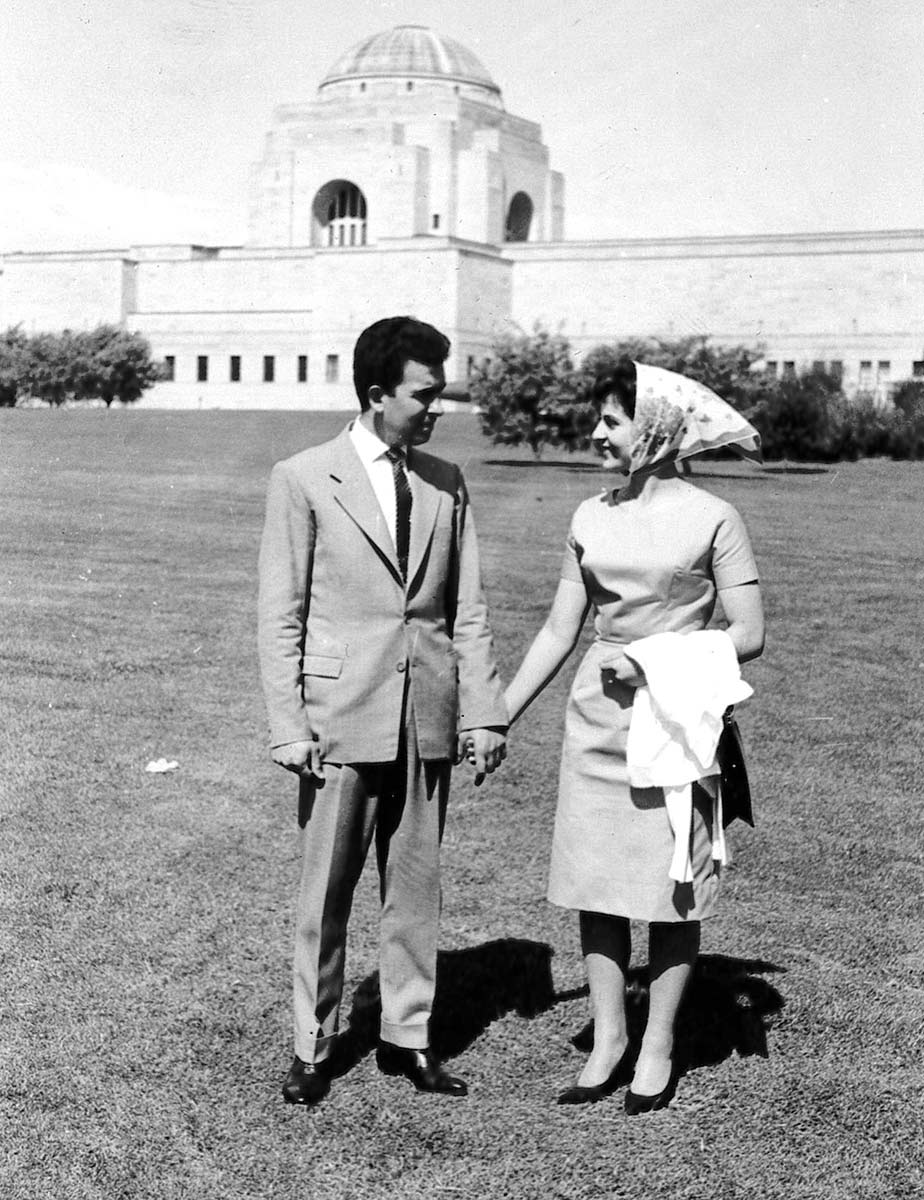 When Mary Gianikakis left her home in Greece she was just 18. In one hand she held a small suitcase, in the other she clutched a photograph of the stranger she was to meet on the other side of the world — her fiance.
It was 1961, and Mary's parents had arranged her marriage to a young Greek man who had immigrated to Canberra, Australia.
And so began the story of Mary and Nick Karvelas, one that will be familiar to many migrants. Their daughter Kasandra has donated a paver to the Museum's People's Walk in their memory.
Postwar immigration
Nick Karvelas arrived as one of more than 160,000 Greek migrants who came to Australia as part of the federal government's postwar migration scheme. He had no English and no family.
He lived in a migrant hostel in Canberra, before finding a job at Government House as a kitchen hand and moving into the staff quarters. Nick's parents wanted him to marry a Greek girl and arranged with Mary's parents that she would leave Samos to join him in Australia.
It was pouring with rain when Mary arrived in Sydney. As the ship docked she noticed flowers strewn in the harbour waters. 'She thought it was a welcome to her new home,' Kasandra says. 'The ship was full of women who, like my mother, were sailing to Australia because their parents had arranged a marriage for them.
'The trip took many weeks and a lot of the women met men on the boat and fell in love. Their fiances in Sydney — who had arrived with flowers in hand to meet their brides — left empty-handed, and tossed their flowers into the sea.'
Mary and Nick were married one week after she arrived in Australia and Mary took a job as a housemaid at Government House, working alongside her new husband.
Mary knew little of life and culture in Australia. Not long after arriving she was given a jar of Smarties as a gift. She presented this to Nick and enquired why her kind colleague had given her a jar of colourful buttons.
Nick worked at Government House for 36 years and by the end of his career he had been promoted to the role of First Cook. Over three decades he prepared hundreds of meals, many for world leaders and dignitaries, including Queen Elizabeth II.
'He was such a humble man. Sometimes he told us stories about the people he met. He said that Queen Elizabeth was an elegant lady who had very simple tastes in food. She liked cucumber sandwiches.'
Kasandra vividly recollects visiting the Government House kitchens. 'The smells were amazing — of the finest cooking and rarest ingredients. The staff were not supposed to take food home but at the end of each day, Dad would wrap up a small foil packet for me — exotic foods and flavours from all around the world. I would wait at the window; I would hear our old VW coming down the street and I knew he would have a treat for me.'
Nick and Mary Karvelas lived out their lives in Canberra. Two of their three children were born at the Royal Canberra Hospital, where the National Museum of Australia now stands. The Museum is privileged to add their story to the People's Walk.
The Karvelas family's story now forms part of the tapestry of stories at the Museum that explore our nation's rich and diverse history. 'I have visions of my kids bringing their kids to the Museum and telling them the story of their great grandparents,' Kasandra says.
The People's Walk is part of the Forecourt redesign which leads visitors to the Museum entrance. A limited number of pavers are available to be etched with donors' names.
Return to

Top